Work and Holiday report Beirut - Lebanon
Lebanon, April 3 - 13, 2022.
by: Jeannet Kleine Schaars
Goal of the project: Installing the infrastructure of a new wireless WiFi network at the college des Soeurs des Saints Coeurs in Beirut. The school and its WiFi network was badly affected by the explosion in the harbor on August 4, 2020.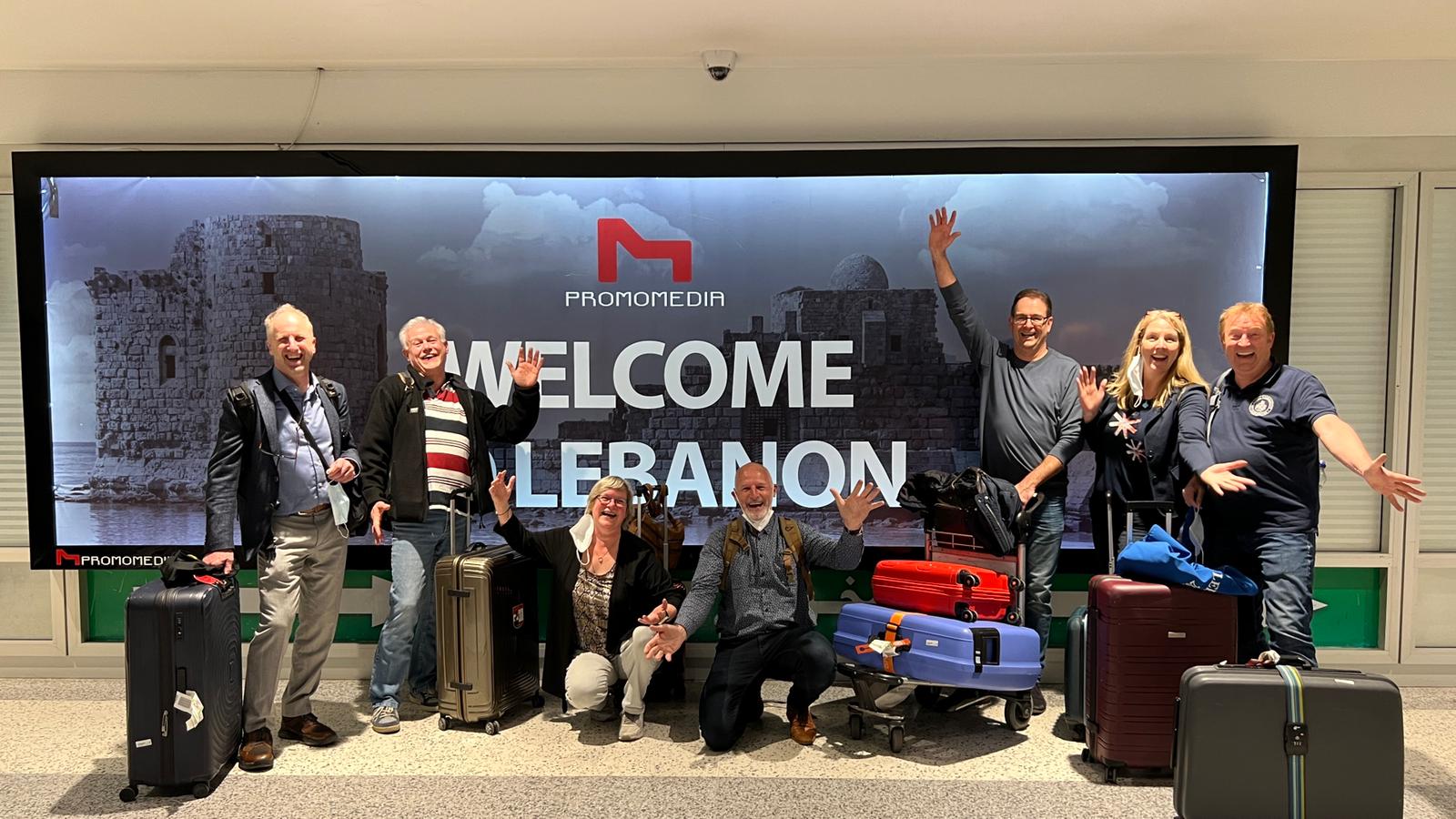 Due to an unpleasant circumstance at Transavia, it was unfortunately not possible for a first delegation to leave on March 31. Therefore the entire group flew to Beirut together on Sunday April 3th. The group consists of board members Siem, Bartina, Fred, Bert, Jeannet and Bart Timmermans from Sourceware (Professionals in smart networks and applications).
Day 1, 2 and 3.
After a perfect flight with Transavia we arrive in Beirut where our friend and guide Georges Farah is waiting for us with a school bus and two drivers Tony and Elias. They will be there for us in the coming week if we need transport. Fantastically arranged!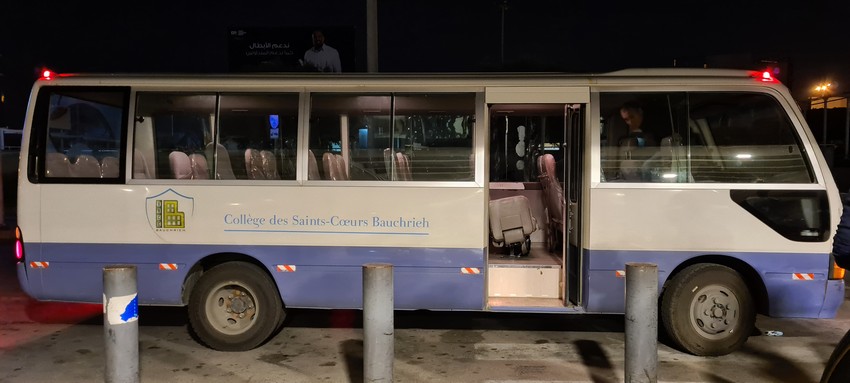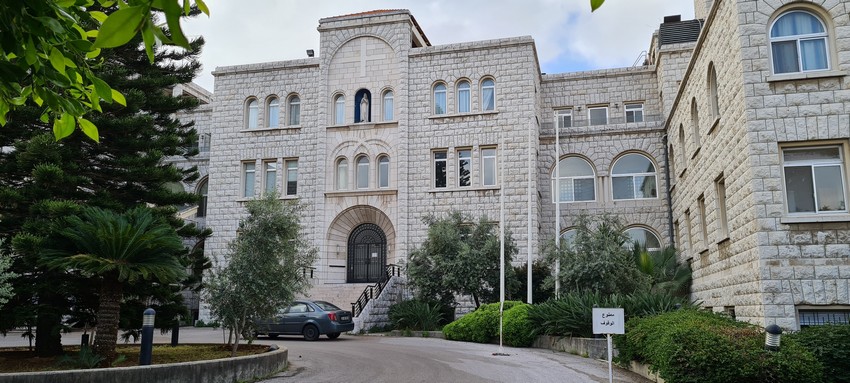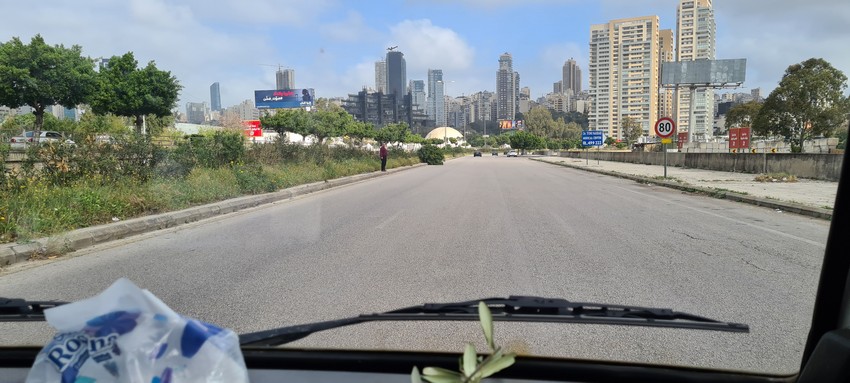 The coming nights we sleep in a beautiful monastery in the middle of the city of Beirut. In the morning at 8.30 pm we are picked up by Tony and Elias and they take us to the school. Next week we have to work very hard.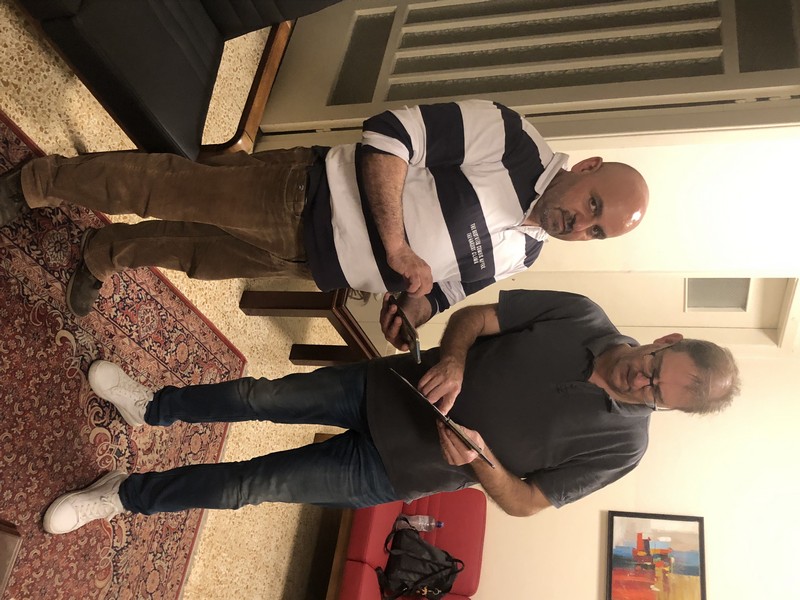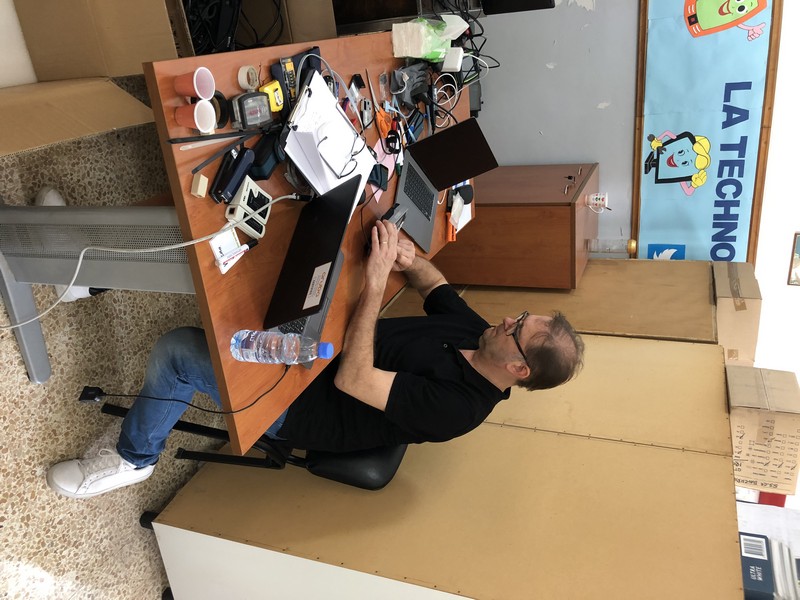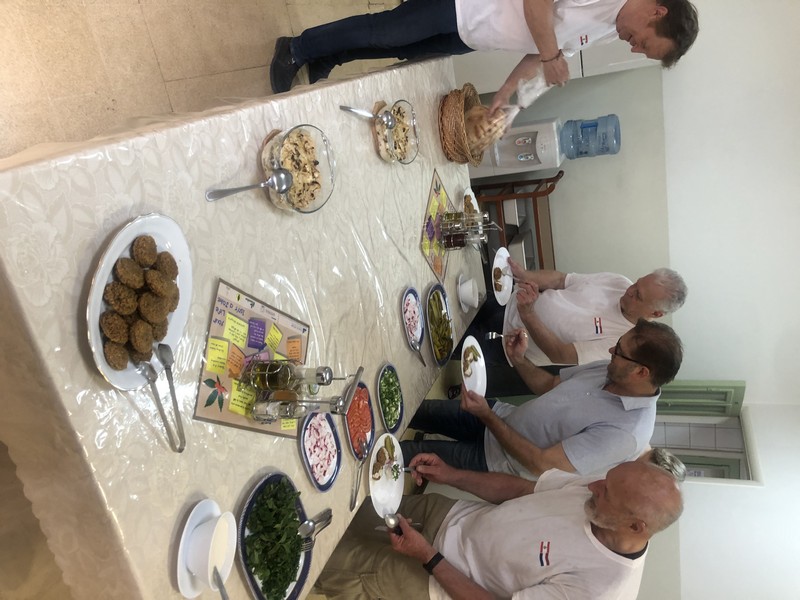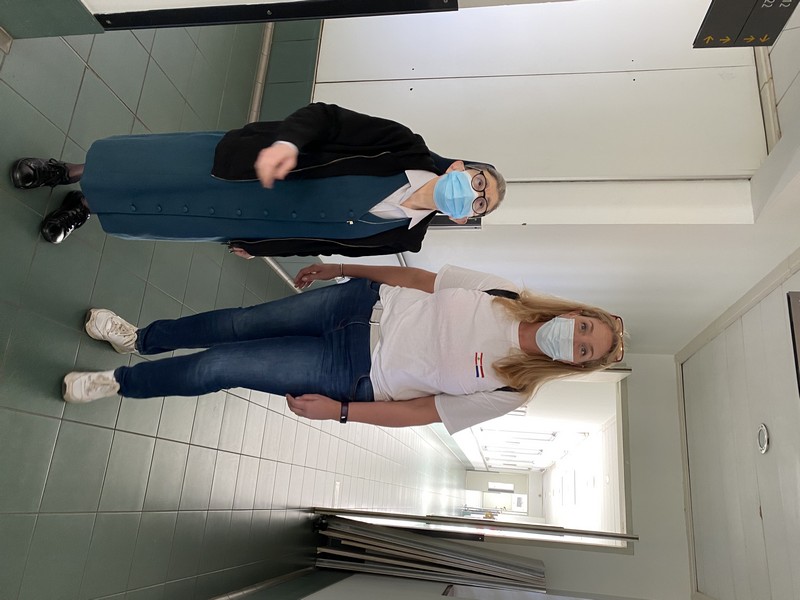 The school has 140 classrooms spread over 5 different buildings. Most of the necessary items, offered by the UU, have been sent by us in parts with different containers and are already on site. We sent the most important pallet with the necessary fiber optic cable by plane a few weeks ago and unfortunately it has still not been released. It will be exciting if it will be released in time… it depends on whether our project will succeed this week. Until then, there is plenty to do. We have to lay cables, connect connectors and measure cables and number access points.
Unraveling the old network turns out to be a mega task. There are no more diagrams or drawings to be found. Every old cable needs to be measured and nothing is as it seems.
But the atmosphere is fantastic and we receive full cooperation from the school. The dear sisters take good care of us with good food and drinks. Let's get this job done together!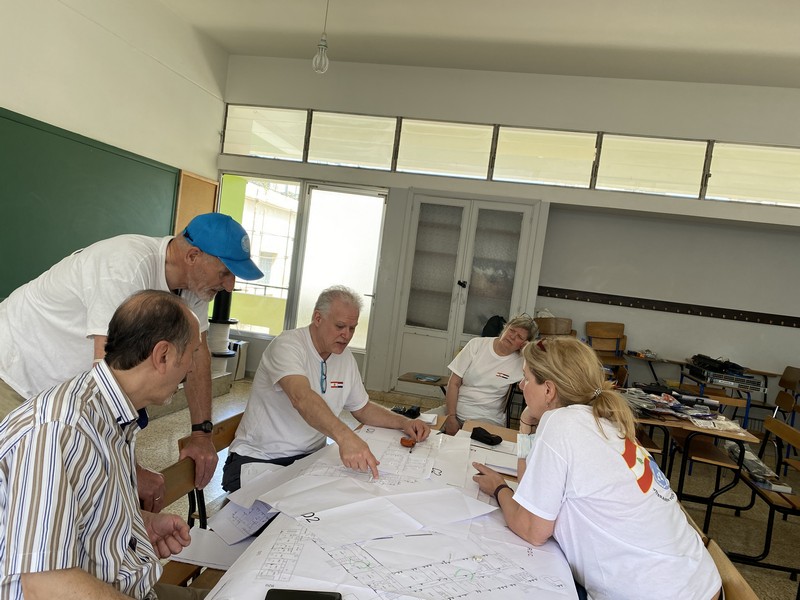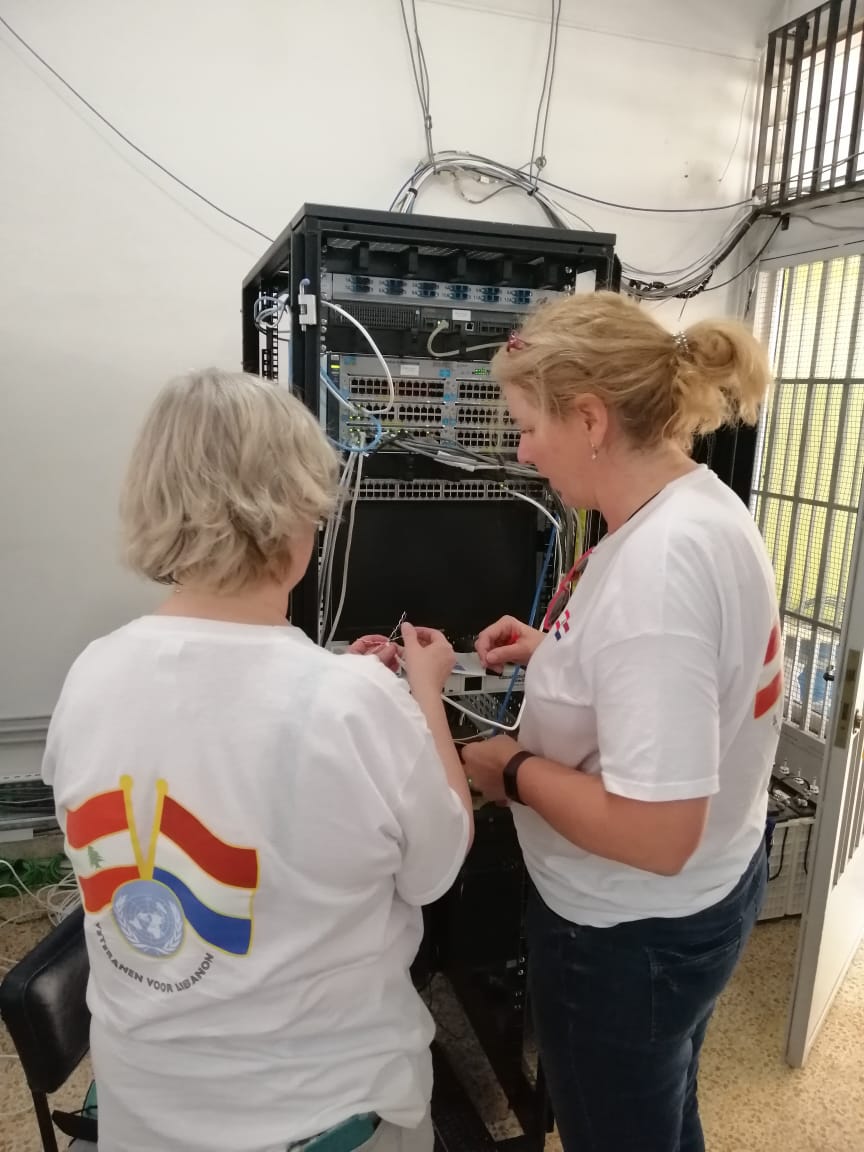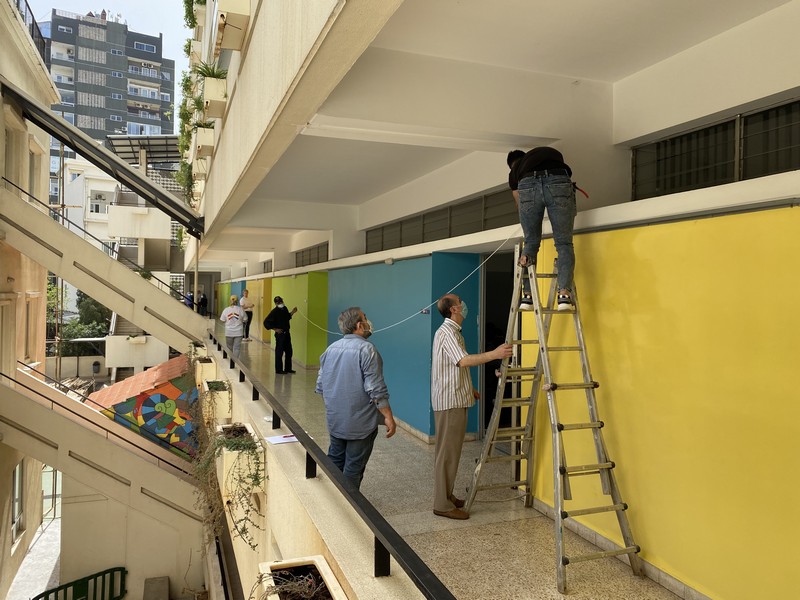 Day 4, 5 and 6.
What a great day! With many thanks to all donors, we were able to make 2000 children happy and those happy faces, that's what we do it all for. Those reactions have been overwhelming and we have all been touched by them.
We have worked hard and we can say that all (adjusted) goals have been achieved. It was quite exciting whether the necessary items were released on time, but with a lot of calling, talking and arranging, and thanks to Sumeya from Containers of love, it worked.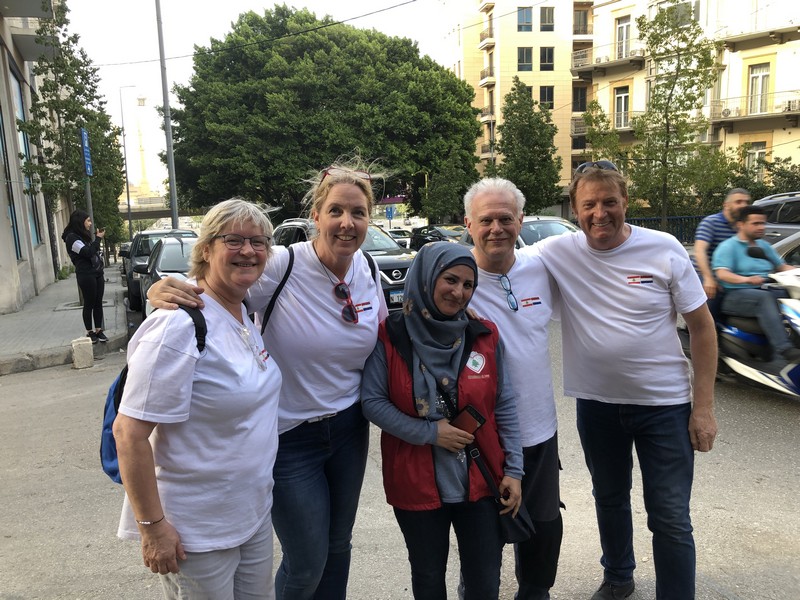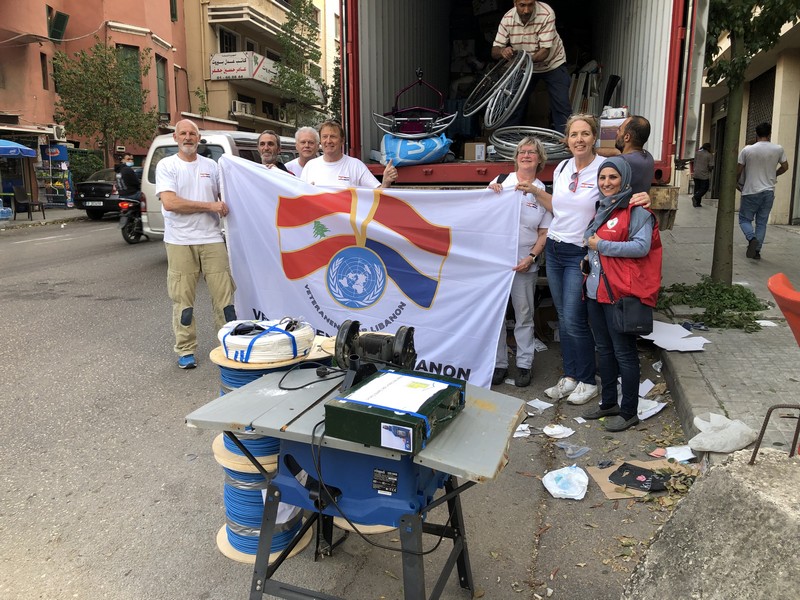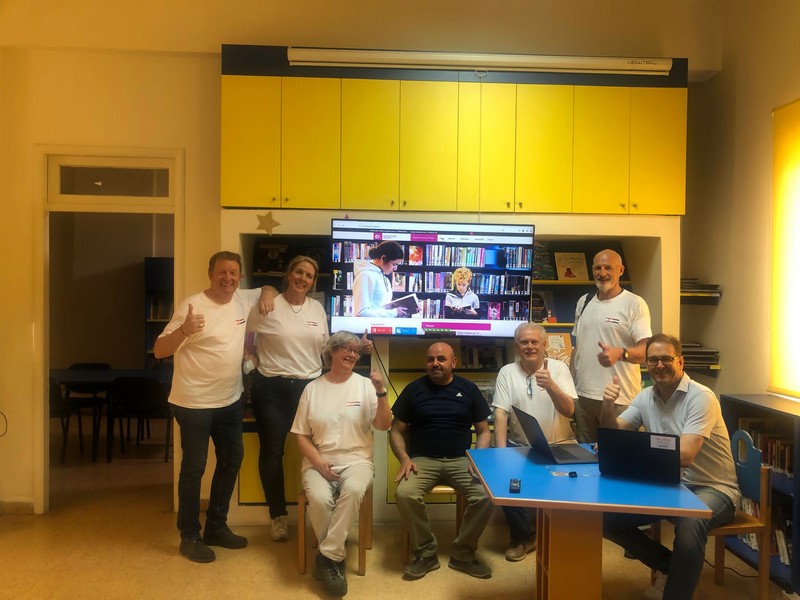 All things are at school and the basic network has been laid. 4 of the 5 buildings are now equipped with the first access points and wireless WiFi. The employees of the school will be doing the expansion themselves to the various classrooms in the near future.
Unfortunately, the fiber cable only came in yesterday, but with copper cables as a backup it works fine for the time being. In any case, we have a good reason to come back and it has now been decided to do so in October.
It is now time for us to say goodbye to the sisters, employees and students of the school for the time being.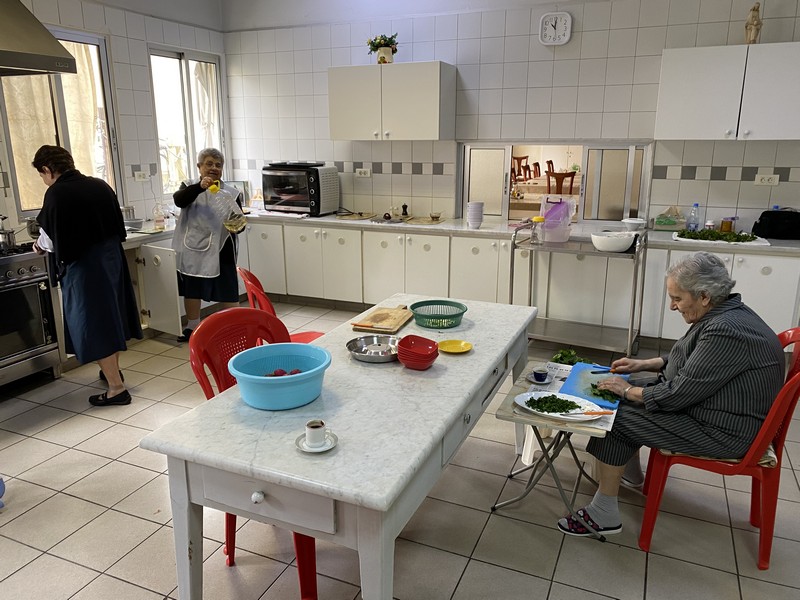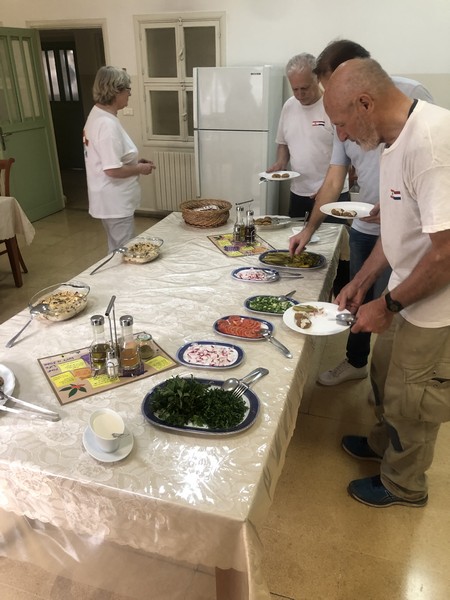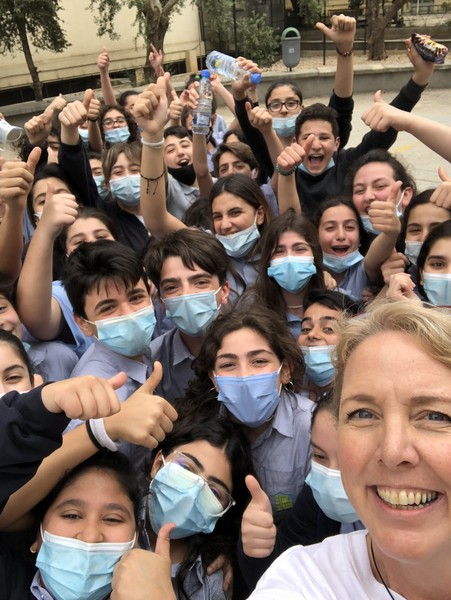 Tomorrow we will enjoy a nice breakfast at school with the sisters, who have served us the most delicious traditional Lebanese dishes throughout the week. Gratitude all over!
Fred travels back to the Netherlands on day 6. Siem, Bartina, Bert and Jeannet are going to rest for a few days, take a holiday and enjoy this beautiful country. Good friend Gerhard Bos also happens to be in Lebanon for a holiday and is traveling with us for a few days. Tonight we will sleep in Byblos and from there we will do a number of beautiful excursions.
Bart will stay at school for a few more days to complete the project for now.
Day 7 and 8.
On Saturday morning, after breakfast, we say goodbye to the sisters and a few employees of the school.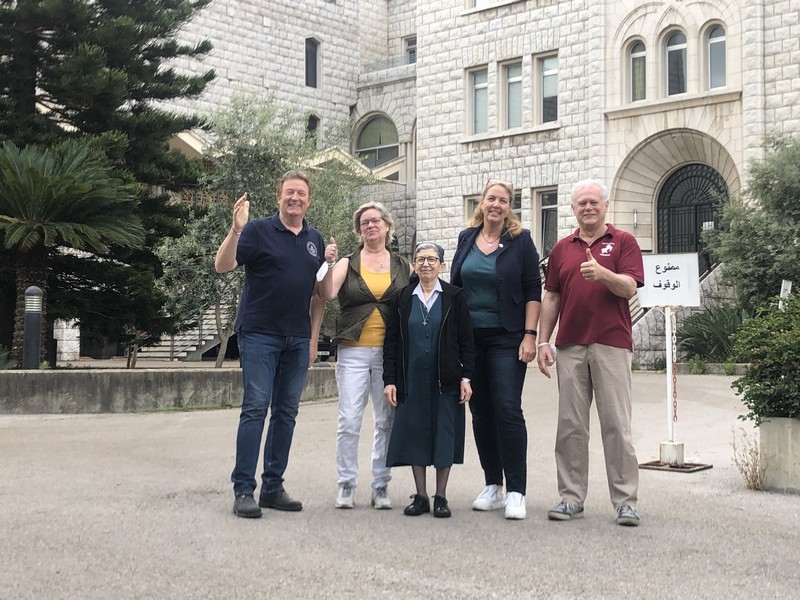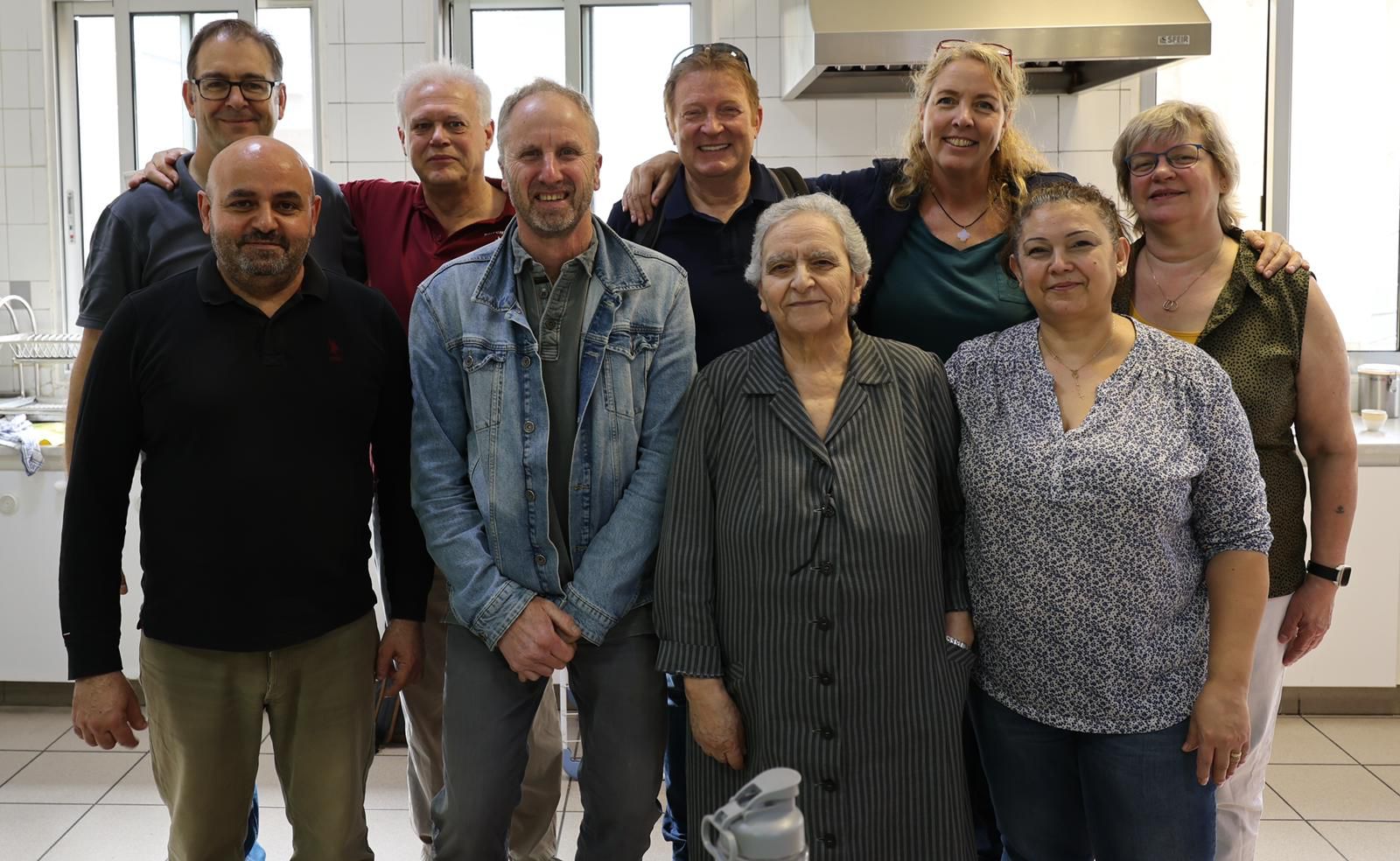 Our driver for the coming week, Afif, has arranged a nice white bus for us and he takes us to Byblos where we check in at hotel Aleph and leave our suitcases there.

We first drive into the mountains and visit the monastery of Saint Maroun Annaya, where the tomb of Saint Charbel can be found and the nearby hermitage where he spent the last 23 years of his life on his own. He was later canonized because of the miracles that took place after his death. We see his image all over the world.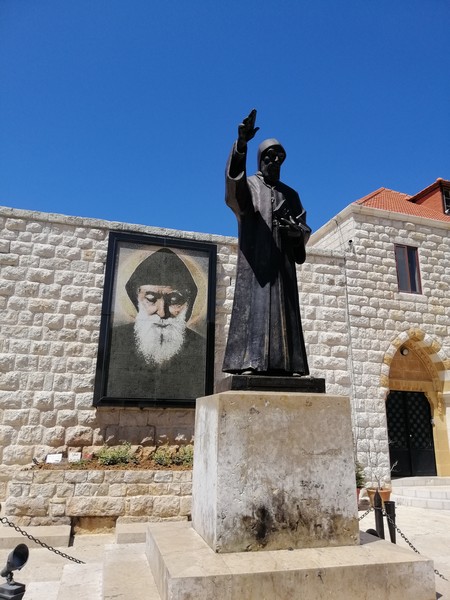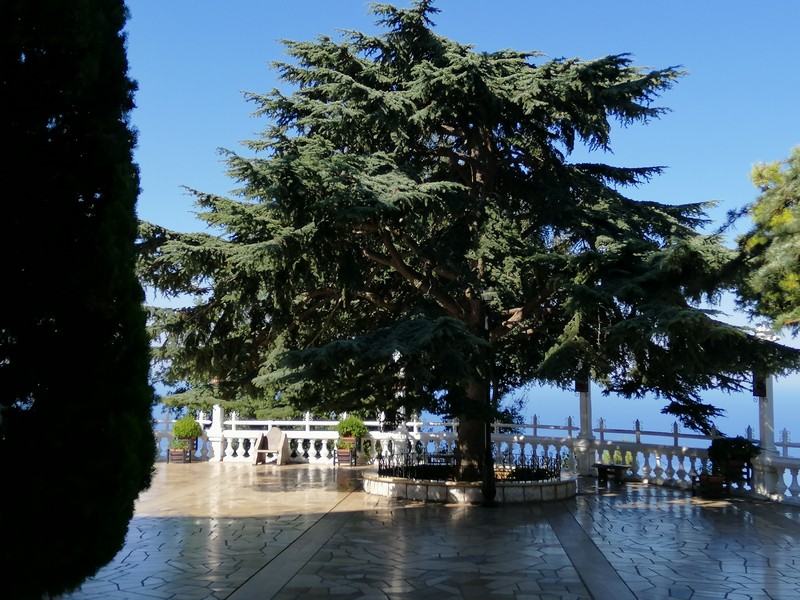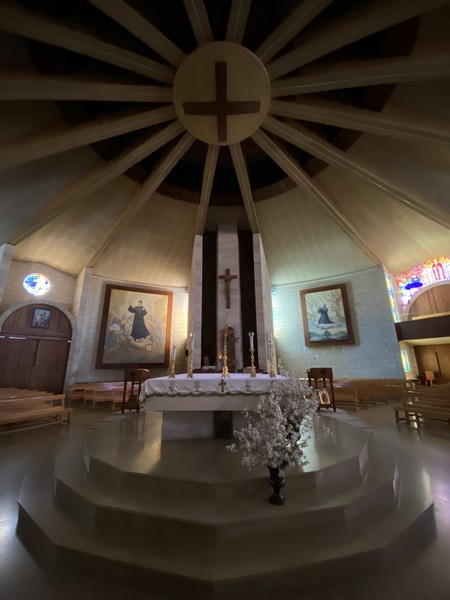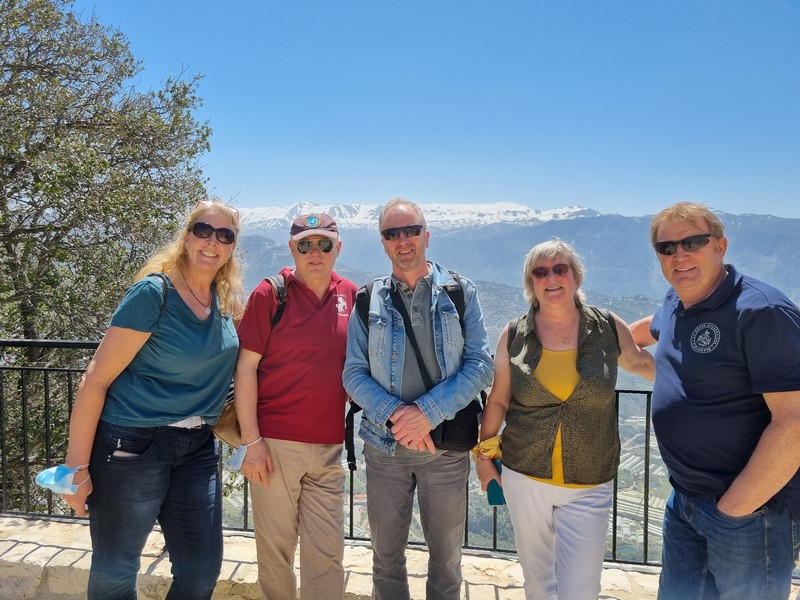 We get back in our van and drive on to an even higher place where we still find thick layers of snow.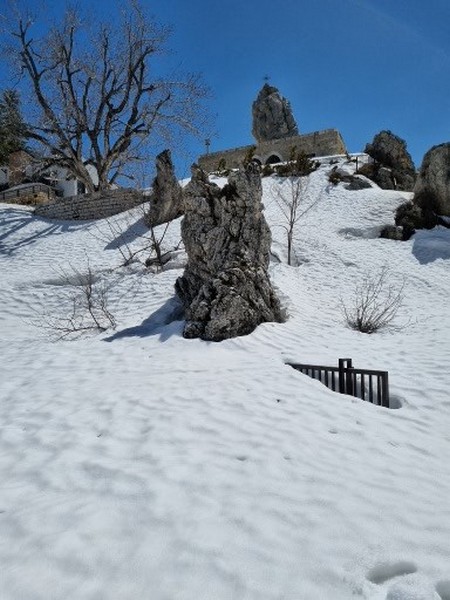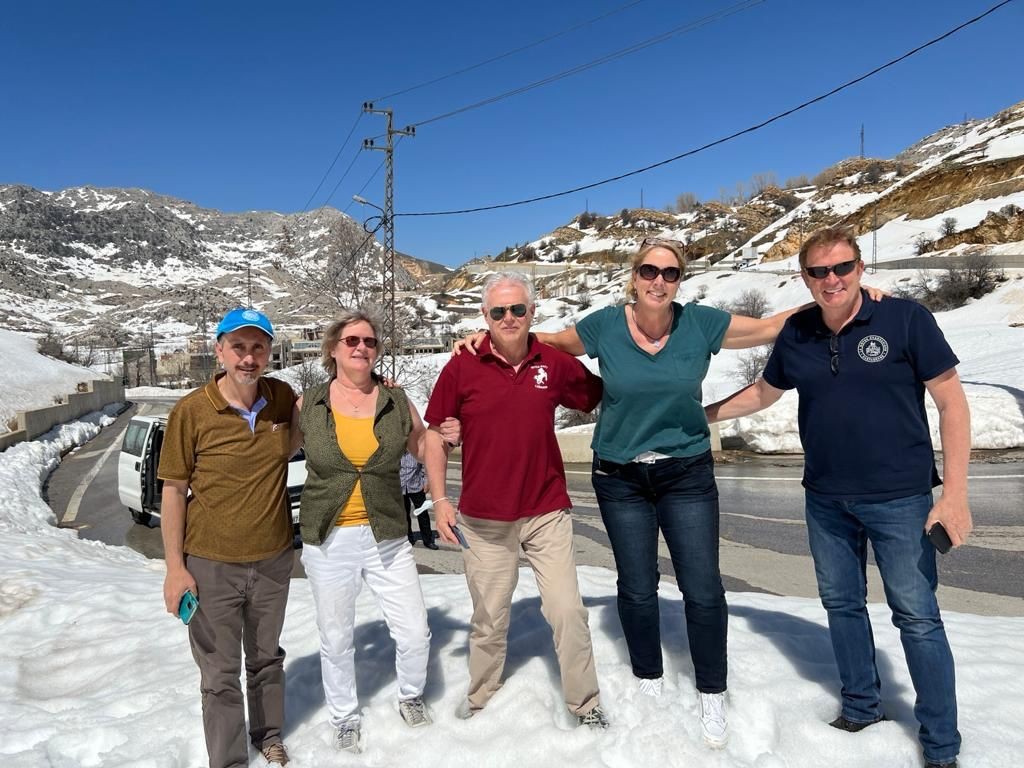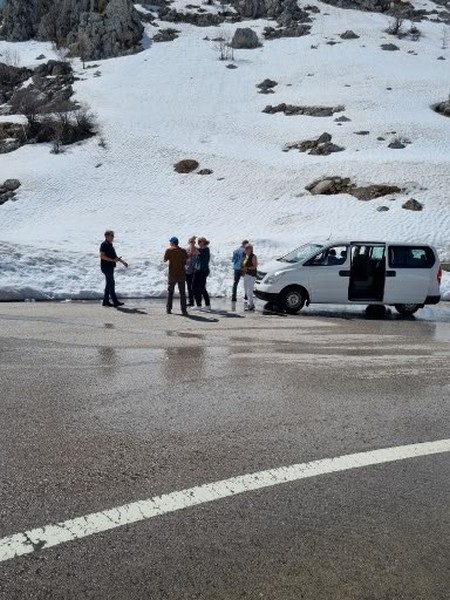 With the full sun it is nice to be there and Georges takes us to the impressive Baatara waterfall. To reach this natural wonder, we have to make a long descent on foot to see it up close. Because of the melting snow there is a lot of water. That makes it a fantastic spectacle.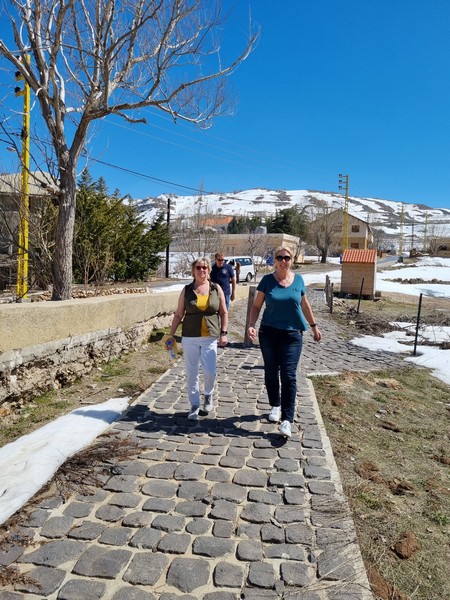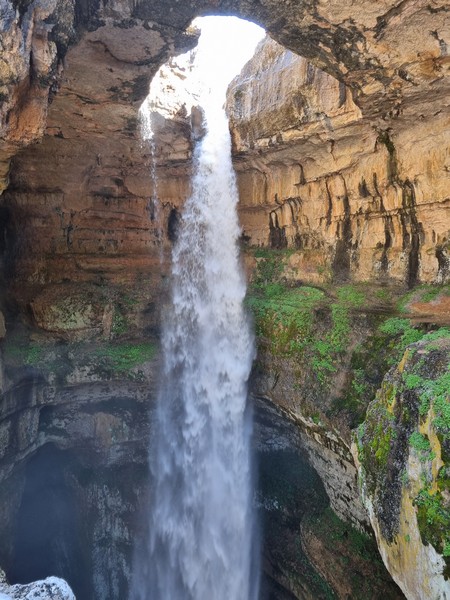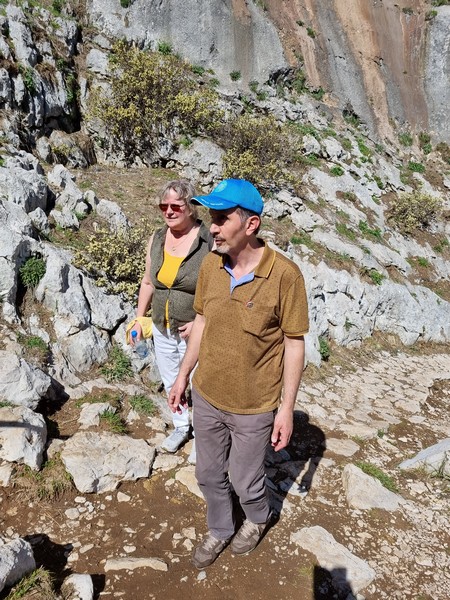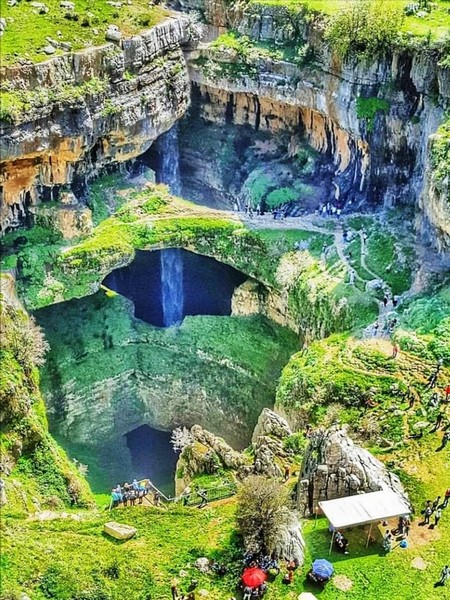 After the climb back up we get back in our van and within an hour we are in Batroun where we enjoy the sea view and delicious ice creams. We spend the evening in Byblos, where Georges takes us to a fine restaurant with a beautiful sea view. We love the food here and we already know for sure that we will eat here more often.
The next morning during breakfast we enjoy a fantastic view of the crusader castle of Byblos. The sun is shining and the day is off to a good start.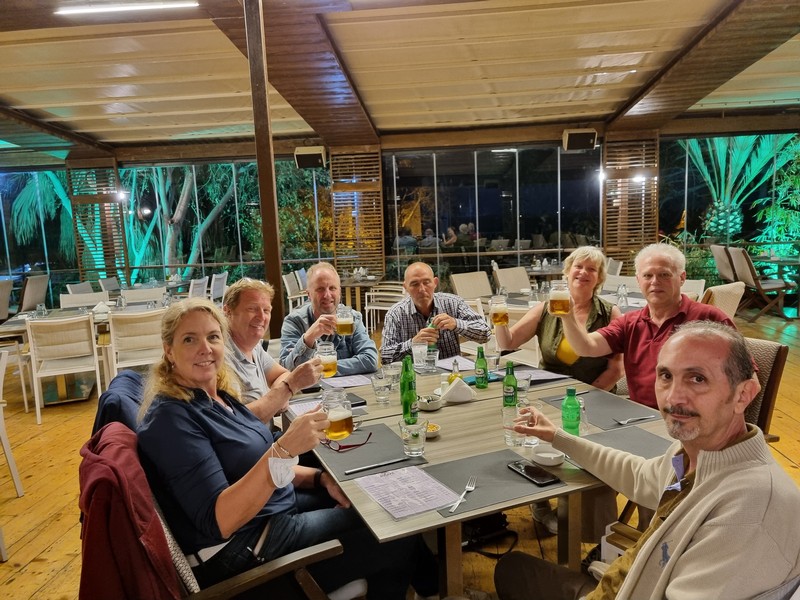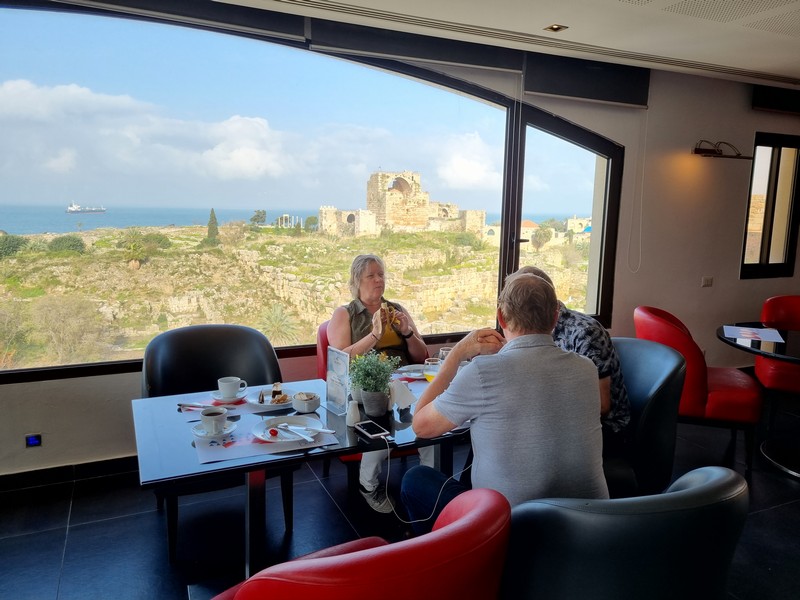 Today we drive to the Bekaa valley where we are invited by Sumeya's family, for lunch.
Before we do, we drive all the way to the Syrian border via Damascus Road. There is a lot to see during the ride. Then we drive towards Anjar where we visit the ruins of Umayyad.
An old trading town, located on the Silk Road, where traders stopped in the 8th century on their way to Baalbek. There is much to tell about this city and Georges takes us into the history. At the shop at the entrance, run by Lebanese Armenians, Bert and Jeannet buy a beautiful hand-inlaid TrikTrak box. This game has been played in their family since the 80s.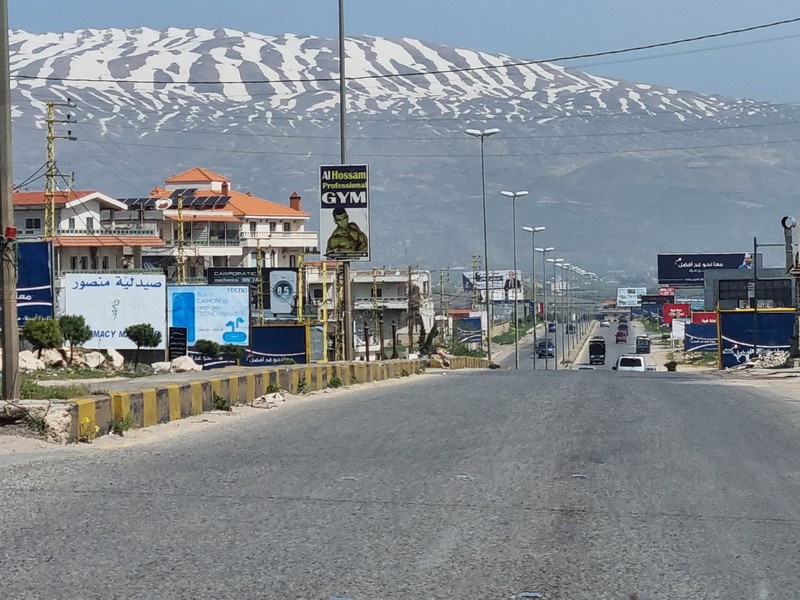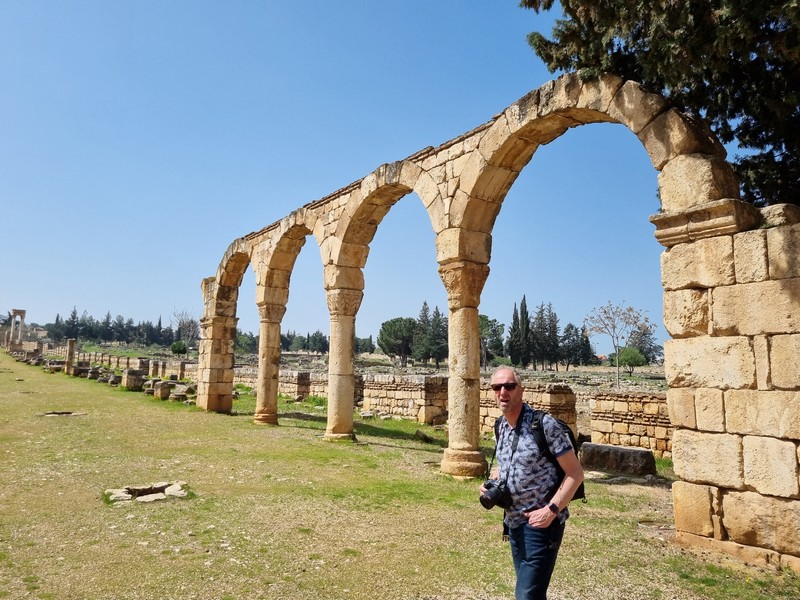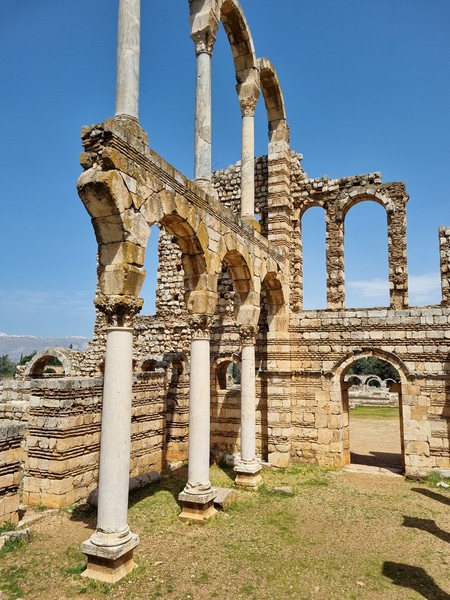 At half past two we arrive at the house where Sumeya's family lives. What a warm welcome and what lovely hospitable people! Father Naji Yassine, mother Alaa Hamieh, their daughters Celine and Hiba, son-in-law Jinks and two more relatives, Judge Issam Daher and General Wajih Janbain are waiting for us. We are warmly welcomed by everyone. Daughter Celine has an excellent command of the English language and she translates everything for us and. She does that fantastically and above all wonderfully spontaneous.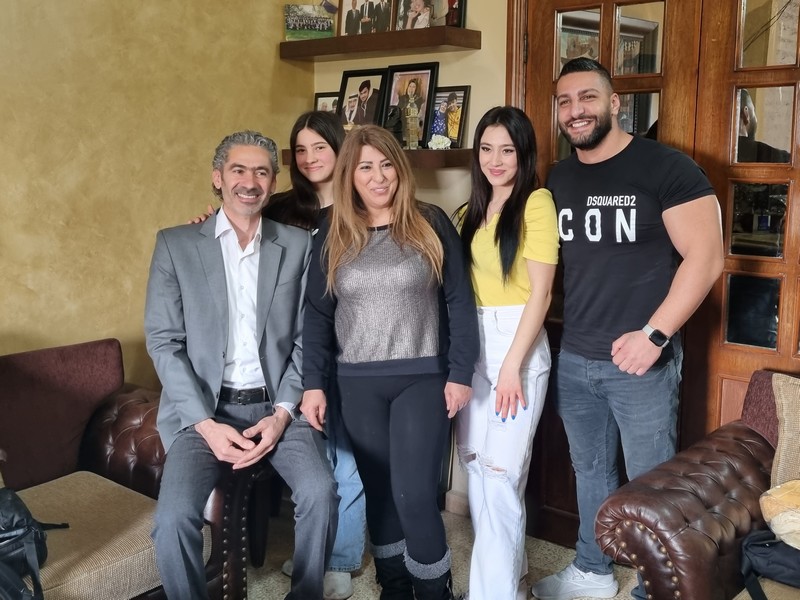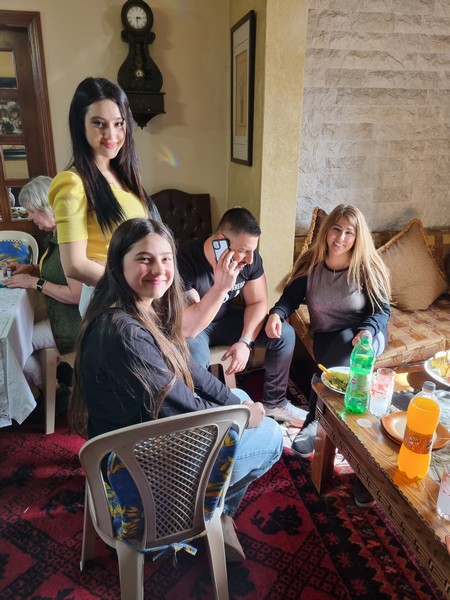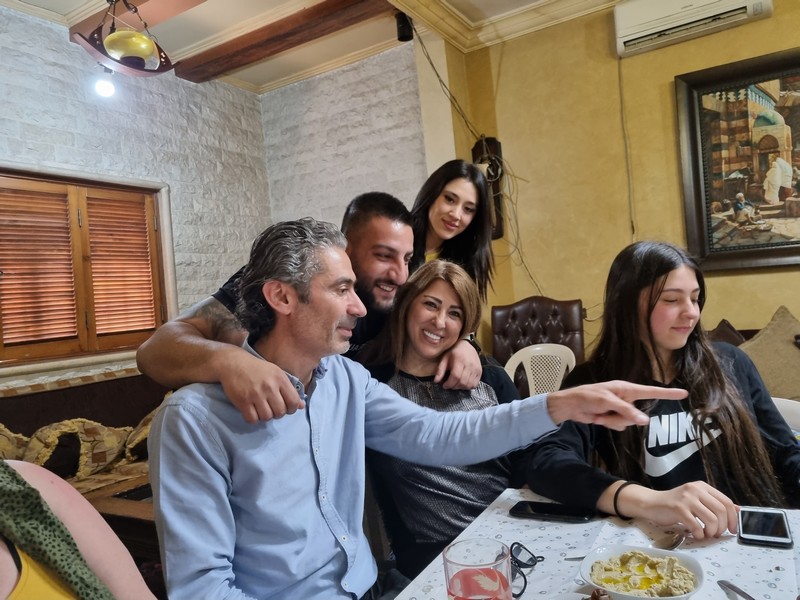 We immediately feel at ease and at home with these people.
We make friends for life and are overwhelmed with the tastiest food and gifts. Then the moment comes when Bert is presented with a very special gift as a thank you for everything he does for Lebanon as chairman of the Foundation VVL.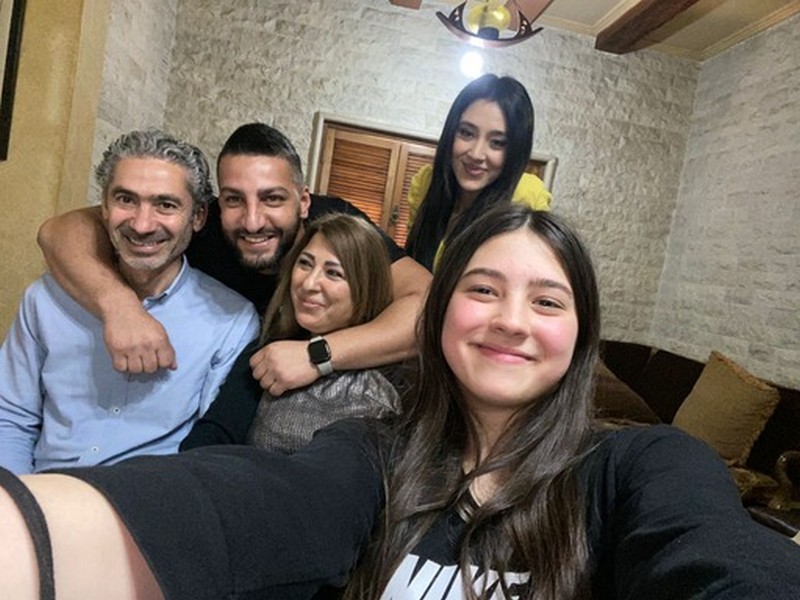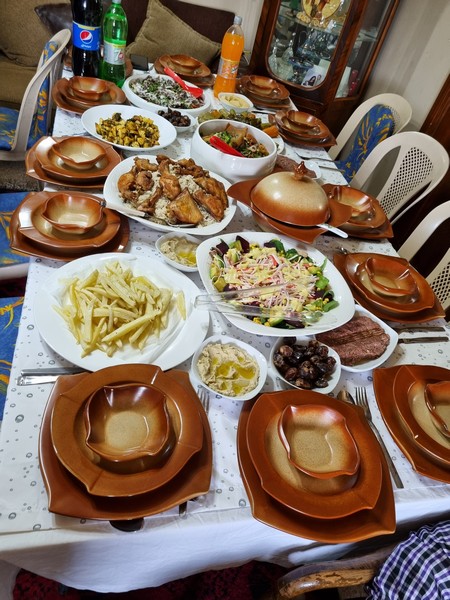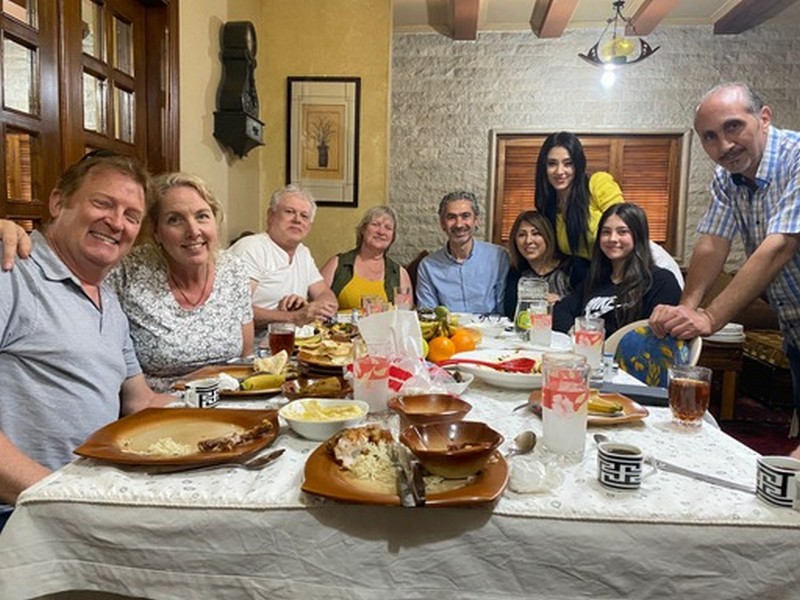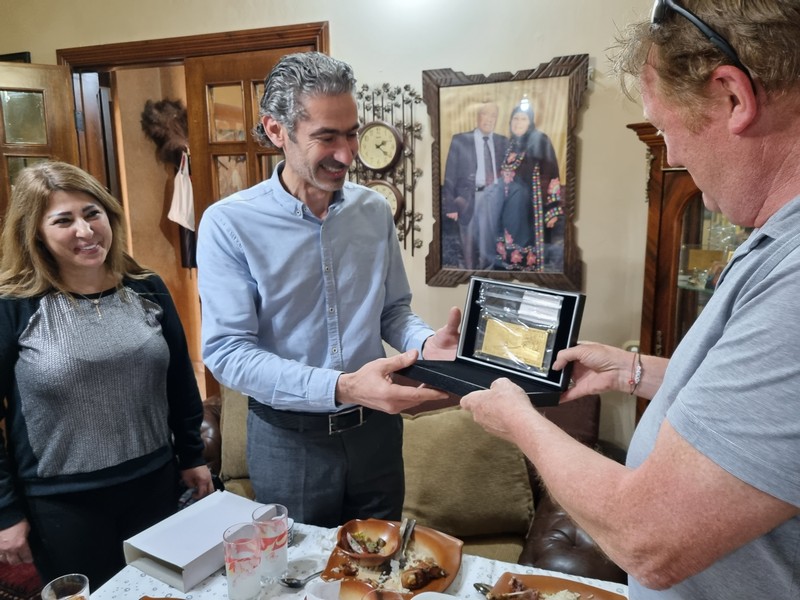 It is the first time that he cannot find words.
This day makes a big impression on all of us. We say goodbye and with beautiful new memories of these lovely people we travel back to Byblos, after a stopover to visit the famous statue 'the lady of Zahlé', from where we enjoy a beautiful panoramic view over the Bekaa Valley.
It was a pleasure to meet the Yassine family. In the evening we are still speechless of the heartwarming welcome, the most delicious food we have ever eaten in Lebanon, the gifts and especially the beautiful loving words. A thousand thanks to this family. We hope to meet them again soon.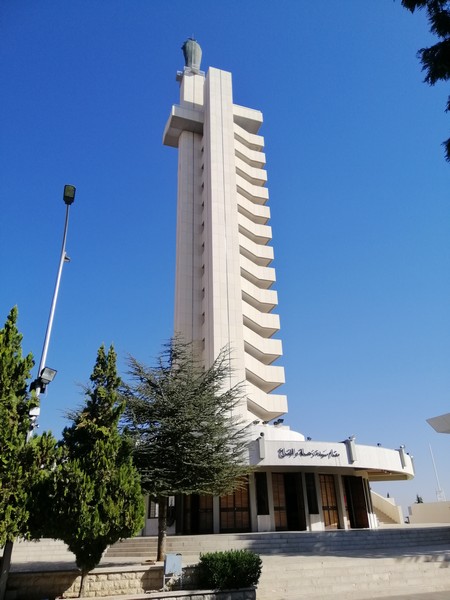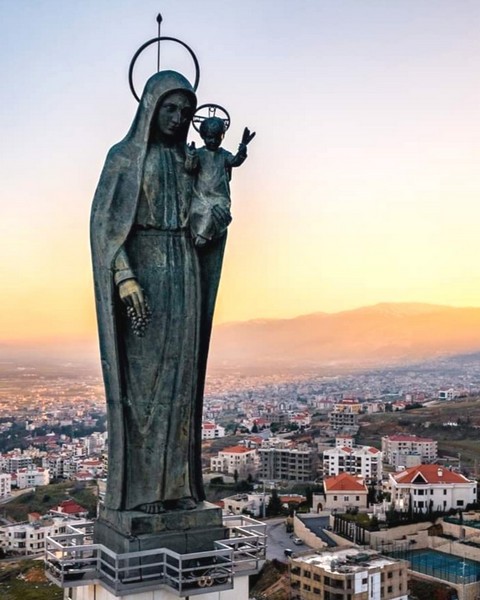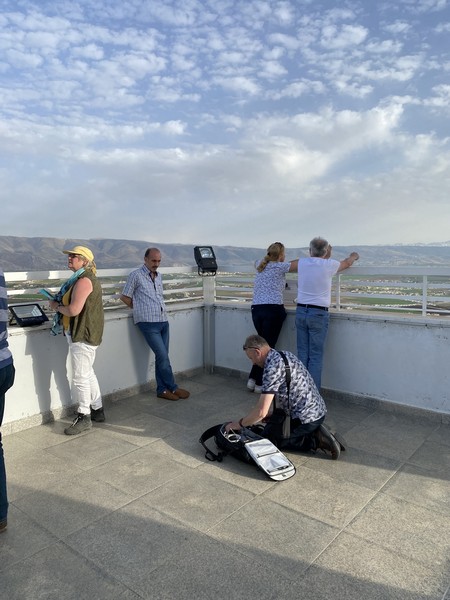 Day 9.
Today a long cherished wish has come true. A visit to the souk in Tripoli.
But before that we make a stop at the Crusader fortress Msaylha, located along the coastal road to the north. The fortress is open to visitors and after a steep climb the striking defense structure on top of the rock appears to be surprisingly large.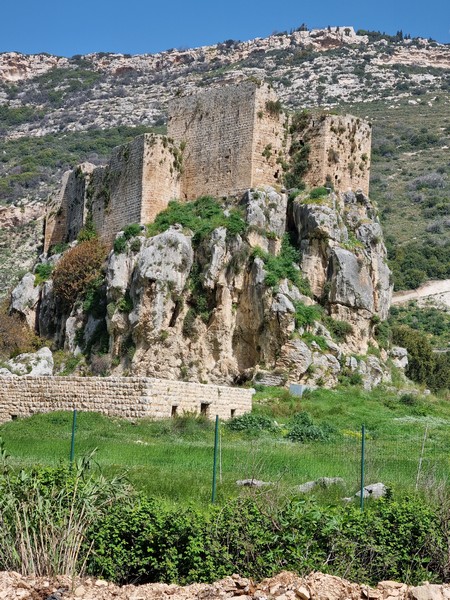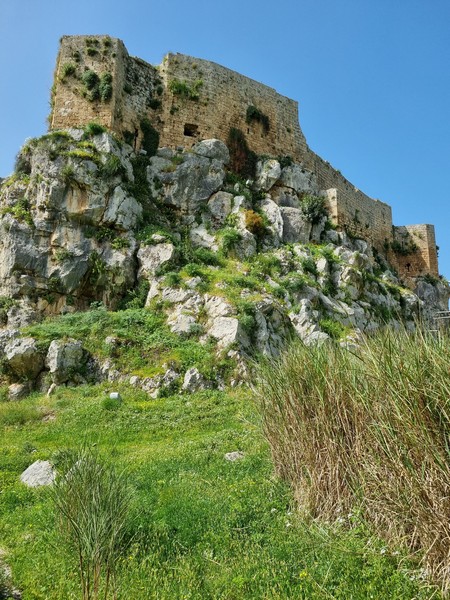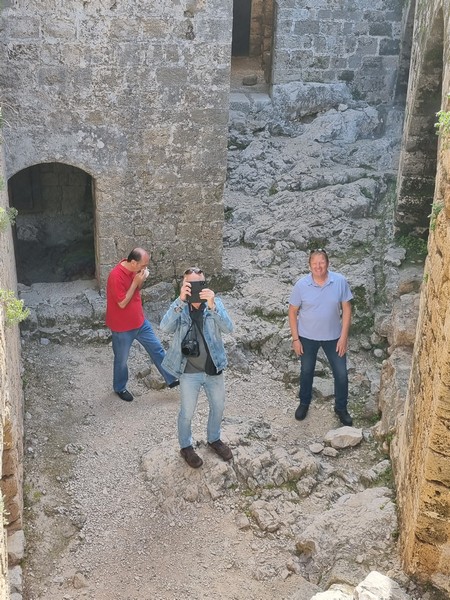 During the route that follows we make a short stop at the monastery of 'The lady of light' at Chekka. Unfortunately, the monastery is closed to visitors, but the view over the Mediterranean Sea is beautiful.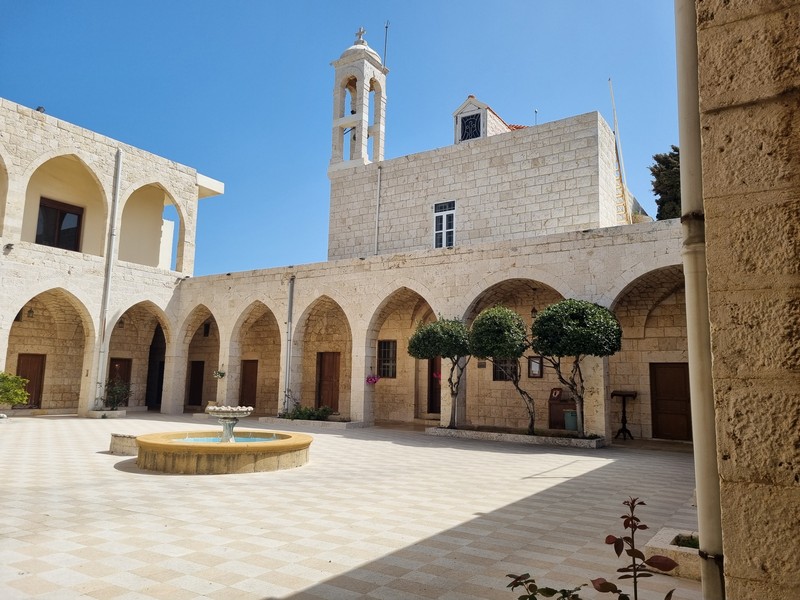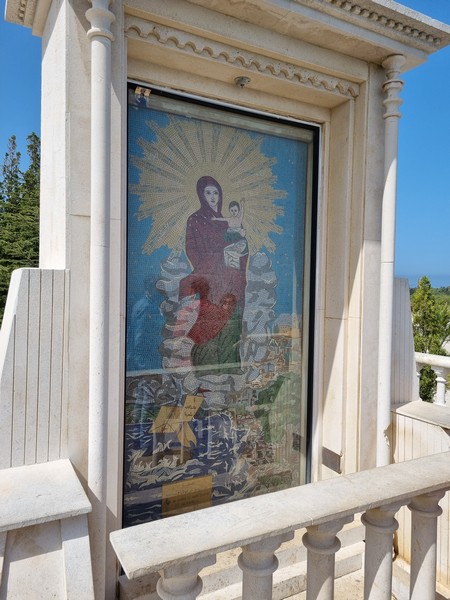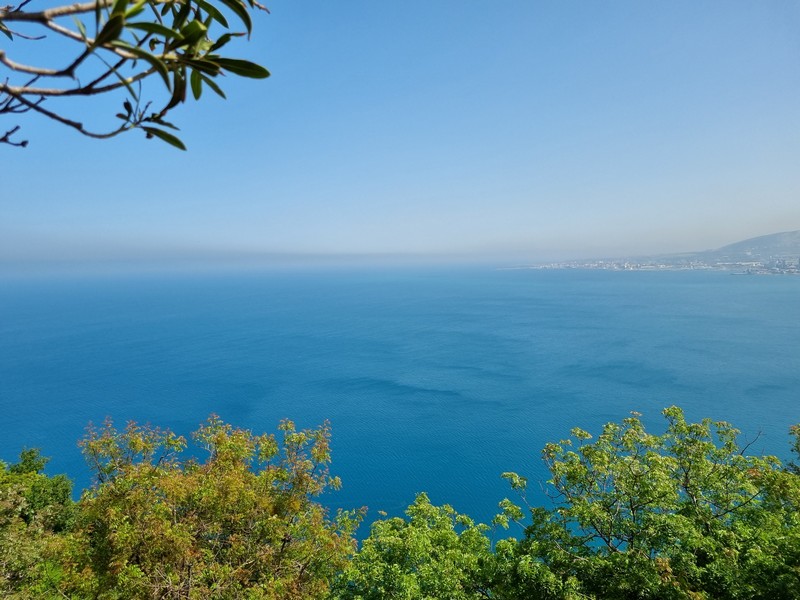 Arriving in Tripoli we first visit the impressive crusader castle in the middle of the city because of its size. It is surrounded by the poorest areas of Tripoli where the souk can be found.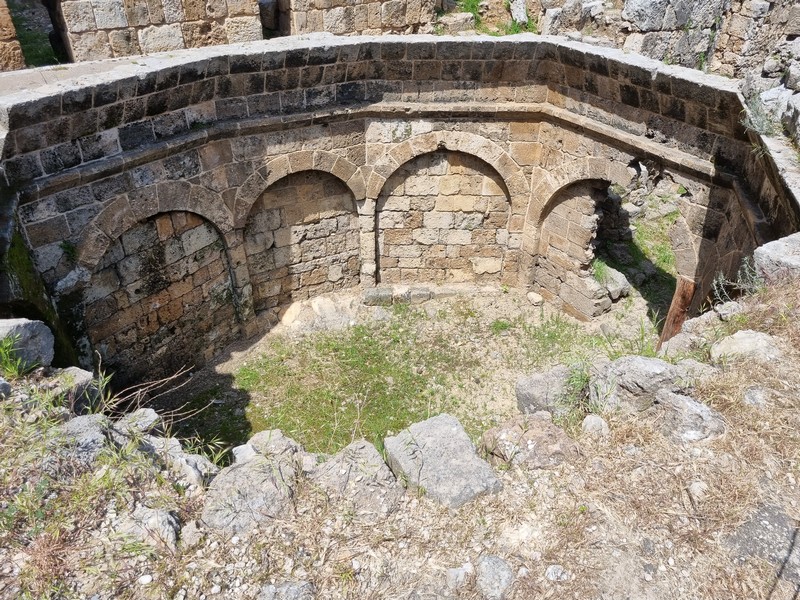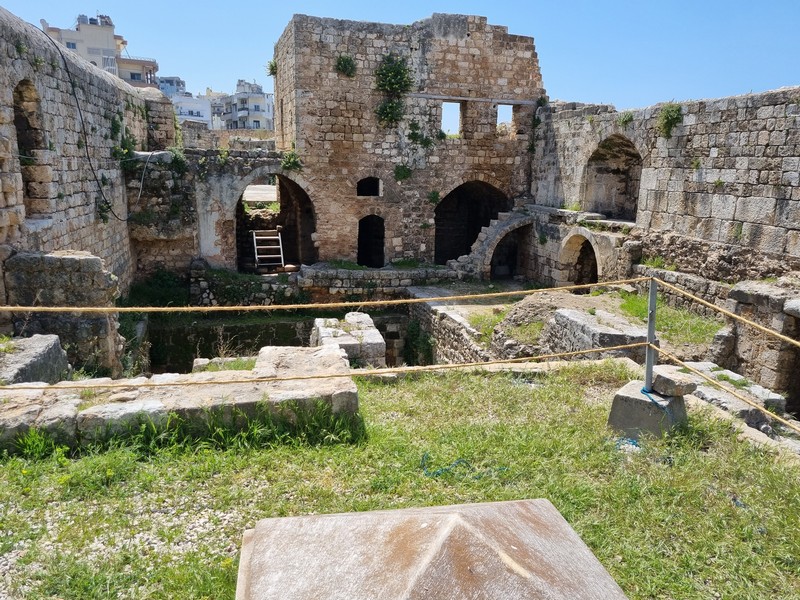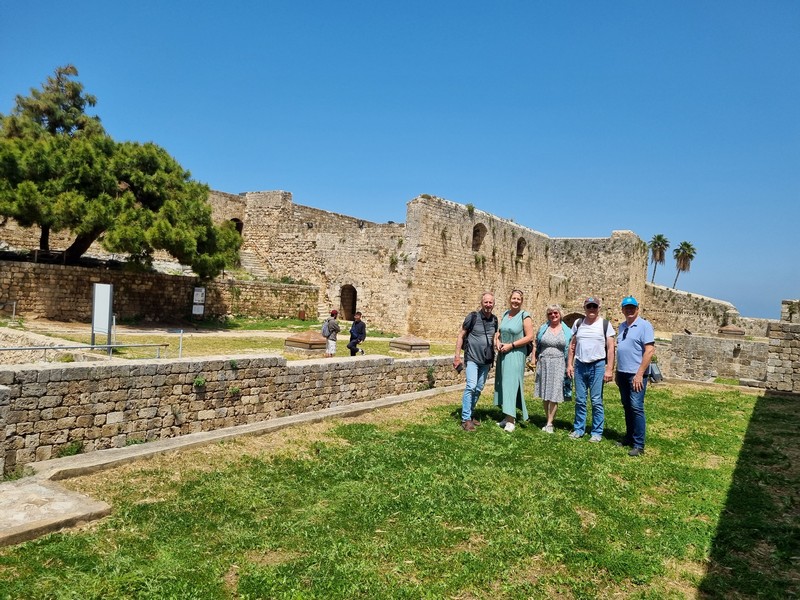 The visit to the souk is above all a special experience. With our height and blue eyes, we are an attraction to the citizens and many people spontaneously want to have their picture taken. With or without us.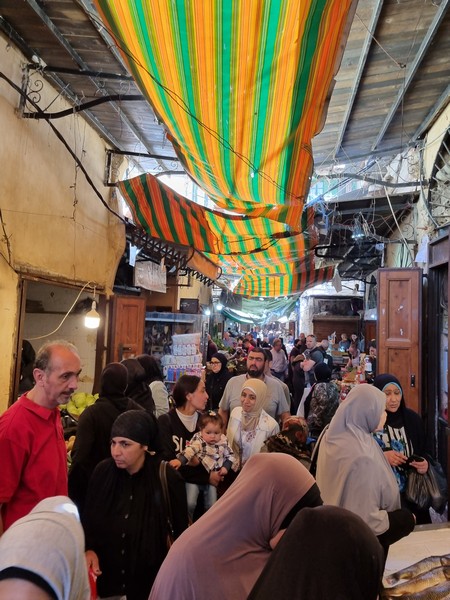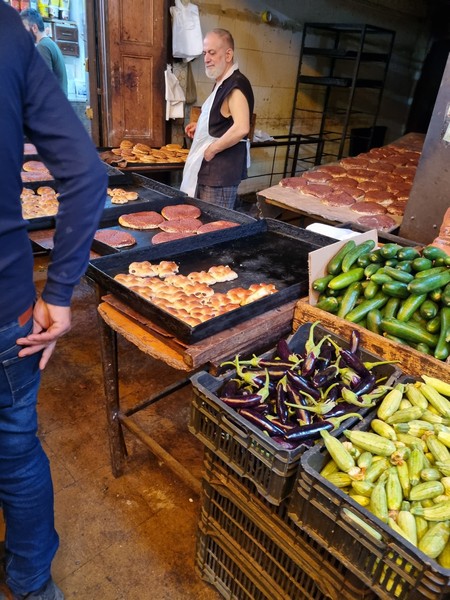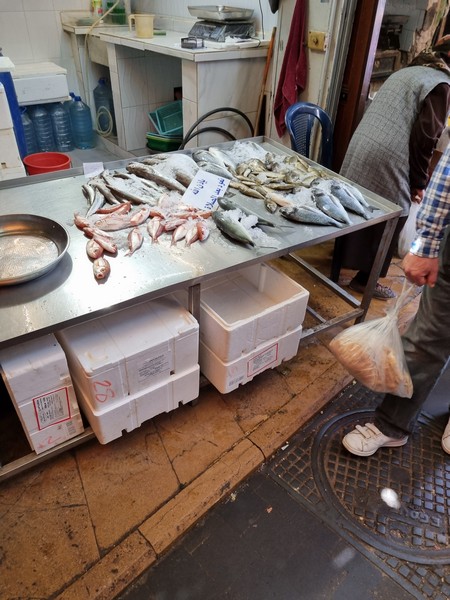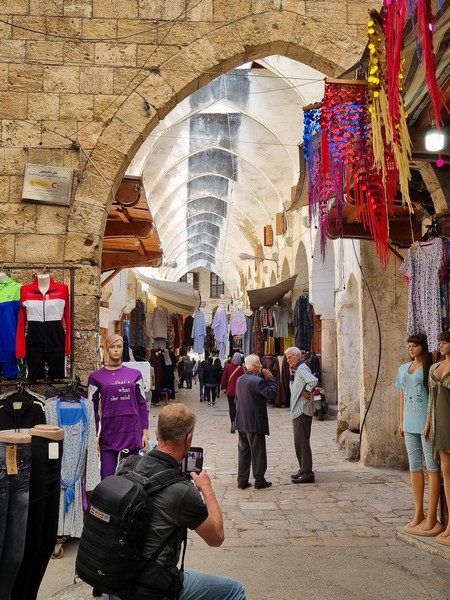 After an hour of wandering around we get into our van and a little later we make another stop at the decayed train station of Tripoli where about 8 old steam locomotives are rusting away in the depot and in the open air, among the bushes. A very special sight and we take beautiful pictures.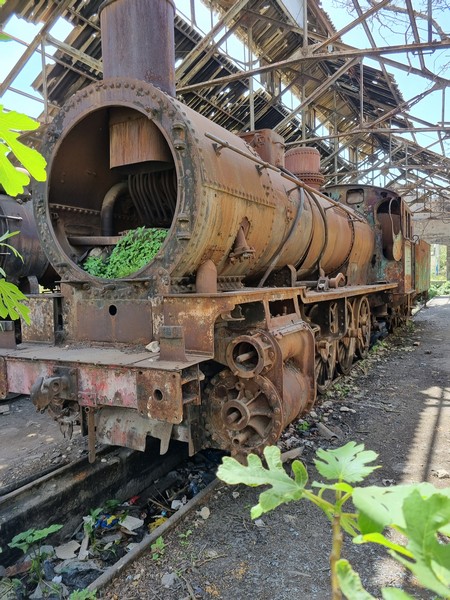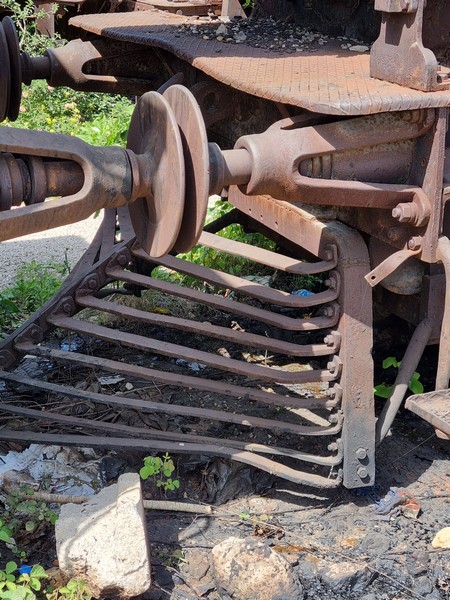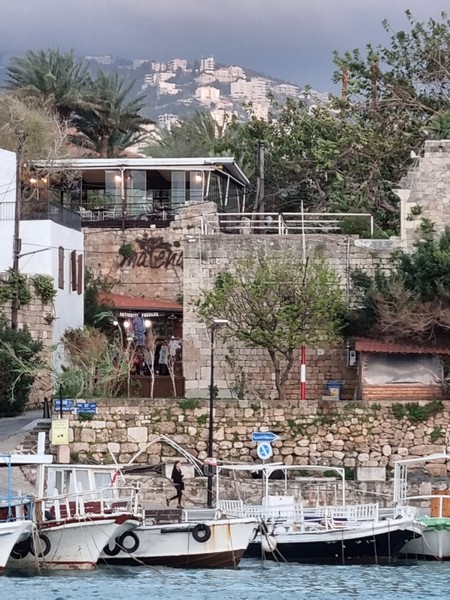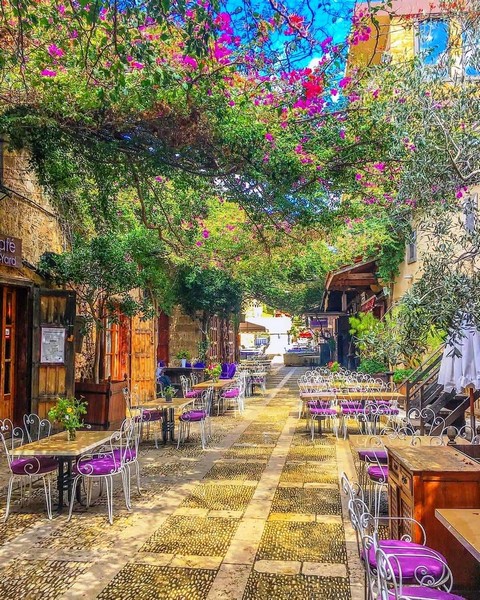 This evening we take a nice walk in the authentic harbor of Byblos before we settle down on the terrace of our now favorite restaurant near the Crusader castle, with again a fantastic view of the sea.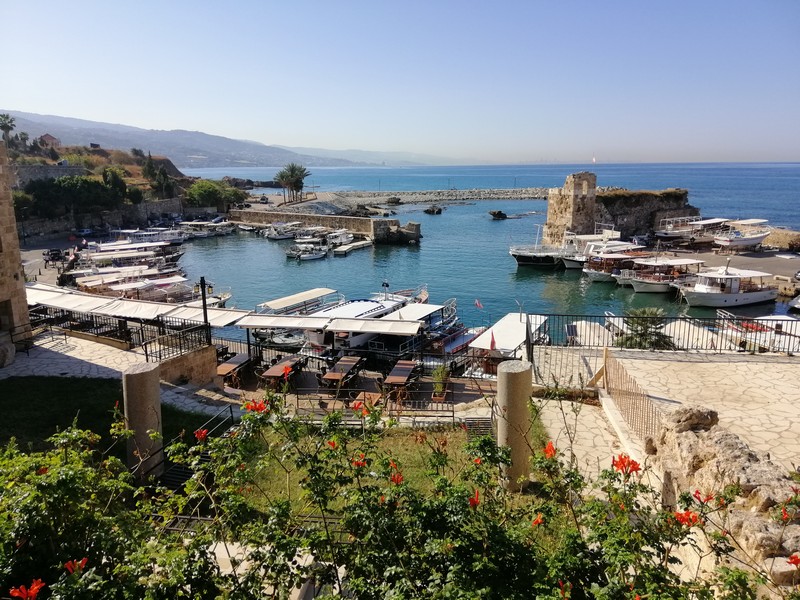 Day 10 and 11.
The last two days we spend mainly in the mountains. To start with in Qadscha Valley which lives up to its name of 'Sacred Valley'.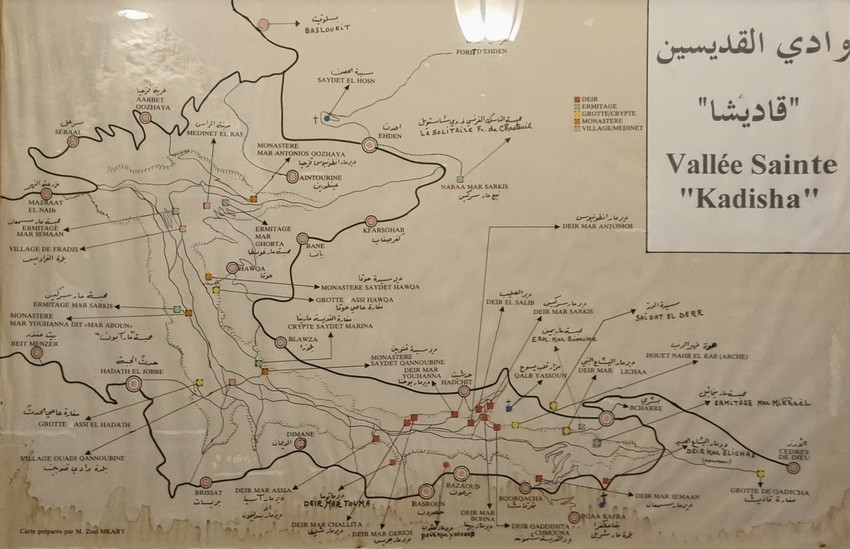 We visit some of the many beautiful monasteries and hermitages. Some of them seem to have been miraculously 'glued' to the mountainside, at dizzying heights.
We visit the Deir Qannoubine Monastery, the hermitage and monastery Mar Lichaa, the Hamatoura Monastery, the Khalil Gibran museum and the beautiful Monastery of St. Anthony.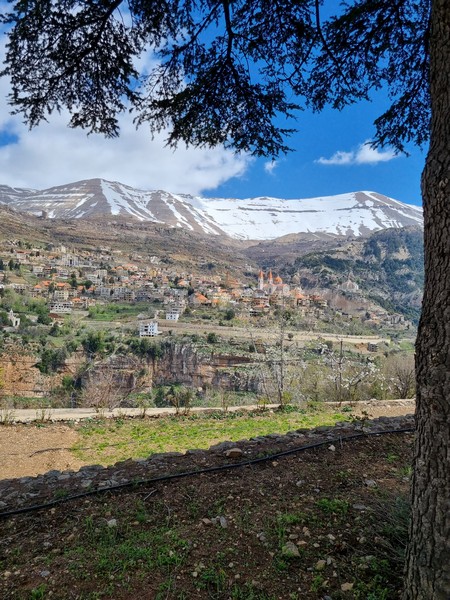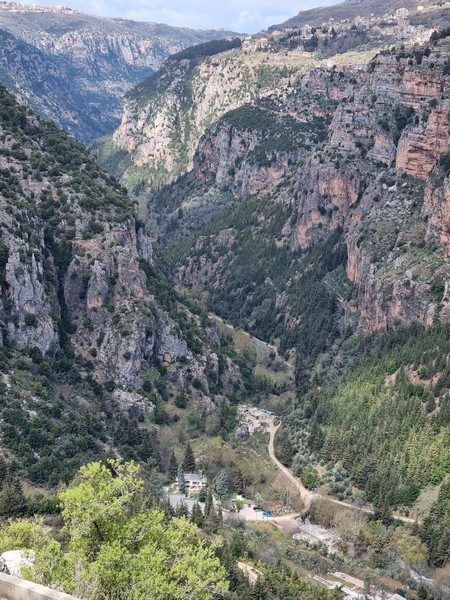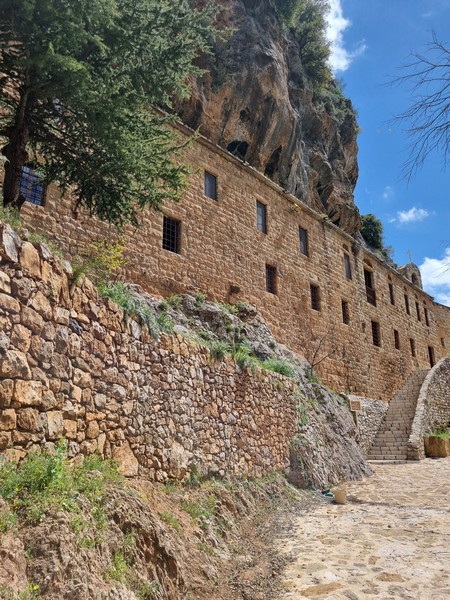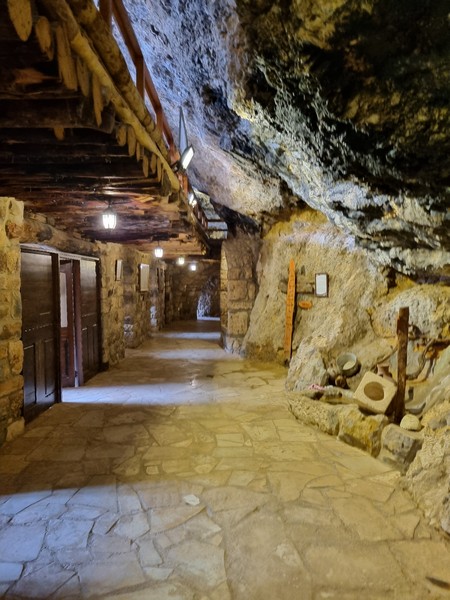 At the beginning of the valley we find the famous 'Cedars of God'. We make a stop there for a look and a delicious sandwich. Due to a thick layer of snow unfortunately it is not possible to walk between the up to 3000 year old trees.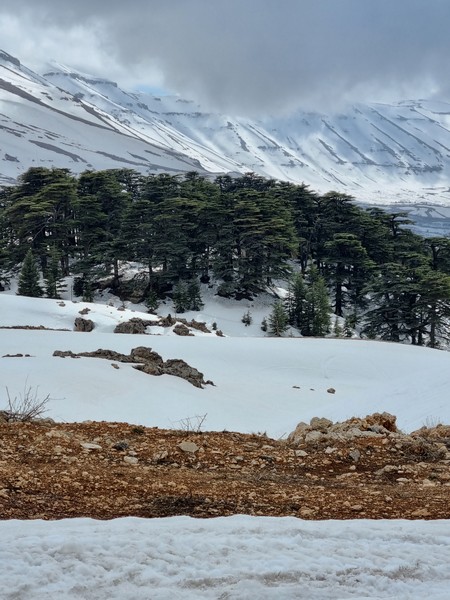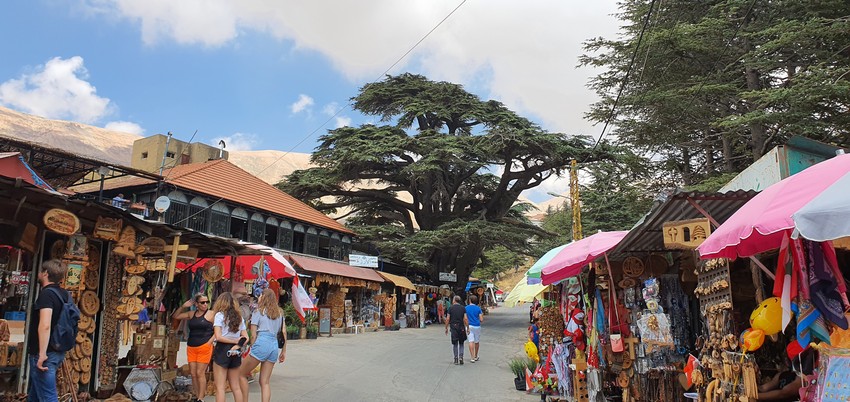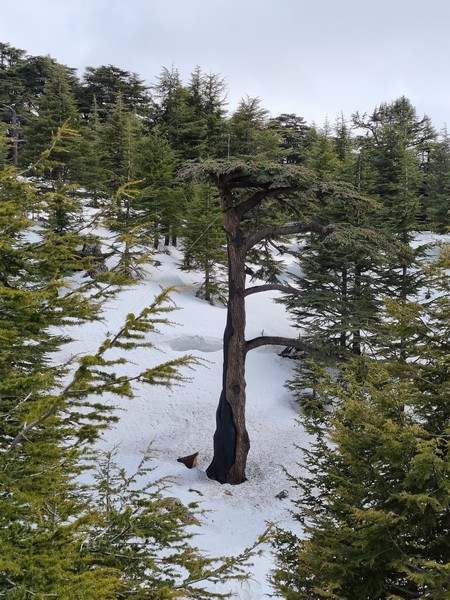 We all have received a few cedar cones and we intend to grow a Lebanese Cedar tree ourselves in the Netherlands. Lets see if it works.
On the last day, Georges also takes us into the mountains as a surprise, where we first make a stop at the impressive Afqa waterfall.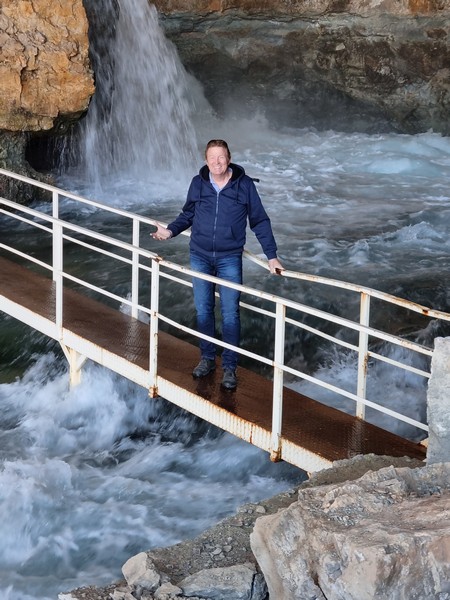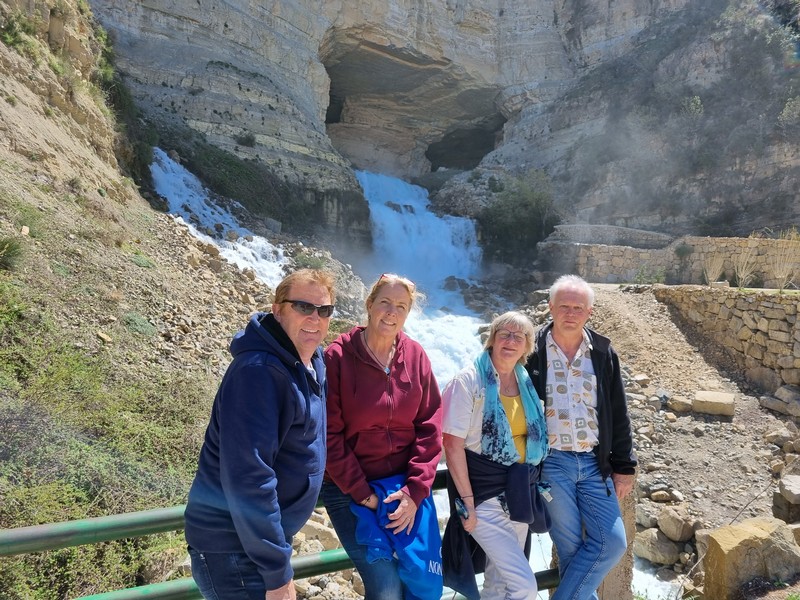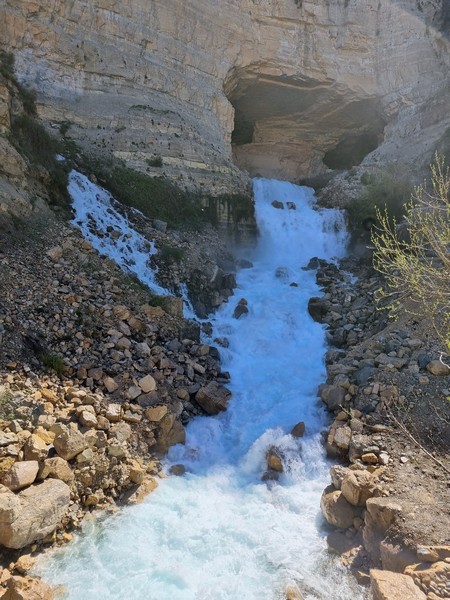 An enormous amount of melt water thunders violently from a cave in the mountainside. Then suddenly you are right on top of it to view the side from above. Beautiful!
Next to this waterfall are the remains of a Phoenician temple. The Phoenicians lived about 1200 BC and are seen as the first inhabitants of Lebanon, the remnants of that time we have seen everywhere in this beautiful cultural-historical country.
We then drive on to the Faqra ski area, located on the tops of Lebanon Mountain where the snow is still meters high. The snow does change into blubber due to the sun, so we just enjoy the view and a modest but entertaining snowball fight.
Near Faqra you can also find the highest remains of two Byzantine and Romain temples. It is absolutely worth our visit. These temples are also on the UNESCO World Heritage List.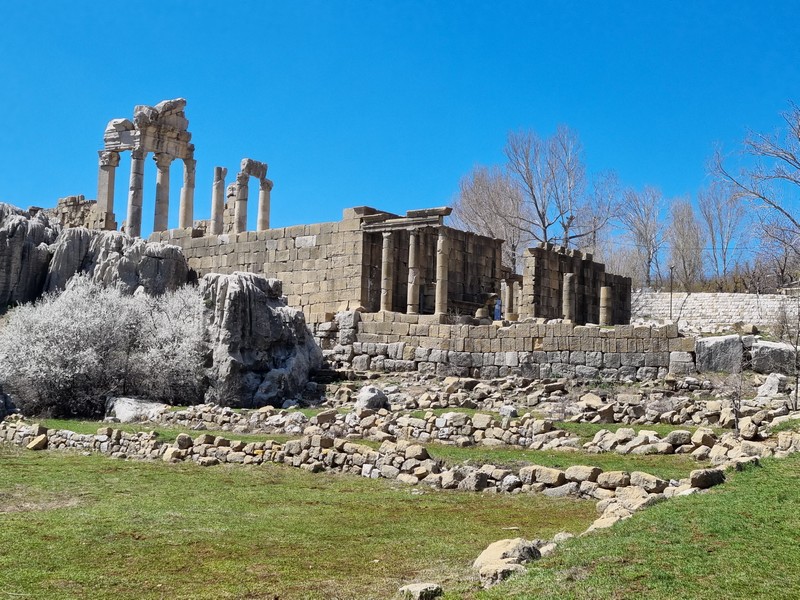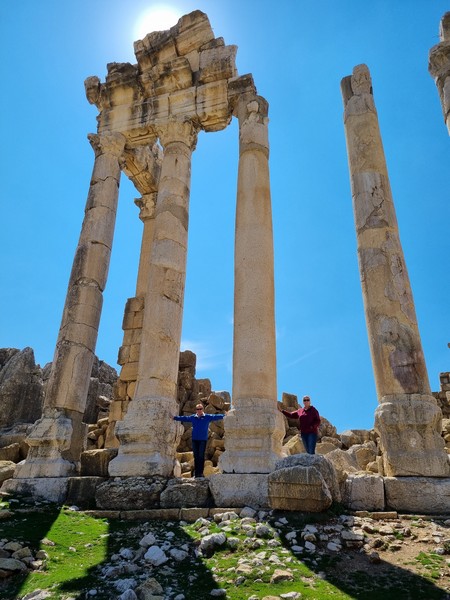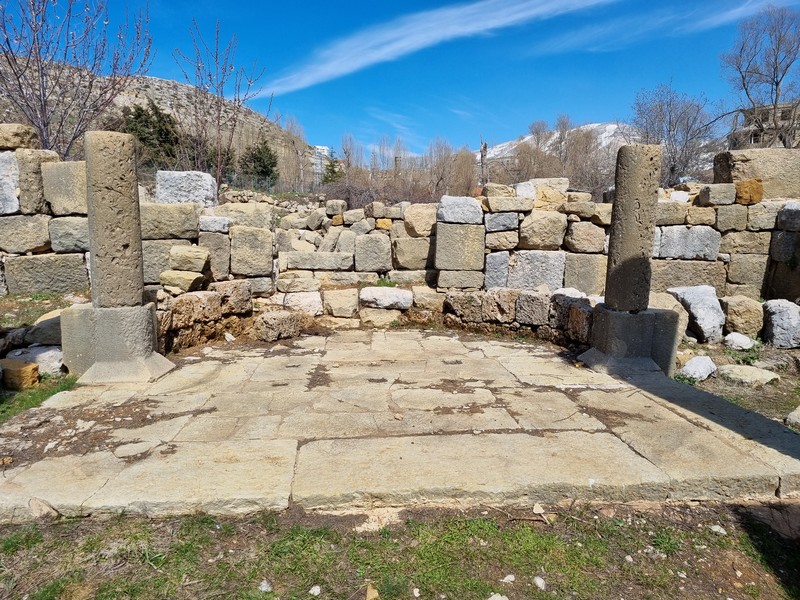 Then our adventure is over and we make one last stop at the Pigeon Rocks, located along the Corniche of Beirut. With enough Ksara wine in our suitcases and a satisfied and happy feeling we travel back home.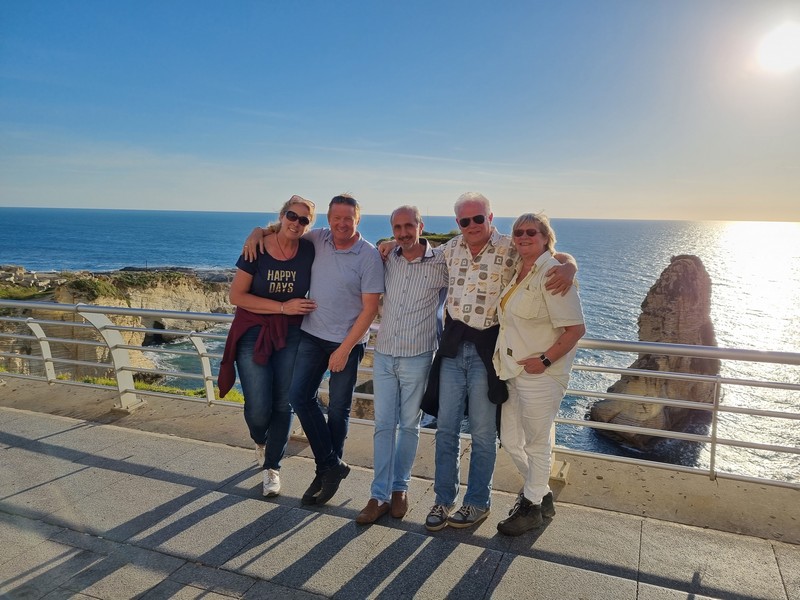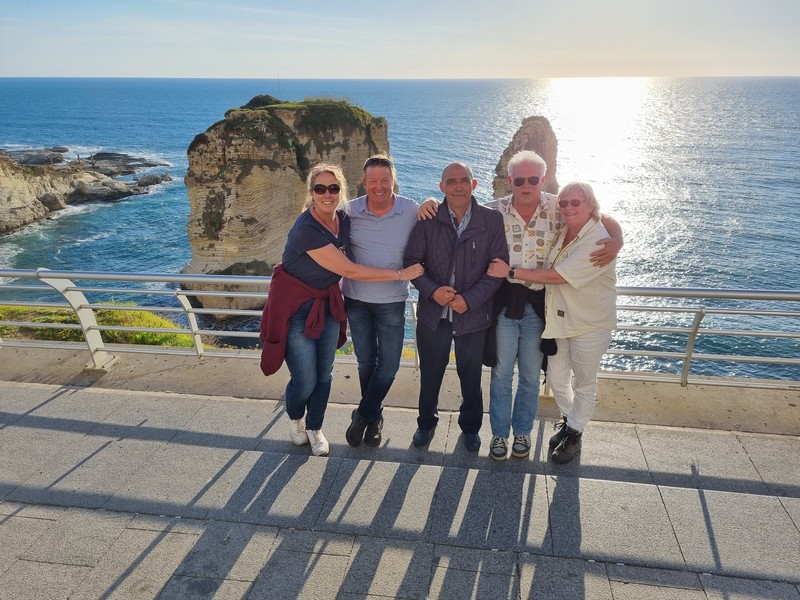 Lebanon is definitely a holiday-worthy country, although the infrastructure is still bad. It is certainly interesting for those who love cultural history, hospitality, good food and a Mediterranean climate.
At many sites we visited, we were the only tourists. It is a great pity that so few people enjoy all the beautiful things the country has to offer, but at the same time it is also incredibly relaxed for those who do go.
Afif Fakhrdin, shukran for all safe rides through the mountains and busy streets of Beirut.
Georges Farah, thank you so much for this wonderful trip, with all your knowledge, our friendship and your fantastic humor.
Until next time both, inshallah.
إلى اللقاء (Until next time)