Viniculture in Lebanon is one of the oldest in the world.
Modern vineyards are mostly in the Bekaa valley - around Baalbek, where it is warm and sunny. Despite the many conflicts that the country has, about 5 million litres of wine are still produced annually in about 30,000 ha of vineyard. In 2010, this was realized by more than 30 wine companies.
History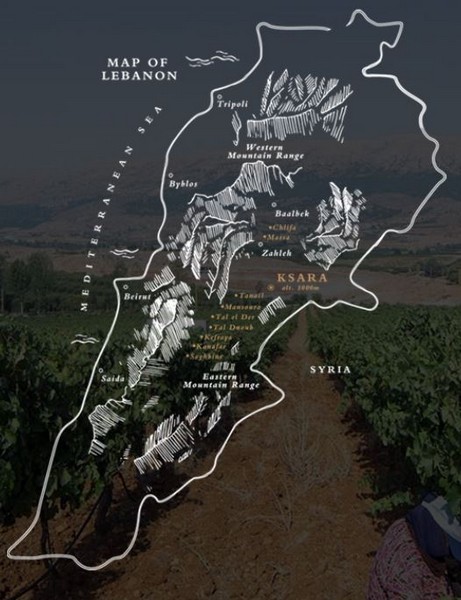 The culture of wine growing in Lebanon has been on going for about 8000 years. The country is located in a triangle that is the cradle of viniculture which is formed by the Caucasus (present-day Armenia and Georgia), Mesopotamia (present-day Iraq) and Palestine.
The first vines were brought along the coastal strip by the Phoenicians 5000 years ago. Evidence of this has been discovered from excavations near the city of Byblos.Two Phoenician shipwrecks from 750 years BC have been found containing a shipment of wine that was still intact. The wine seems to have been protected by the Phoenicians by a layer of olive oil on the wine and then sealed by a pine-wood-stopper with resin. Wine has played an important role in Phoenician religion. The origins of the Greek god Dionysus, and the Roman god Bacchus are deduced from the wine rituals of the Canaan. In the city of Baalbek are the ruins of the Temple of Bacchus, which was built by the Romans in the 2nd century BC in honour of their wine god. There are many images of vine tendrils, and wine consumers. It was the Venetian merchants who exported the wine to Europe around the Middle Ages.
Contemporary viniculture
In 1857, the Jesuit monks planted the Algerian Cinsault grape at the Chateau Ksara (in the Zahleh district in the Bekaa Valley). The French engineer Eugène François Brun founded the Domaine des Tourelles. Others, like Gaston Hochar, who founded Chateay Musar, followed his example. Between the two world wars it was the French influence that promoted the culture of wine drinking. Just like the refined Mediterranean culture that was flourishing in Beirut at that time. In the 1960s, there were already some wineries active in Lebanon. However, since 1982, the production of wine has decreased enormously because of the war. It was only in the 90's that viniculture received a new impulse. Domaine Wardy was founded in 1997 and Massaya in 1998. The French influence remained unabatedly large. The 2006 conflict did not change much to progress new developments.
The wine and wineries
It is the French grape varieties that are grown here. Such as Cabernet Sauvignon and Merlot, but also the typical"Rhône grapes" Cinsault, Carignan and Grenache. In addition, there are native species such as Obaideh and Merwah.All major wineries are located in the southern part of the Bekaa Valley.
Chateau Ksara is the largest and accounts for 70% of the national production. It is no longer connected to the Jesuit monastery of Tanail. It was sold in 1972.