Project support School
We received an annual subsidy from the City of Deventer in November 2020 to support international projects.


As a result, we as foundation have been able to adopt a large school complex.
This school (College des Soeurs des Saints Coeurs - Bauchrieh) in east Beirut has +/- 2500 students.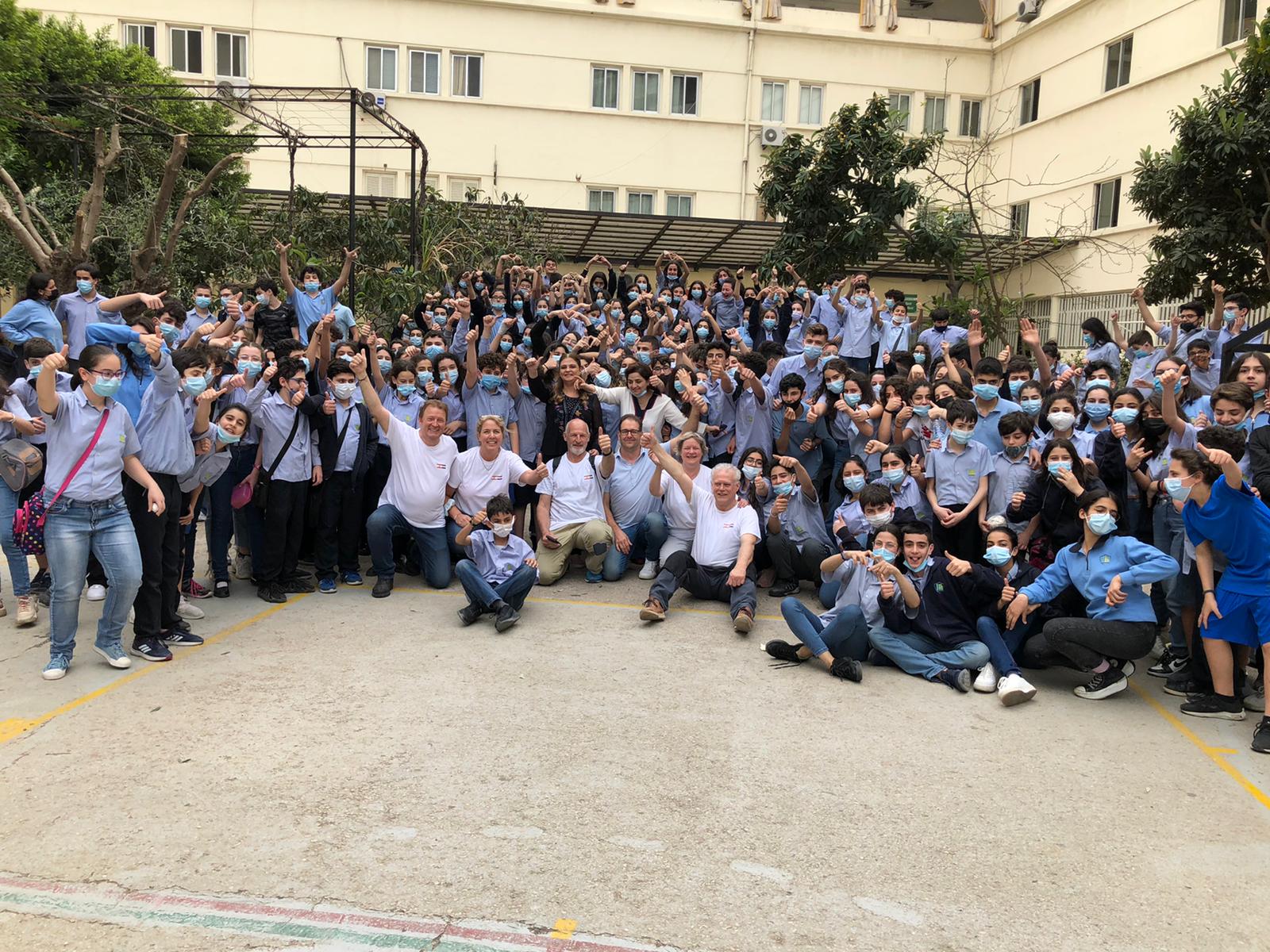 In Lebanon, education is organized differently than with us, there a child goes to 1 school and goes through the kindergarten, primary and secondary education there, after obtaining his diploma he may be able to continue studying at a university.
As a result of the explosion on 4 August 2020, this school itself has suffered a lot of damage to its 5 school buildings, an amount of almost € 300,000 euros. However, that is not something that we as a foundation can offer a saving hand with.
But because we believe that children are the future, there are now many opportunities to develop initiatives.
ONGOING ACTION:
May 2021
Last spring, in collaboration with the school, we are looking how we can help with the repair or replacement of the data network in the short term.
This data network has been severely damaged by the explosion, and needs repair.
In collaboration with a University and the company Sourceware, we are investigating whether we can provide the 5 school buildings with a wireless data network by means of Access Points, so that the school gets a functioning data network again.
With this action, the school can move forward again in the coming years.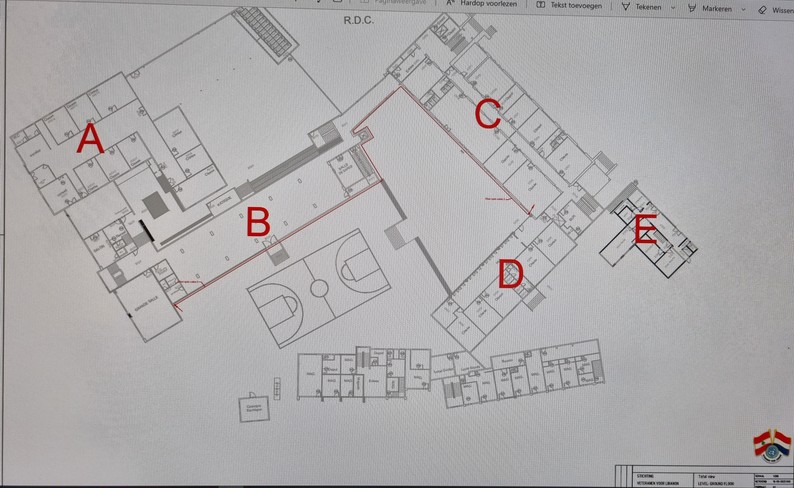 9 August 2021
After our visit today, we came to the following plan during the discussions and the tour of the buildings. It primarily concerns the delivery and construction of the sponsored second-hand hardware such as Access points and computer Switches. In addition, new fiber optic cabling between the Switches and copper cabling must be installed to all Access points. All second-hand hardware is made available by a University.
We are now busy working together with the University and the company Sourceware to work out all the plans.
This includes making working drawings for the cabling so preparations can already be started there, such as drilling through floors and walls. Making an inventory of all the necessary equipment and preparing it for shipment to Lebanon.
November 27, 2021
Today the container containing, among other things, the hardware for the school is on its way (see our weblog)
There are HP core switches, Access Points, a Patch Cabinet, 8 pieces of 65 inch TV screens and a lot of other materials that we desperately need when we are going to install.
11 februari 2022
All 4 fiber optic cables will be assembled and made ready for shipment.
Thanks to my colleague (Hakim) Abdelhakim Mourabit Ouariagli, all fiber optic cables were mounted on the LC and SC fiber optic connectors and then measured.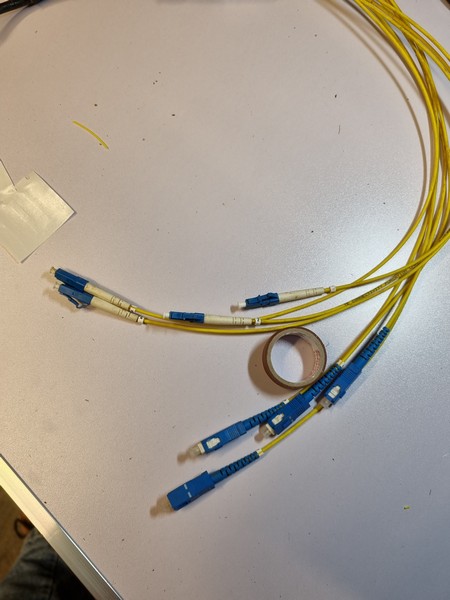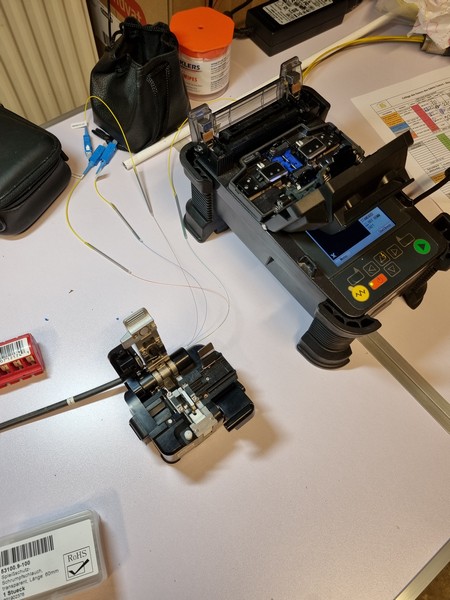 February 23, 2022
The container containing the hardware for the school's network has been released by customs and arrives at the school (see our weblog)
March 20, 2022
A pallet with the fiber optic cabling, 3 pieces 19 inch switches, a complete computer, +/- 40 access Points with mounting brackets, data connectors RJ45 and various other materiaal.
Is delivered today at Schiphol and will be sent by cargo plane to Rafik Hariri International Airport.
We'll just hope that it is released in time by customs so that we can leave on March 31.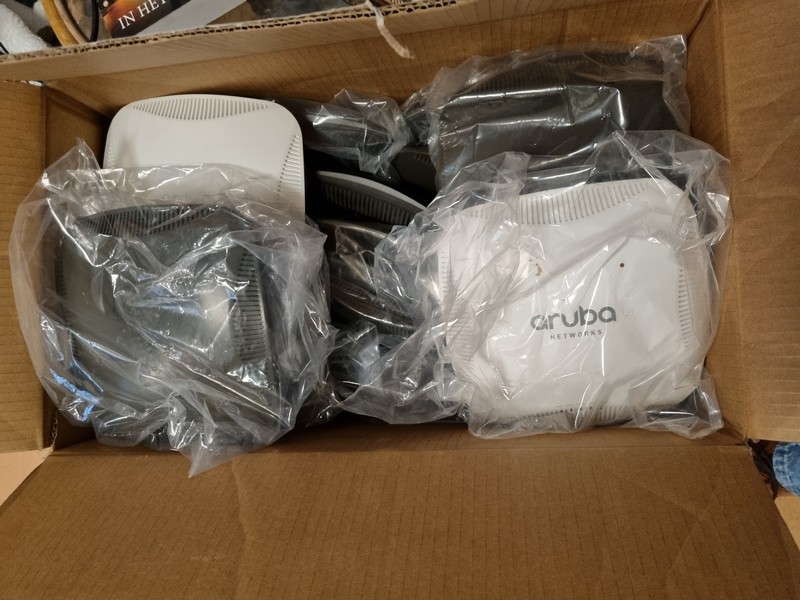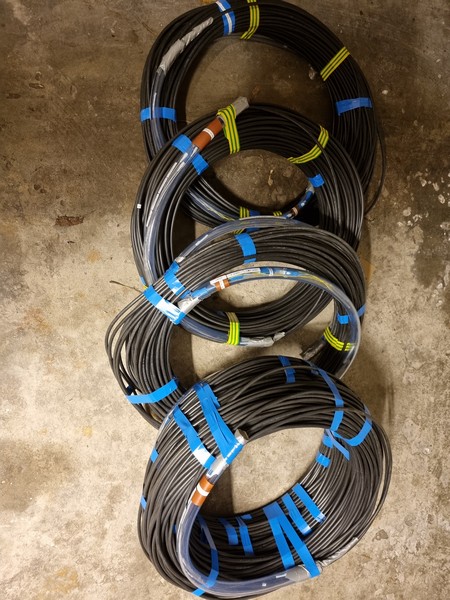 31 March 2022
The last sent pallet with last materials has been released by customs, so we can go.
After many months of preparation and various consultations with the school, the time has finally come, today the three of us, Bart Timmermans, Bartina Vader and the undersigned naar Beirut.
In addition to our standard luggage, we still have about 25 kilos of 'last moment' material with us.
It was actually the intention to send that with a container, but because of the global problems with freight transport, we have now solved it this way.
We are going to start the final preparations so that when the other employees arrive next Sunday, we can start on Monday with the construction of the infrastructure of the new wireless network for the school.
In the coming week we will start with the construction of the 4 fiber optic cable to connect the various switches that will be set up in the 4 buildings.
From the MER room in building B, 2 fiber optic cables go to various buildings.
One goes to building A, the vein goes to the SER room in building D.
From the SER room in building D, one fiber optic cable goes to building C, where there will also be a switch.
In building A there will also be an extra switch that will also be connected by means of a fiber optic cable.
In addition, we will set up the Main Equipment Room (MER room) in building B and the Satelite Equipment Room (SER room) in building D.
When that is done, the various switches and Wi-Fi controllers are linked to the existing Servers with software.
We also place a computer for the management and maintenance of the Wi-Fi network in the MER room.
This computer is also used to communicate with the data network from the Netherlands, so that support can be given if requested from the school.
If there is still time left, we will start with the construction of the copper network for the access points that are still to be installed.
The vast majority of these will have to be laid out and placed by the employees of the school itself.
The plan for the coming months will be:
From the MER room in building B, data cables are used for all access points on all floors.
In building A, data cables for all Access Points on all floors will be installed from both switches, and there will also be data cabling for the fixed computers that are located at the administration and in the library.
From the SER room in building D, data cables go to all Access Points and cables go to building E for the Access Points placed there.
And finally, data cables go from the switch in building C to all Access Points on all floors.
Eventually there will be 500 meters of fiber optic cabling, 7.5 kilometers of Cat 6 and Cat 6a data cable, 2 pieces of Wi-Fi controllers, more than 170 pieces of Access Points, 2 Core Switches and 3 pieces of other 19" switches.
In addition, an extra Patch cabinet for the SER room.
The school takes care of all 230V power supplies that have to be installed at the various places.
We would like to take this opportunity to thank our sponsors:
Without their help and support, this project would never have been possible:
Easy-Shipping, Sourceware, Utrecht University, Dr. Aletta Jacobs College, CK Tekenbureau, City of Deventer and the many donations we received.
You understand that your donation is still very welcome NL64 INGB 0007 6493 55 tnv Action Beirut
Siem Kersten