College des Soeurs des Saints Coeurs - Bauchrieh
Our aid project started in May 2021 is still ongoing: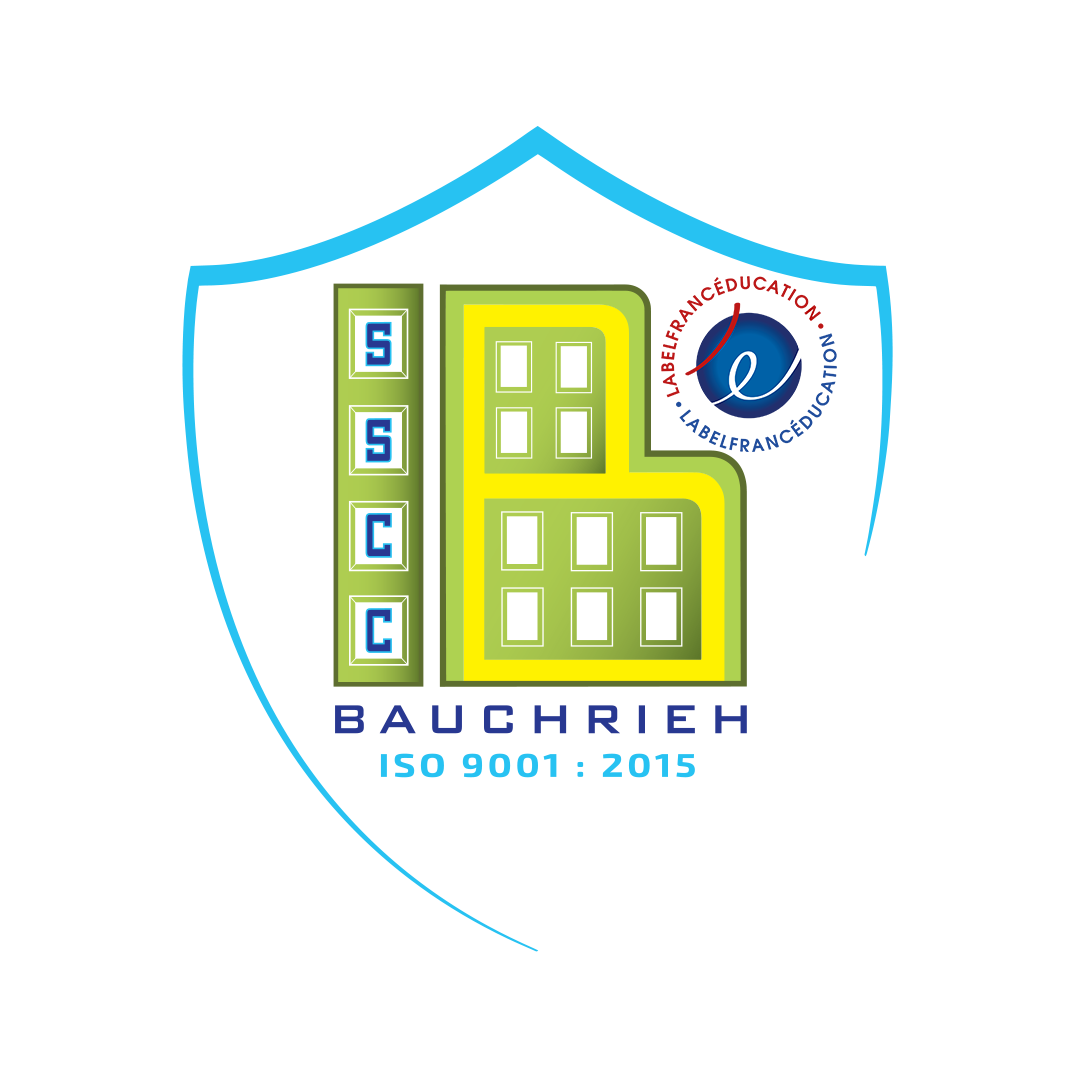 UPDATE June, 2023

We received an annual subsidy from the City of Deventer in November 2020 to support international projects.
As a result, we as foundation have been able to adopt a large school complex.
This school (College des Soeurs des Saints Coeurs - Bauchrieh) in east Beirut has +/- 1500 students.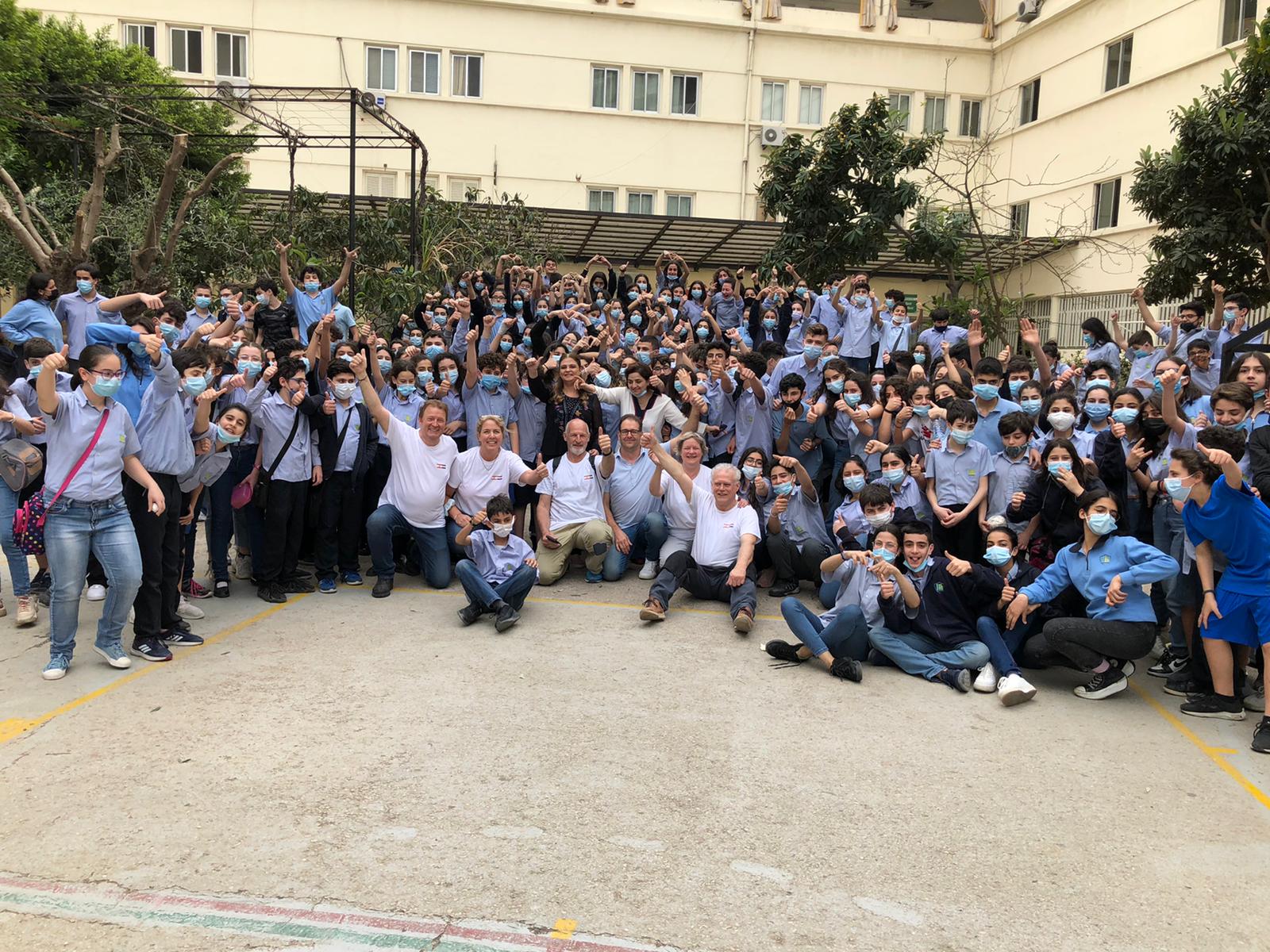 In Lebanon, education is organized differently than with us, there a child goes to 1 school and goes through the kindergarten, primary and secondary education there, after obtaining his diploma he may be able to continue studying at a university.
As a result of the explosion on 4 August 2020, this school itself has suffered a lot of damage to its 5 school buildings, an amount of almost € 300,000 euros. However, that is not something that we as a foundation can offer a saving hand with.
But because we believe that children are the future, there are now many opportunities to develop initiatives.
Work report Abdullah and Bart – 19 May to 29 May 2023
Following on from previous project phases, this time the goal was to upgrade and reconfigure the firewall, replace the old network servers and, if possible, migrate to the new network. The servers of more than 15 years old are about to fall over and use too much power. In Beirut there is still 1-2 hours of electricity per day available from the government, the rest of the day people depend on diesel power generators. In Lebanon, as everywhere else, fuel prices have risen sharply due to the crisis, so it was decided to turn off the generators as much as possible outside school hours and on weekends. To keep the minimal network equipment online, large batteries are used to get through the dark period.
In anticipation of this trip, we have built and configured the so-called new network in a test environment as much as possible in the previous weeks. Then it would be a matter of taking a new machine and getting it operational in Beirut. However, the server turned out to be too large to carry a normal maximum case. There had to be a solution. In the end, board member Siem Kerstens came up with a brilliant idea to use a bicycle case. So to speak, so done, there was a bicycle case available (thanks Bert!) and hop that device in. Then on the scales, a suitcase can only weigh max 32 kg at Transavia, and it turned out to be more than 45 kg! Oops, that's not going to work. Then all kinds of components were taken out such as power supplies, hard drives, fans, etc. and completely stripped, it came out exactly at 32 kg. The other parts well packed in another suitcase and ready to go. We also wanted to bring a fair number of WiFi Access Points and other materials, so the max travel weight was fully utilized.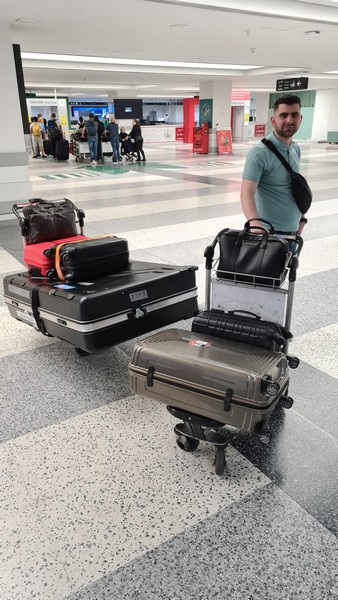 On 19 May we went to Schiphol in good spirits, well in time (because imagine that!) and were able to check in all suitcases, including the bicycle suitcase. It went smoothly. Then we went through the control and customs and we were ready for departure. While enjoying a coffee, we started with the plan of action for the coming days. Arriving in Beirut it was a long wait at the pass gate control and we could go to the baggage carousel. All the suitcases came rolling in at that exact moment, quickly on a cart and out because our pickup, Hagop and Elie, had been waiting for quite some time. We both tried to walk through customs whistling, Abdullah was lucky, I was picked out with my slightly larger suitcase. 'Would you like to go to that scanner, all luggage can go through it again'! The question 'what's in that big suitcase?' was of course inevitable to which I replied 'a computer'. Ah, we'd like to see it, can you unpack it? I wasn't waiting for that, but anyway, discussing that didn't seem useful to me either. After the customs officer's statement 'this is the biggest computer I've ever seen' and some more subates, I was finally allowed to go through. Fortunately, mission accomplished, we were able to move on. Outside Hagop and Elie are waiting for us and this reunion was extremely nice! It was now late so directly to the Maison Notre Dame location where we would spend the night during the week. It is a kind of nursing home for sick and old sisters of the SSCC order with good rooms. The first day was over.

Locatie Maison Notre Dame
The next day, Saturday, we were picked up again by Elie who took us to the school. For Abdullah it was the first time, so it started with a tour of the school and breakfast followed. Then they go to the new J-Tech Academy classes where they teach children how to use robots and programming. The smallest, ages 5-8, can create a route on a laptop by simply dragging blocks onto a worksheet. When they are done with that, the route is uploaded to the robot, a funny cart on wheels, which then travels the course on a mat on the ground. Surprising how quickly they get the hang of it. In another room there is a group of 12 to 16-year-olds who have started with a paper in which they program a script by means of program code. The assignment is to start with a circle in the middle from which 4 identical circles must go from the inside out, one to each corner. The color you can give to each circle, whether you want to apply fading, etc., fading, etc is left to the student. We went through all the students together where they showed us, very proudly (!), their first piece of work. So nice to experience that the laptops and desktops, which were donated to the school through the Veterans for Lebanon, are used for such fun applications. You can see the twinkle in their eyes when they talk about 'their' project and that they really enjoy doing it. Boys and girls mixed up, so cool! This is what we all do for. It gives a very nice feeling and the motivation to go all out!

Students coding to "see" circles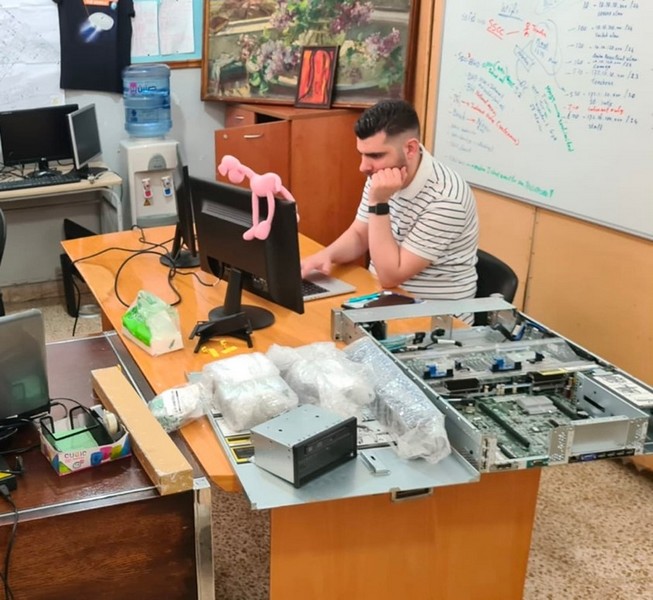 In the meantime, it is starting to itch to get started. We want to use the weekend to implement infrastructural changes such as upgrading and reconfiguring the Firewall, a specialty of Abdullah. In the meantime, I reassemble all the separate parts of the server and place it in the 19" rack for use. The day is going well, we are on schedule and after dinner in the school we are taken back to our place to sleep.
Abdullah concentrated
On Sunday morning we are picked up and we first have breakfast in the school. Mother Superiour Nabiha (85) is already waiting for us and welcomes us. Nice to see her again and that is clearly mutual. After breakfast a short recap and status of the work and we continue. At 14:00 a delicious lunch awaits us.

From left to right: Bart, mother superior Nabiha and Abdullah
In the course of the afternoon we run into problems, the old network must remain intact for the time being but does not respond as we expected. Access to this legacy equipment is lacking, making the search for the cause more difficult. However, it has to be solved today because school has to start again on Monday morning. It will be a bit later, but Abdullah largely 'fixed' it so that we do not have to go back to the old situation.

Bart Abdullah Hagop
On Monday, we'll move on to the remaining issues, but we're not really getting any further. At 12:45 we have a meeting with a Microsoft Partner (Shady and Mohammed) who also helps the school and employees of the school (Hagop and Jad). It is a good consultation and we all appear to be united on the approach that has been chosen. We recognize the limitation of minimal internet connection and need to be creative about how to handle it wisely.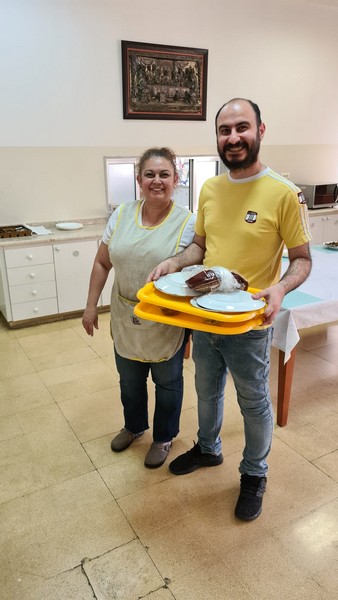 Mohammed turns out to be a network specialist with excellent knowledge of the old network equipment.
He sits down with Abdullah in the server room to look for the solution that is eventually found. Top men!
We all agree that the old network needs to be replaced as soon as possible.Abdullah and Mohammed are so eager to solve the problems that they decide to skip lunch.
Hagop doesn't think that's okay and arranges for lunch to be taken to gentlemen.
After dinner we went to our place to sleep in time to start the next day rested.


Hagop and Renee (cook)
Around 12:00 I get a message from Bert, he has previous visit met a particularly driven and committed Dutch lady who has been living in Lebanon for a year and a half. She helps, disinterestedly, at a school, an orphanage, and helps people in psychological distress. She calls it contributing herself, but it's really much more than that! This school in Hadat can also use help from the Veterans and after some up and down texting we meet the next day in Bauchrieh to meet and see if we can do something for each other.
On Tuesday the daily rhythm starts to kick in, get up on time, the driver comes to get us, struggle through the hustle and bustle of Beirut, always an experience with overtaking left and right, honking, etc., you get used to it quickly. For Abdullah it is already the last day, so after breakfast we get back to work. The problems with the old network do not seem to have disappeared yet, especially Abdullah spends a lot of time to get this to the surface. I am working with Hagop to solve a number of malfunctions in the old network.
Around 18:00 we met Mirjam and it will be a very nice conversation. A beautiful story how she gave up her job to go to Lebanon via detours and a holiday. Hats off though! It is also nice to exchange experiences that she and we have gained in the meantime. I still have a new bag of Venco licorice crayons in my suitcase that I give to her, she laughs about it. Later in the evening Bert gave an update and we decide that I will look on location to make an inventory.
Abdullah, Hagop and I unwittingly make it late again, but are satisfied.
On Wednesday, continue with the Todo and priority list. In the afternoon we are picked up by the new external advisor Marie-Jo to have lunch. We go to the heart of Beirut in a plant-covered terrace where we get all kinds of delicious Lebanese dishes. It's delicious but it also runs a bit late so we have to rush to get Abdullah to the school in time to travel to the airport. And also in Beirut there is traffic jam, which makes it wonderfully crowded again.
We made it reasonably on time. In the evening I am invited by George and Henry to go out for dinner and they take me to another pleasant place. It is very nice to see both men again, after my previous visit and it will be late again with a nice beer. The night watchman at Notre Dame starts growling a little when I come in (too) late. Sorry!
On Thursday morning Mirjam Polak picks me up at Notre Dame, it turns out to be only a 5-minute drive to the school in Hadat.

Sister Rita and Mirjam Polak
This school clearly needs more help, maintenance has been postponed for years. We meet Sister Rita, an energetic lady who is very active in the school and is clearly trying to make something of it with the few resources that are available. We are going to make a tour through this school with more than 850 children. She immediately indicates that there are only chalkboards that, when the sun shines in, are difficult to read. Closing the curtains at these high temperatures is not an option.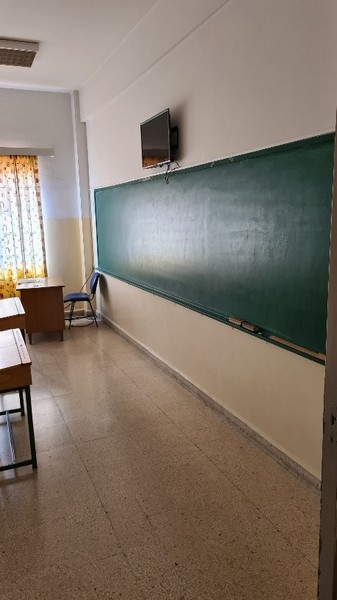 There are outdated digital screens of about 28" in 6 classrooms, which are not visible by half of the class. Furthermore, there is a shortage of educational resources, toys, outdoor play equipment, basketballs and balls, footballs, etc. There is only 1 computer lab in the school where the computers are interconnected but without internet. Moisture spots everywhere and heavily peeling paint. Sister Rita wants to show us something beautiful last, we go to the roof of the school and have a fantastic view of Beirut. Another bullet is found on the roof, according to Sister Rita it is not a rarity. After saying goodbye, Mirjam takes me back to the school in Bauchrieh, the drop bag is fortunately not empty after 2 days. Arriving in Bauchrieh, I give her a short tour of that school after which we say goodbye.
In the afternoon it is a hustle and bustle at the school, Prome 2023, the highest classes wave goodbye. Various students sing and everyone participates cheerfully. What a fun happening. Unfortunately, halfway back to work, the internet connection seems to have dropped and live-streaming is at risk. Unfortunately, we cannot solve it optimally. I'm going to have dinner with Hagop and then I'm going back to Notre Dame. It's another day.

On Friday I start a little later, the driver has to do another ride first but once arrived mother superior Nabiha is already waiting. No, don't take that bag away first, go straight upstairs to the dining room! Her sister has contracted a serious infection, the outlook is 50/50 and you can tell from her, she's having a hard time with it. I play some jokes with her again that make her laugh again, fortunately.
Then quickly to another J-tech class with older students. I get into a conversation with an enthusiastic student, Philip, who talks passionately and shows what he is making. Turns out he is the son of George Farah, what a small world again.
In the afternoon Marie-Jo takes me to her 'own' school as she calls it. It is a prestigious school, half an hour's drive from Beirut and we also visit a number of classes there. This school with more than 4000 students already has modern 'robotics' teaching tools. It never ceases to amaze me how quickly children pick this up and apply it as if it were the most normal thing in the world. It would be great if other schools could also have access to this.
Saturday we spend on problems with downloading and installing Microsoft software (Windows 10 and Office). Also, we can't get the network cable to the janitor's building, Hani, repaired. The sheath is bad, water (!) comes out of the cable, we decide to renew it.
The route of the network cable is not easy, but we succeed.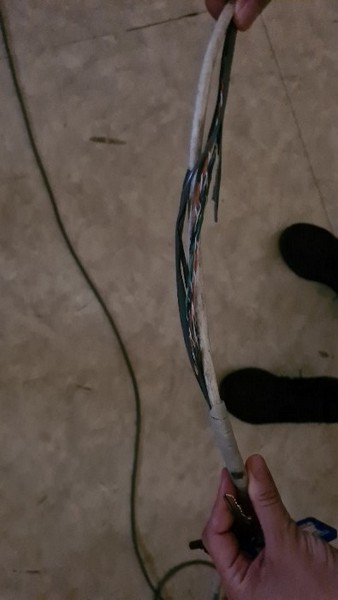 Despite the fact that he does not speak a word of English, it is clear that he is very happy. That talking with hands is getting better and better. Henry picks up Hagop and me around 9:30 pm and takes us to one of Beirut's liveliest streets. This turns out to be about 100 meters from the explosion, but everything has been or is being repaired, making it a street with dozens of eateries and cafes. We decide to grab a few quiet tents and have a nice evening. The night watchman at Notre Dame is not happy again....
Sunday morning Elie is ready at 8:00 am to take me to the school for the last time during this trip. Together with Hagop we still carry out everything, Abdullah remotely from the Netherlands, real teamwork again. Quickly completing the inventory of computers, synchronizing all new Access Points, trying to repair CCTV recorders but that no longer works, the hard drives are all to the gallemies.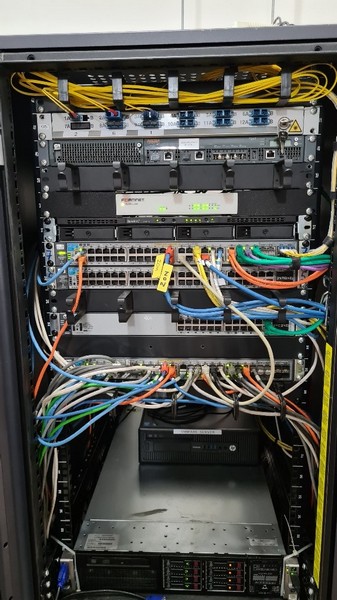 It is still a bit stressful but fortunately on time to the airport. Unfortunately, saying goodbye to now real friends. Again, big eyes and disbelief when I come to check in with my 'suitcase'.
Fortunately, this does not weigh too much so it is accepted. After spending quite a bit of time at the pass gate check and a quick bite, on time at the gate.
Saying goodbye is hard, I notice, on to the next time.
April 2023 (School visit)
During our last veterans return trip, we visited the school, where we were received very warmly.
The school posted that visit on the school's website.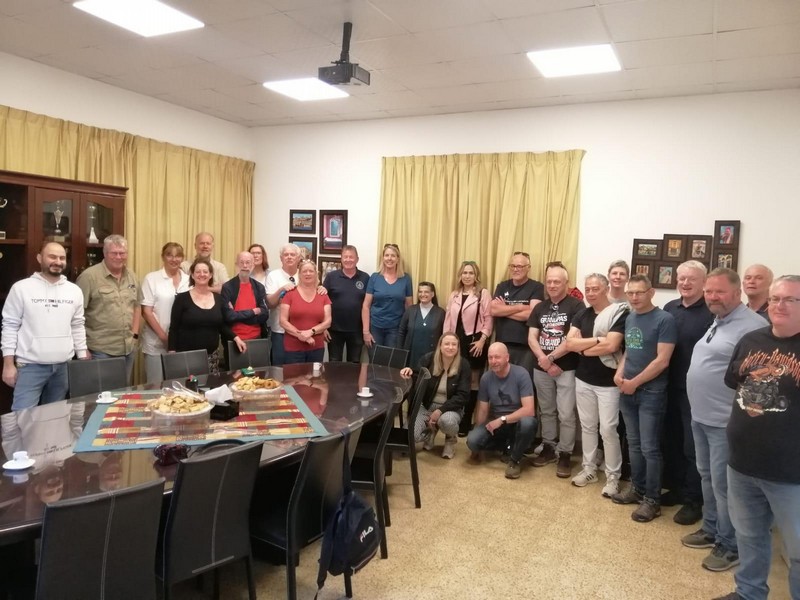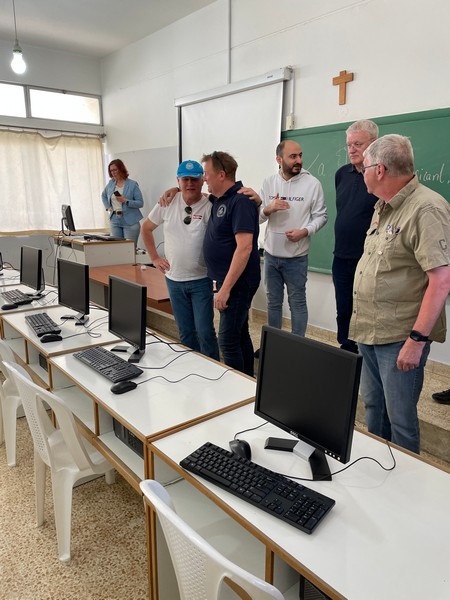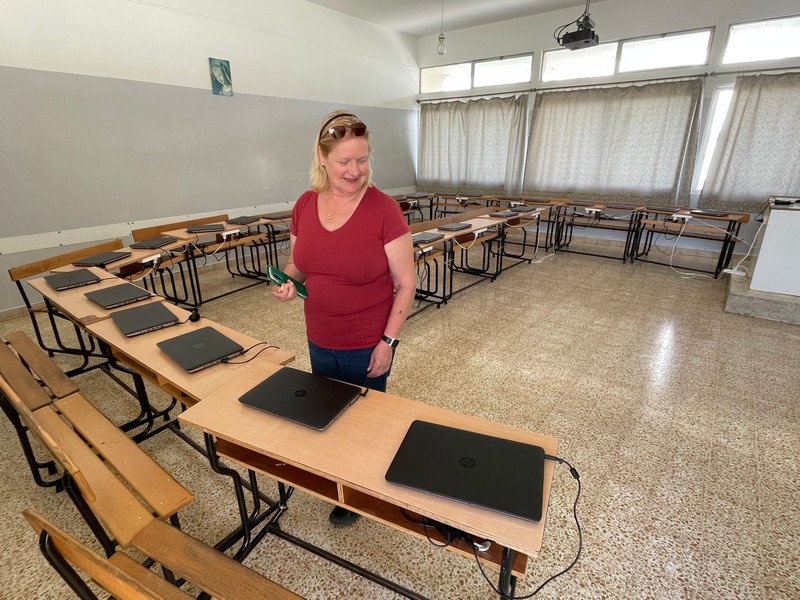 March 27, 2023
Our efforts are rewarded!
The school launches a technology project in collaboration with J-Tech Academy.
As the VVL Foundation, we have been able to make it possible for children to participate in various ICT classes.
Thanks to the delivery of a large number of desktop computers and notebooks thanks to our sponsors, these came with the last container in October 2022.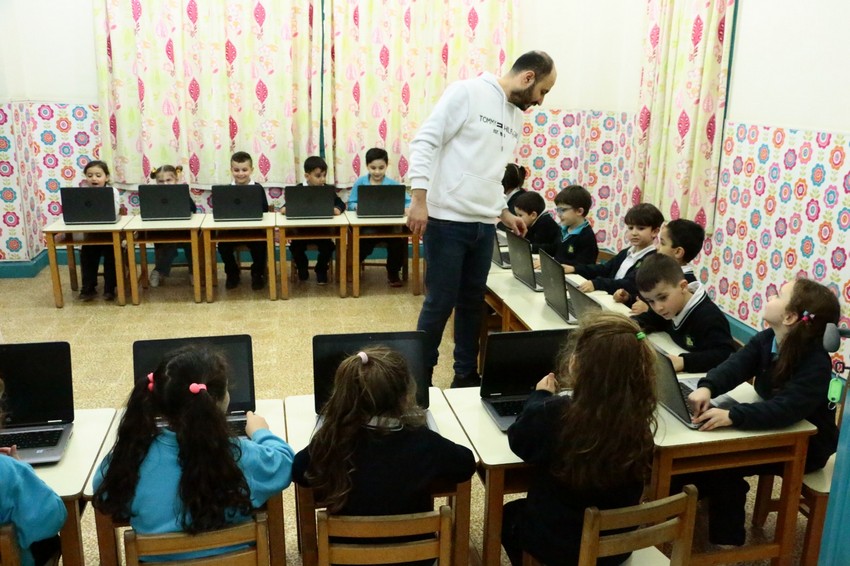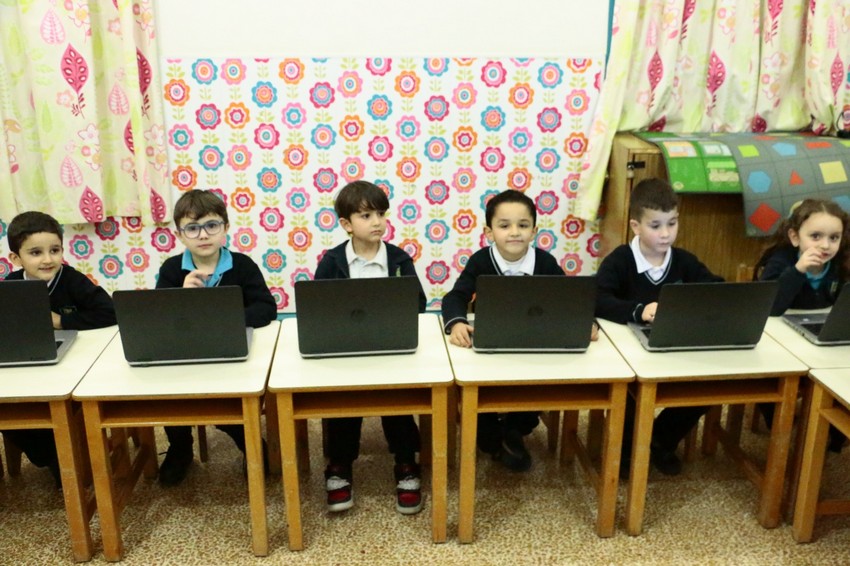 October 7, 2022
Erik, Gerhard, Bartina and I have arrived in Lebanon.
Thanks to our two great drivers Tony and Elie, who drove us safely through chaotic Beirut every day.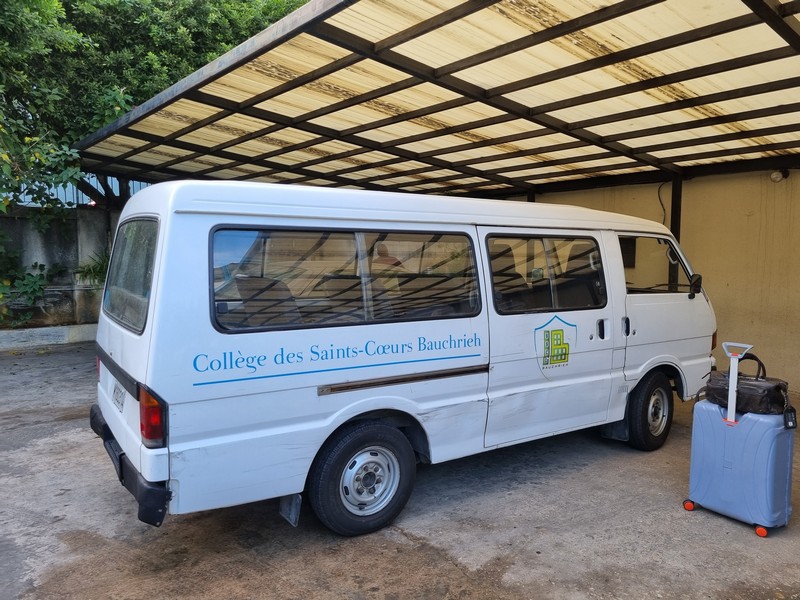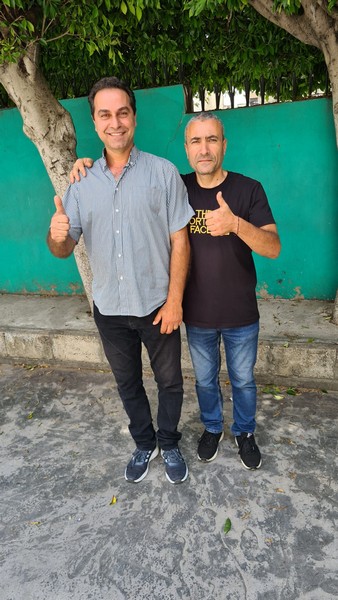 We came back to the school every morning and sometimes back to the monastery in the late evening.
For which we sincerely thank you.

We will sleep in the monastery / hospital of the SSCC Notre Dame in Beirut for the coming week.

In the coming week we will start with the construction of the 5 fiber optic cable to connect the various switches that will be set up in the 4 buildings.
From the MER-room in building B, 3 fiber optic cables go to various buildings.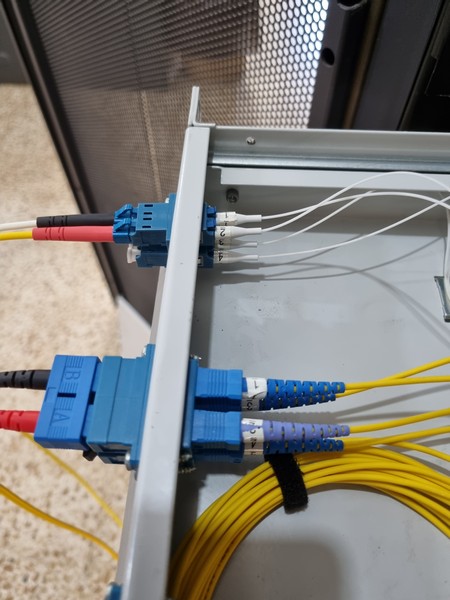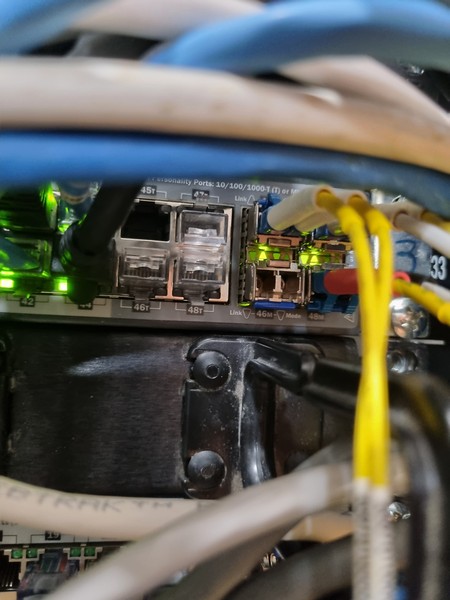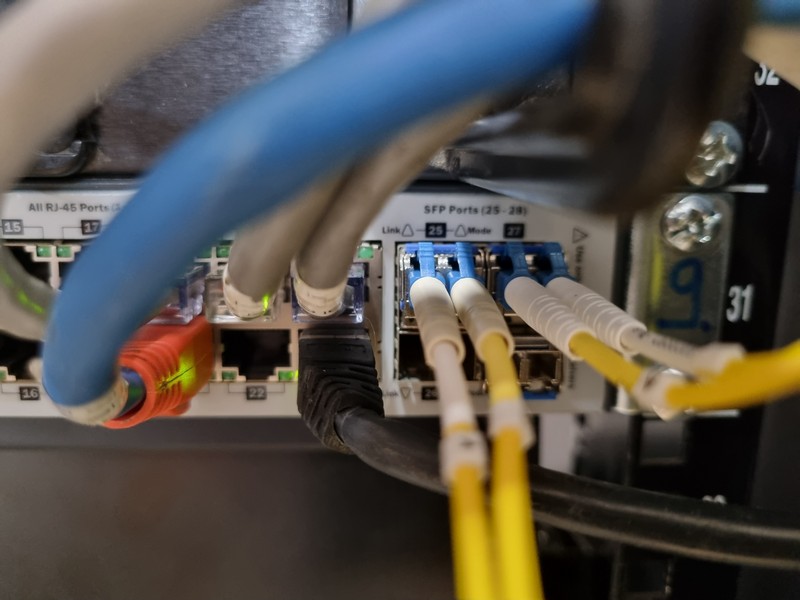 One goes to building A, the second goes to the SER room in building D, finally the last cable goes to building C on the ground floor.
From the SER-room in building D, one fiber optic cable goes to building C on the 2nd floor, where there will also be a switch.
And the last fiber optic cable comes between the switches in building C, namely from the 2nd floor to the ground floor.
We worked hard this week to be able to achieve all the set goals, fortunately the internal person has not been forgotten.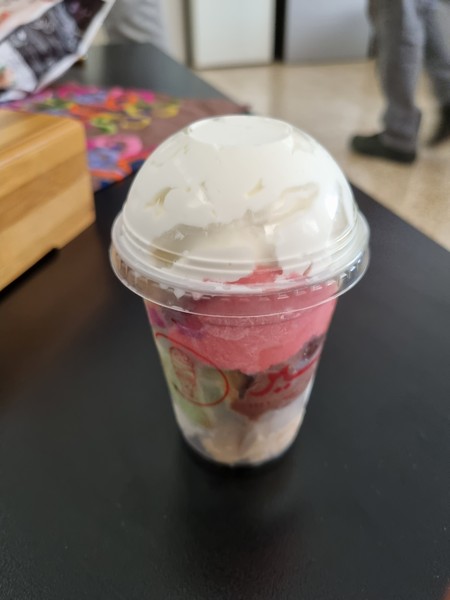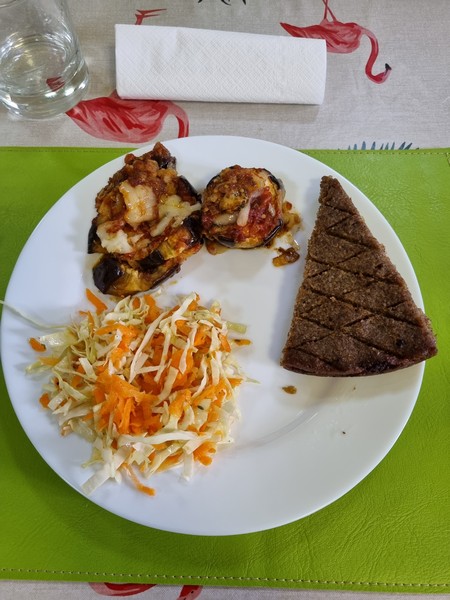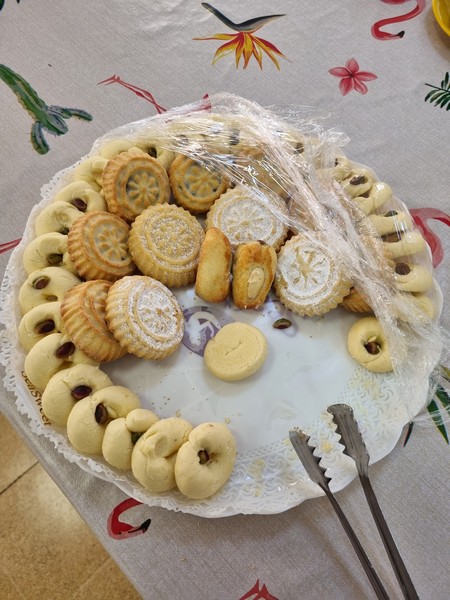 On Friday the 14th, Bart Timmermans was able to approach the entire network from the Netherlands and this part of the project was successfully completed.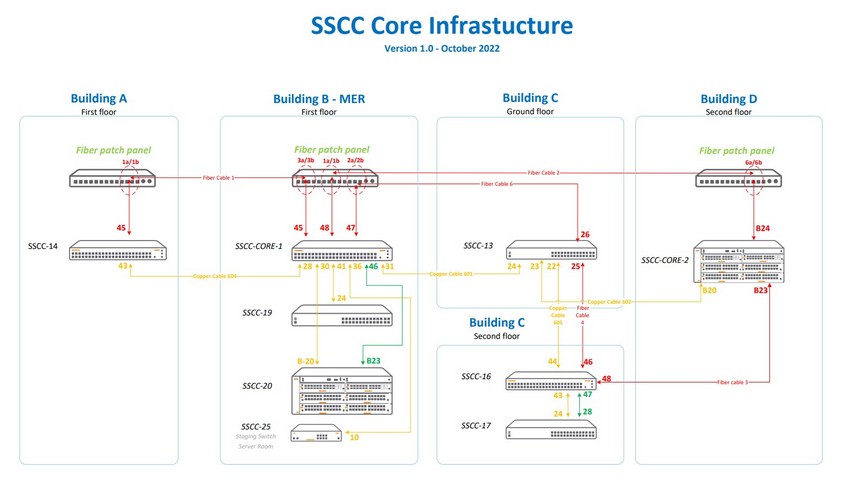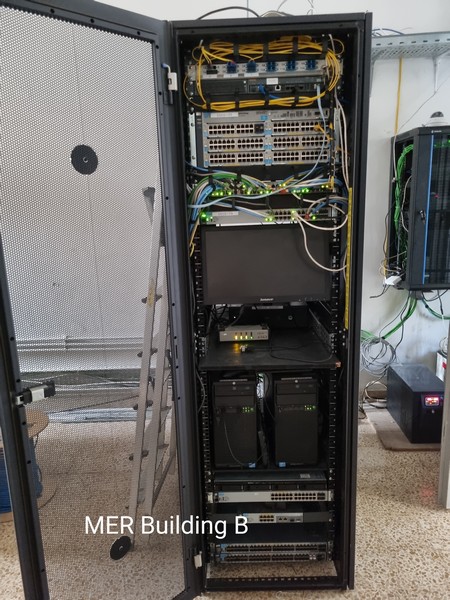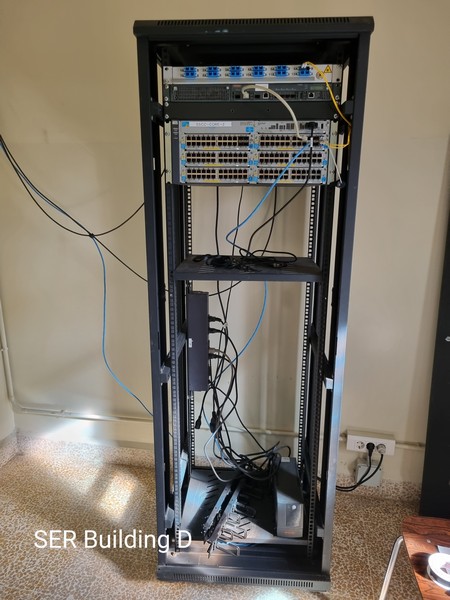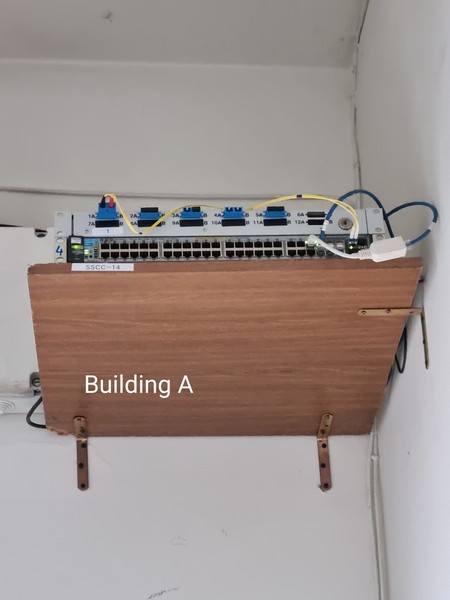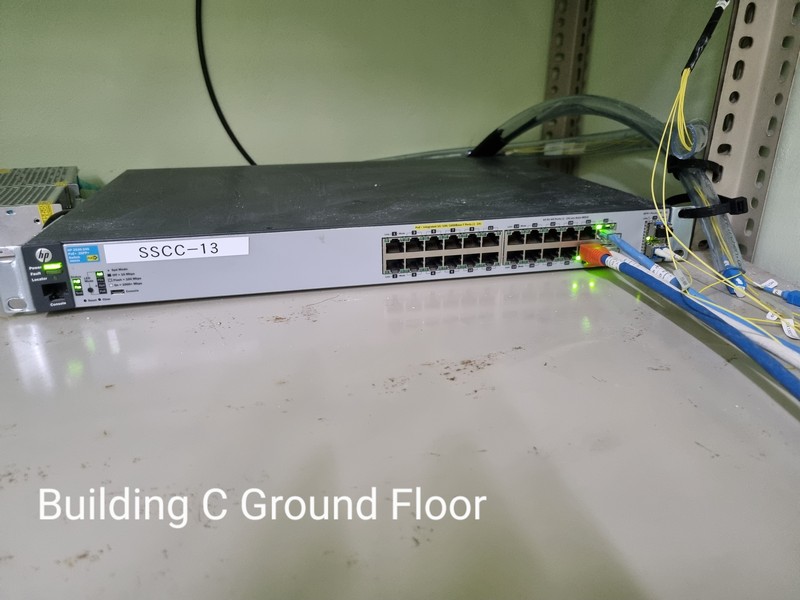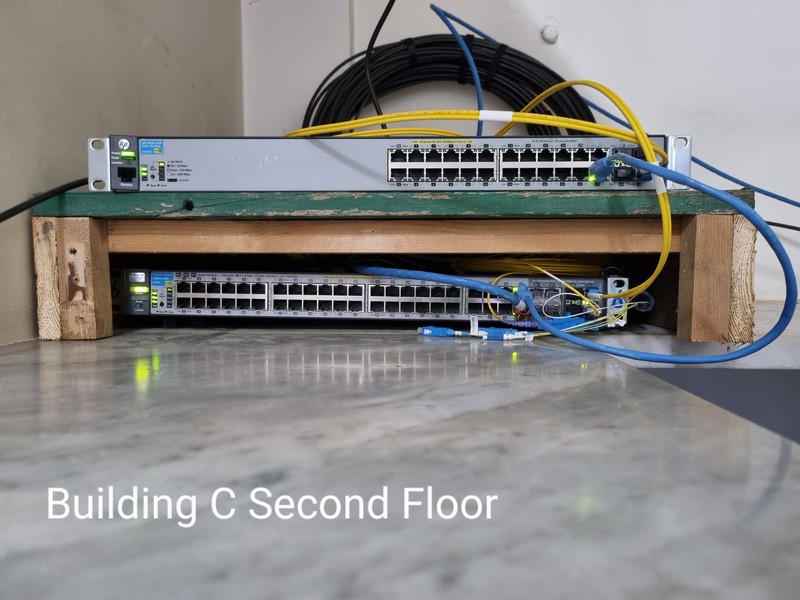 This does not mean that we are ready, in the container that is now on its way to Beirut there are, among other things, 3 smaller patch cabinets that must be placed in Building A and in Building C.
In addition, a few fiber optic panels will be added, so that the fiber optic cabling can be assembled in the right way.
Friday afternoon we had a visit from the Dutch Ambassador Mr. Hans Peter van der Woude and Lieutenant Colonel Rob Keijzer defense attaché, to view the school project.
This was an opportunity to meet our venerable director Sister Raghida El Asmar and her spokeswoman Marie-JO El Zaïck.
These conversations were recorded by RTV-Oost and are used for a documentary about our foundation. How cool is that.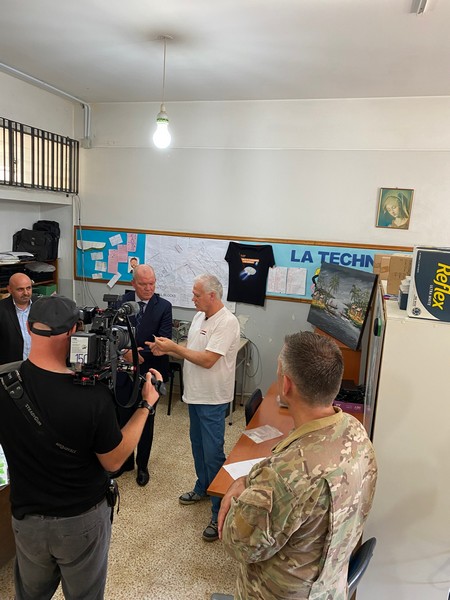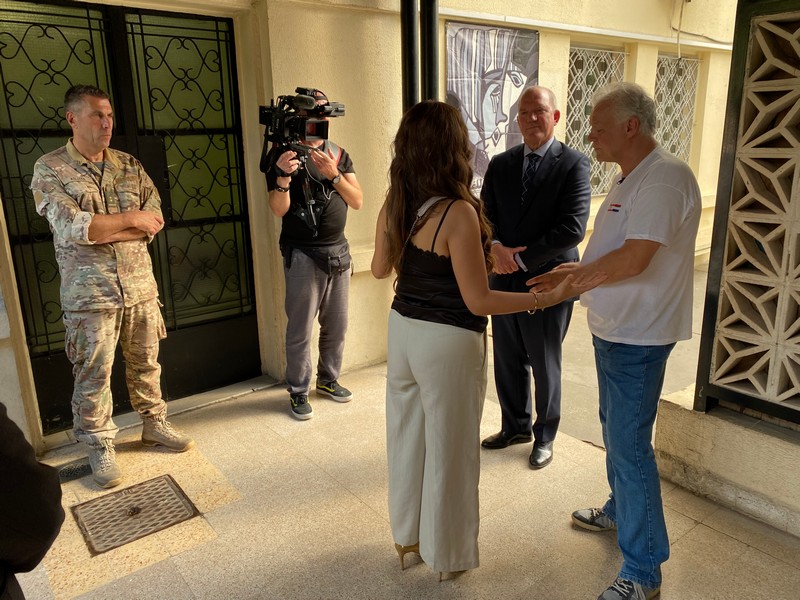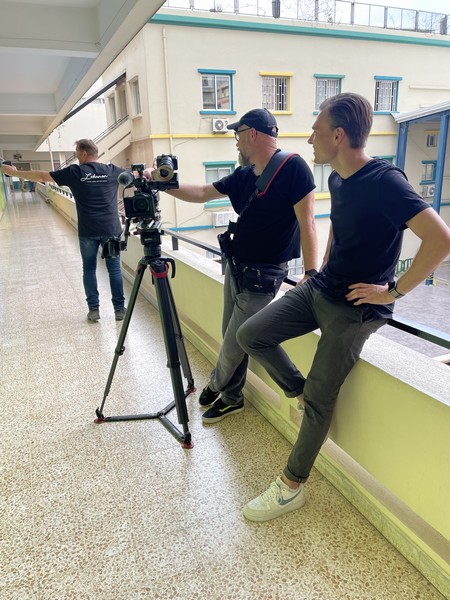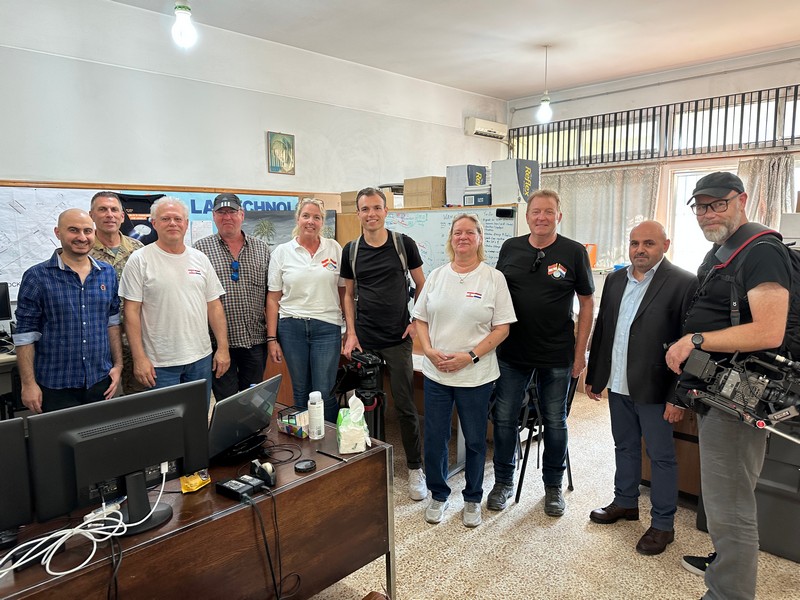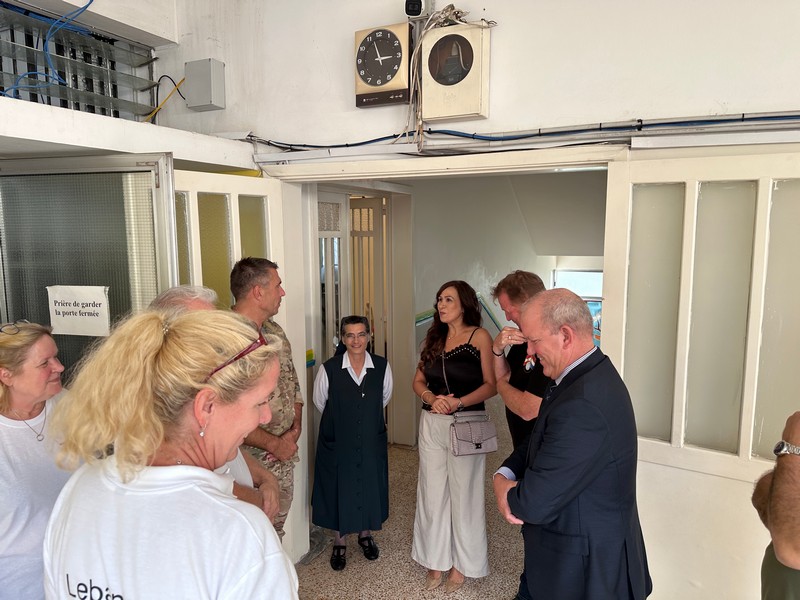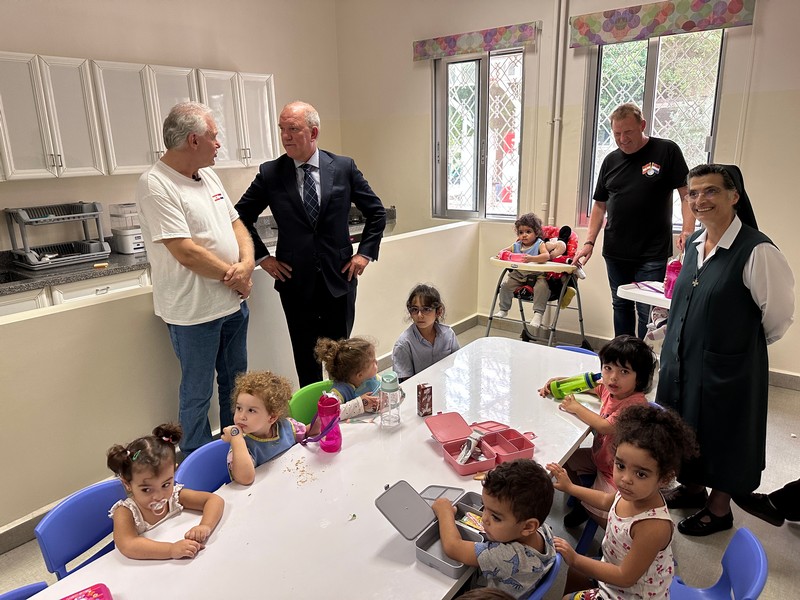 August 27, 2022
Bart Timmermans is busy at the school for a full week, to configure the Servers and especially to give Henry and Hagop procedures, instruction and explanations.
July 07, 2022
Latest state of affairs.
In recent months, the school has not been idle and the first TV screens have been hung.
In addition, the school has installed the necessary infrastructure for the data cabling in various buildings.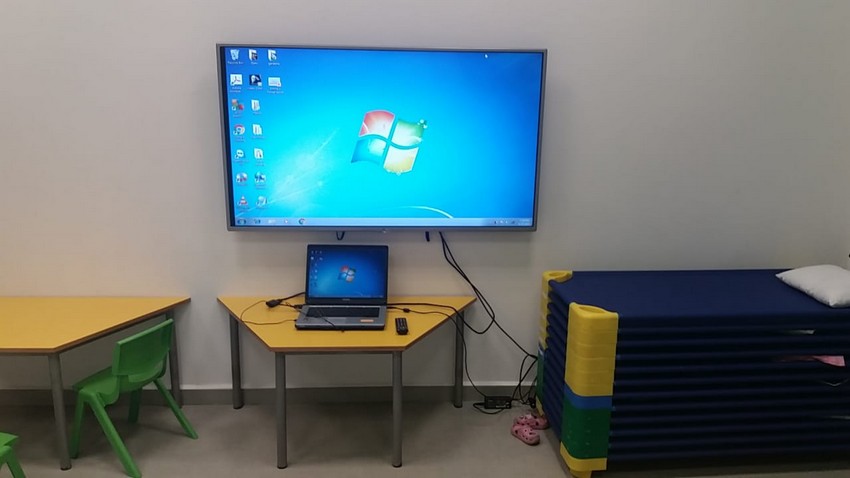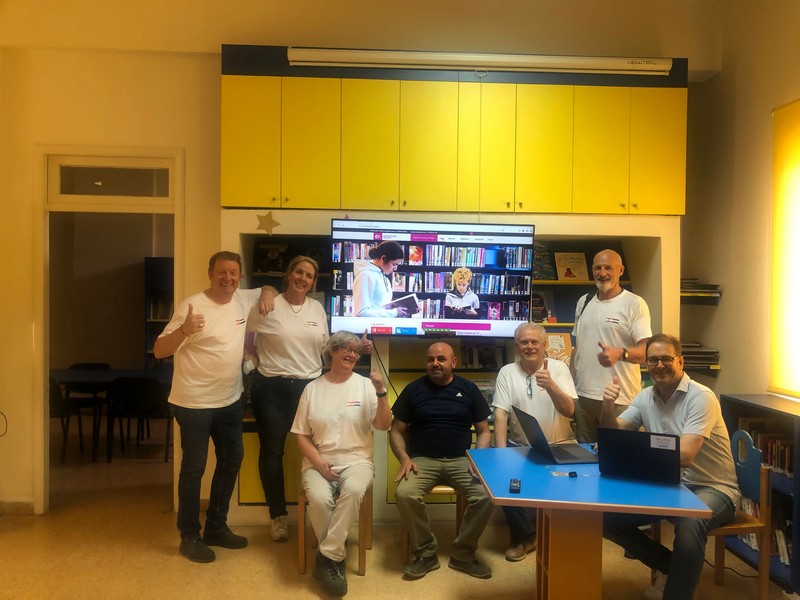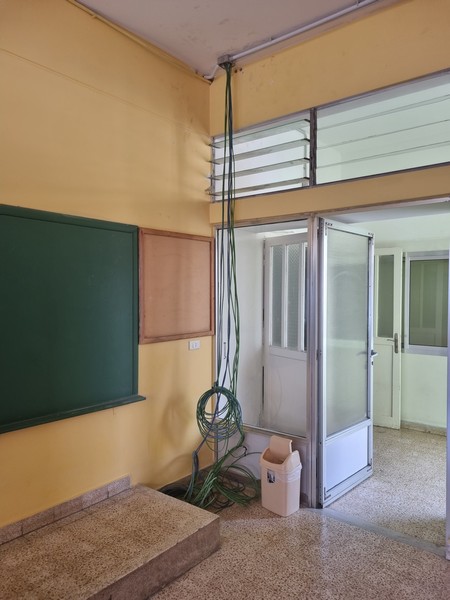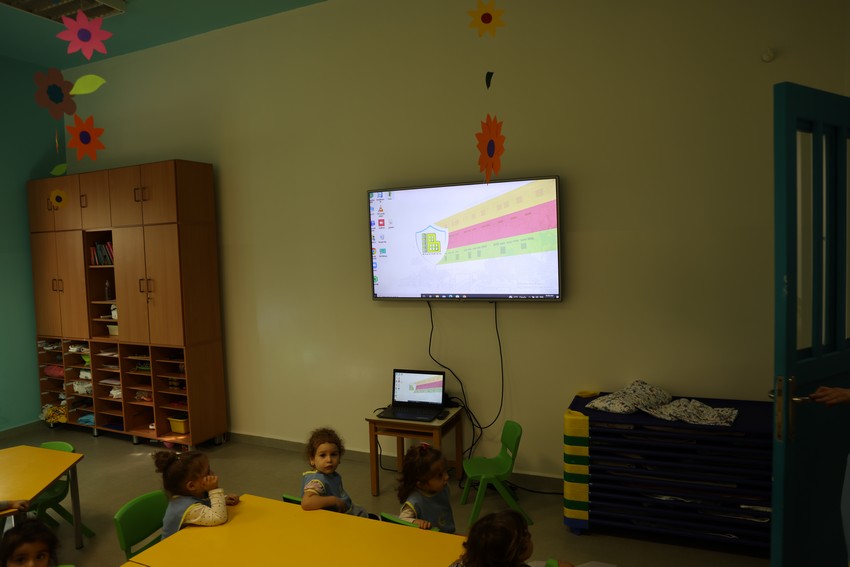 March 31, 2022
The last pallet of last materials sent has been released by customs, so we can.
After many months of preparation and various consultations with the school, the time has finally come, today the three of us, Bart Timmermans, Bartina Vader and the undersigned go to Beirut.
In addition to our standard luggage, we still have about 25 kilos of 'last moment' material with us.
It was actually the intention to send that with a container, but because of the global problems with freight transport, we have now solved it this way.
The plan for the coming week is as follows:
From the EIA room in building B, 3 data cables will go to various buildings.
One goes to building A, the second goes to the SER room in building D, finally the last cable goes to building C on the ground floor.
From the SER room in building D, one data cable goes to building C on the 2nd floor, where there will also be a switch. (unfortunately this cable broke due to drilling work)
And the last datal cable comes between the switches in building C, namely from the 2nd floor to the ground floor.
In addition, we will set up the Main Equipment Room (MER room) in building B and the Satelite Equipment Room (SER room in building D.
in the coming months, the school itself will take care of the construction of all data calls to the Access points.
From the EIA room in building B, data cables are used for all access points on all floors.
In building A, data cables for all Access Points on all floors will be installed from both switches, and there will also be data cabling for the fixed computers that are located at the administration and in the library.
From the SER room in building D, data cables go to all Access Points and cables go to building E for the Access Points placed there.
And finally, data cables go from the switch in building C to all Access Points on all floors.
Eventually there will be almost 600 meters of fiber optic cabling, 7.5 kilometers of Cat 6 and Cat 6a data cable, 2 pieces of Wi-Fi controllers, more than 170 pieces of Access Points, 2 Core Switches and 3 pieces of other 19" switches.
The school takes care of all 230V power supplies that have to be installed at the various places.

When that is done, the various switches and Wi-Fi controllers are linked to the existing Servers with software.
We also place a computer for the management and maintenance of the Wi-Fi network in the EIA room.
This computer is also used to communicate with the data network from the Netherlands, so that support can be given if requested from the school.
March 20, 2022
A pallet with the fiber optic cabling, 3 pieces 19 inch switches, a complete computer, +/- 40 access Points with mounting brackets, data connectors RJ45 and various other materiaal.
Is delivered today at Schiphol and will be sent by cargo plane to Rafik Hariri International Airport.
We'll just hope that it is released in time by customs so that we can leave on March 31.


February 23, 2022
The container containing the hardware for the school's network has been released by customs and arrives at the school (see our weblog)
To the great satisfaction of the teachers and students.
The planned work for the coming months is as follows:
Bart Timmermans of Sourceware will go to the school in the 3rd week of August to set up the school's servers again together with the IT staff.
This can only happen in August because then the school is closed and the data network can be switched off.
Then we (Bartina, Erik Pluut and myself) will return to the school in the first week of October to continue with the construction of the data network.
We will of course carry out this with the employees on site, but we would not be able to achieve this.
A lot has to happen, if the container is on time at least.
We have many materials ready for shipment to the school, over 50 Dell Desktop computers, 5 kilometers data cable, 3 pieces of small patch cabinets, 40 pieces of Cat 6+ Patch panels and 25 pieces of shunting panels.
With these materials we can assemble the data cabling professionally and the various Switches can be placed in closed cabinets.
February 11, 2022
All 4 fiber optic cables will be assembled and made ready for shipment.
Thanks to my colleague (Hakim) Abdelhakim Mourabit Ouariagli, all fiber optic cables were mounted on the LC and SC fiber optic connectors and then measured.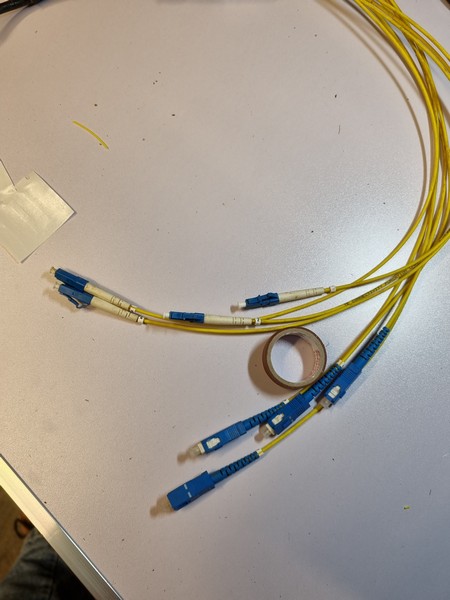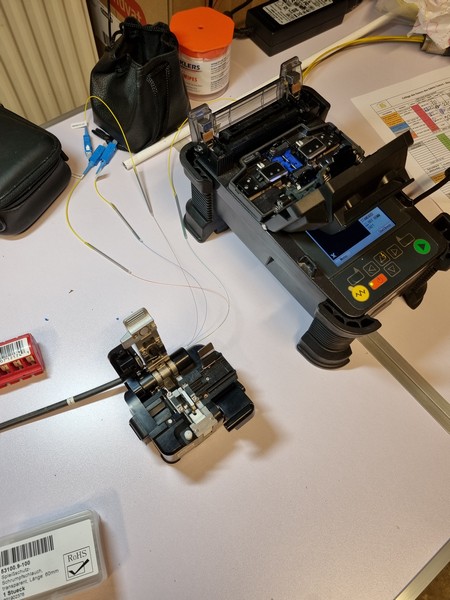 November 27, 2021
Today the container containing, among other things, the hardware for the school is on its way (see our weblog)
There are HP core switches, Access Points, a Patch Cabinet, 8 pieces of 65 inch TV screens and a lot of other materials that we desperately need when we are going to install.
August 9, 2021

After our visit today, Fred and I came to the following plan during the conversations and the tour of the buildings. It primarily concerns the delivery and construction of the sponsored second-hand hardware such as Access points and computer Switches. In addition, new fiber optic cabling between the Switches and copper cabling must be installed to all Access points. All second-hand hardware is made available by a University.
We are now busy working together with the University and the company Sourceware to work out all the plans.
This includes making working drawings for the cabling so preparations can already be started there, such as drilling through floors and walls. Making an inventory of all the necessary equipment and preparing it for shipment to Lebanon.
May 2021
Last spring, in collaboration with the school, we are looking how we can help with the repair or replacement of the data network in the short term.
This data network has been severely damaged by the explosion, and needs repair.
In collaboration with a University and the company Sourceware, we are investigating whether we can provide the 5 school buildings with a wireless data network by means of Access Points, so that the school gets a functioning data network again.
With this action, the school can move forward again in the coming years.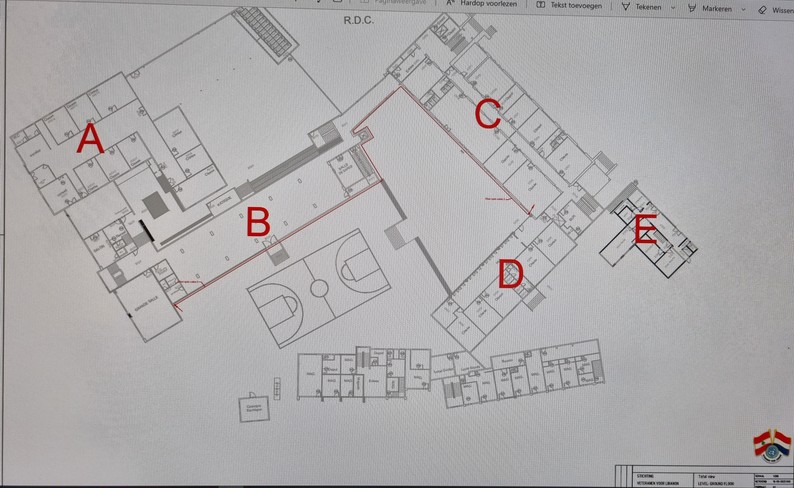 We would like to take this opportunity to thank our sponsors:
Without their help and support, this project would never have been possible:
Easy-Shipping, Sourceware, Dr. Aletta Jacobs College, CK Tekenbureau, City of Deventer and the many donations we received.
You understand that your donation is still very welcome NL71 ABNA 0118 7463 91 tnv Action Beirut
Siem Kersten