The tourist among veterans autumn 2022
Lebanon, 7 October to 14 October
By: Jos Thomassen
I live in Deventer. A year ago I saw a message on Facebook: "Are there veterans in Deventer who want to help prepare and pack a 40ft shipping container for Beirut /Lebanon?".
I sometimes do hand and span services for volunteer organizations so I thought I'd take a day off and help. The Middle East and the conflict in and around Lebanon have always interested me and the misery surrounding the explosion in 2020 in Beirut I could somewhat imagine so I thought ahead with the goat, roll up my sleeves.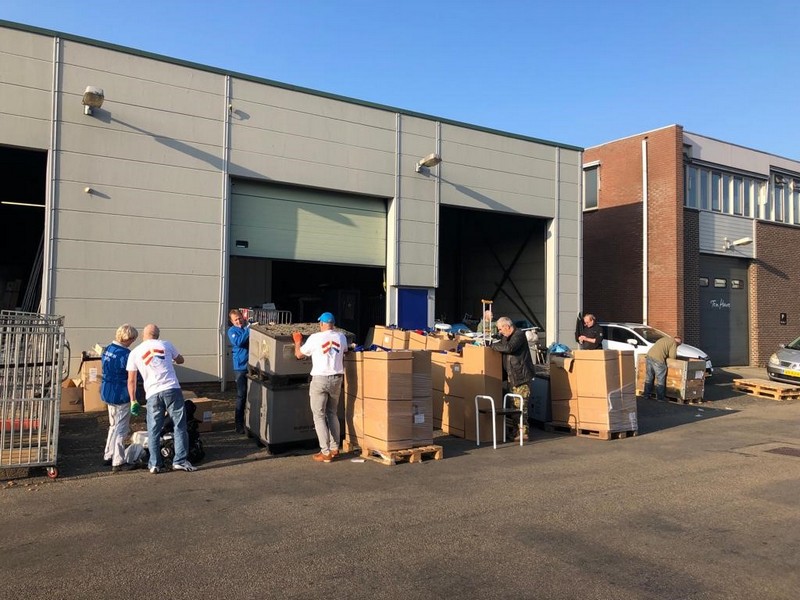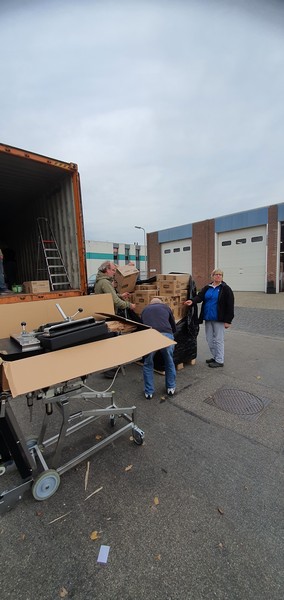 Loading container 12 november 2021
The loading went fine and I kept in touch afterwards. I arranged some things for a school in Beirut and saw the pre-announcement of the return trip for veterans to Lebanon and asked if I could come along.
I didn't expect anything from it because I'm not a veteran; in fact, I've never held a weapon in my hand. To my surprise, I was allowed to come along.
That's how it's done. After an introduction in June, we left for Lebanon on October 7, 2022.
Due to personal amorous developments (and thanks Putin) the group event was a bit difficult for me but I was determined not to let this trip get ruined, which worked out fine; Jeannet thanks for the pat on the back.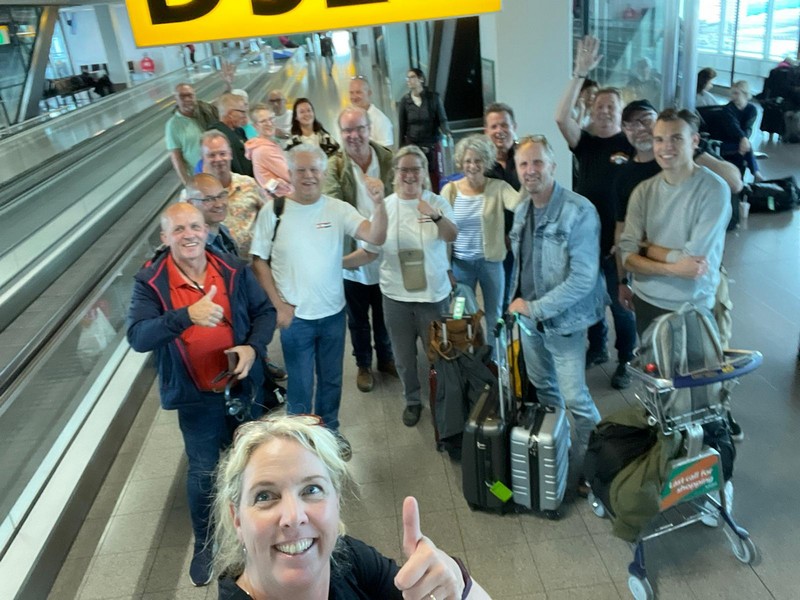 Departure from Schiphol, 7 October 2022
Very uncomfortable as I am in a group of people who know each other through a shared past or family ties, we went on the road. Fortunately, I was able to hold on to the people I already knew from Veterans for Lebanon; thank you for that.
Piece by piece I grow a little bit into the group but I am and remain an outsider: not a veteran; not even family and also not a paid camera professional who reports for RTV Oost.
But it is becoming more and more cozy happy.
Party in Byblos.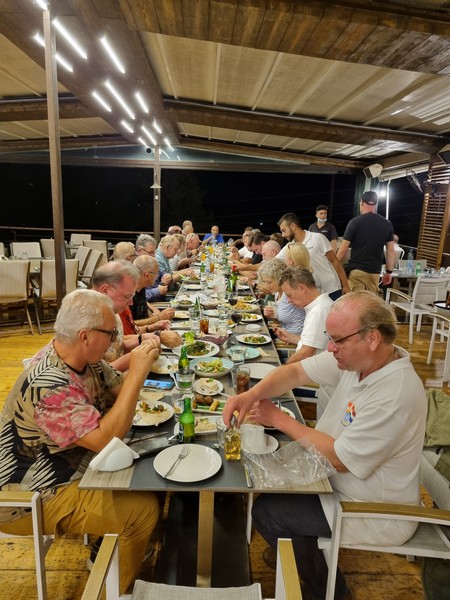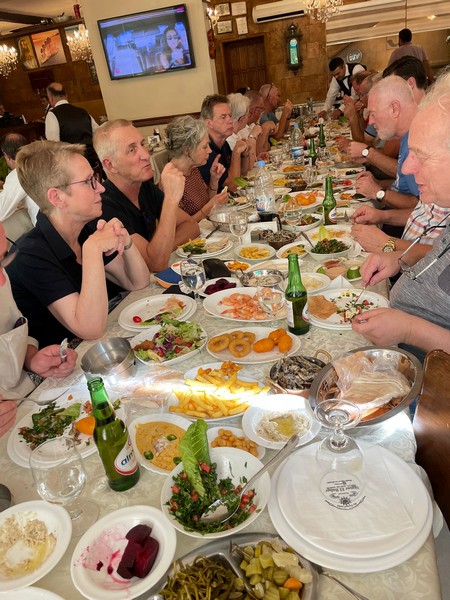 The meals in Lebanon are quite extensive!
From one tourist attraction I bump a little awkwardly to another, meanwhile enjoying the beautiful Lebanon more and more and more and more familiar with the people in this torn country, also talking more and more with veterans. Byblos and the caves of Jeita were fantastically beautiful, as were Baalbek and many other places we visited.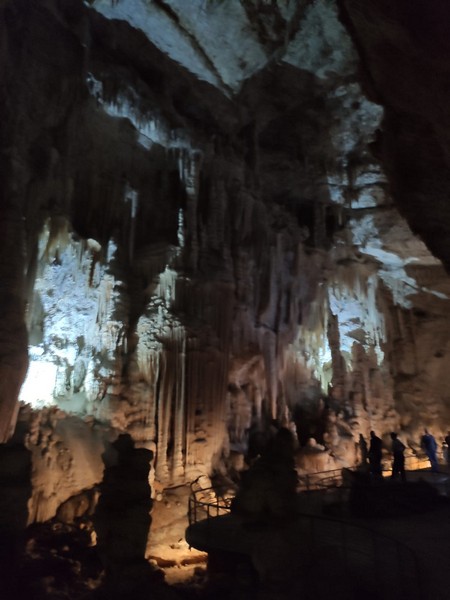 The caves of Jeita
Begging people were a shock to me.
It was very heartwarming to see how our group became more and more generous. One of the veterans was even kissed and cuddled as a thank you: cute.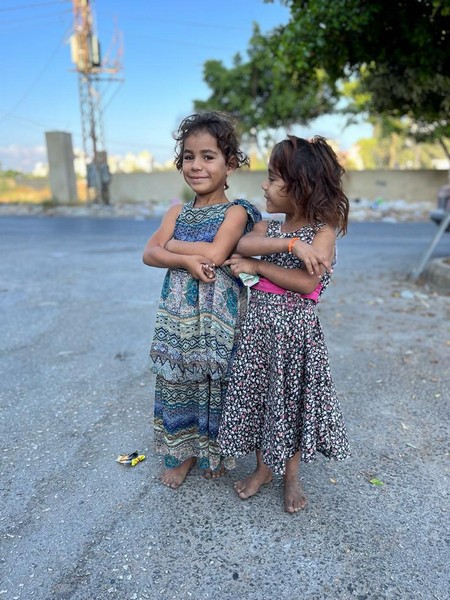 Begging cuties with the spoils of the day in their hands.
When visiting the UNIFIL headquarters in Naqoura I am again 100% tourist. In a military environment I fall completely by the wayside: the military protocol, the attitude, the base around me with the barbed wire and walls.
I don't have the bond that veterans have among themselves. Especially do not walk in the image of the camera. The basis is of course very interesting to see for a citizen.
Just a chat with Suzanne (Lieutenant at sea) about Hezbollah being seen as a terrorist organization at home; that image is quickly adjusted.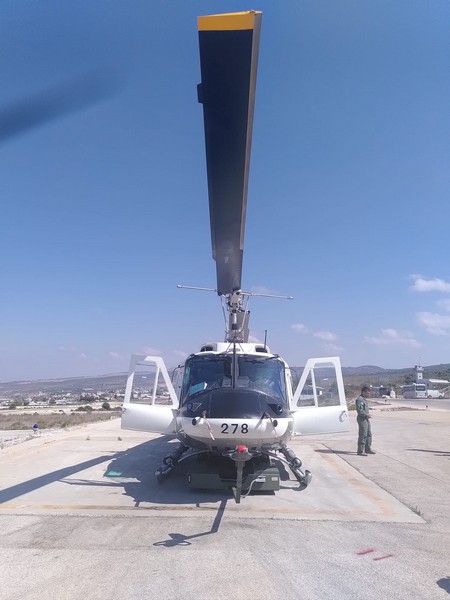 Medical helicopter from Italair
Meanwhile, we enjoyed the very extensive meals and drove through Lebanon and talked about the most banal things. Someone apparently puts chicken in a microwave, the youngest female member of our travel party was fortunately at times an outright - rather daring - flapuit, the necessary real estate geleuter and so on.
Just like being in a pub in Delfzijl or something.
I did not expect it at all, but during our visit to the places where the veterans served, the veterans started talking to me more. I really liked that.
In any case, my respect for those men increased because of those stories and I believe - and hope - that they could see that.
If not, here's the thing: respect men!
The trip through Hezbollah territory was insane. A real trip. An outright dirty male chases the group, cars and scooters on their heels. Cameras must remain hidden.
Here is the local headquarters of Hezbollah and in my head the Mossad who hopefully does not look at our phones and sends a drone or worse.
Everywhere in southern Lebanon the yellow flags of Hezbollah; and occasionally a green one of Amal. Fortunately, we were soon escorted again by soldiers of the regular Lebanese army.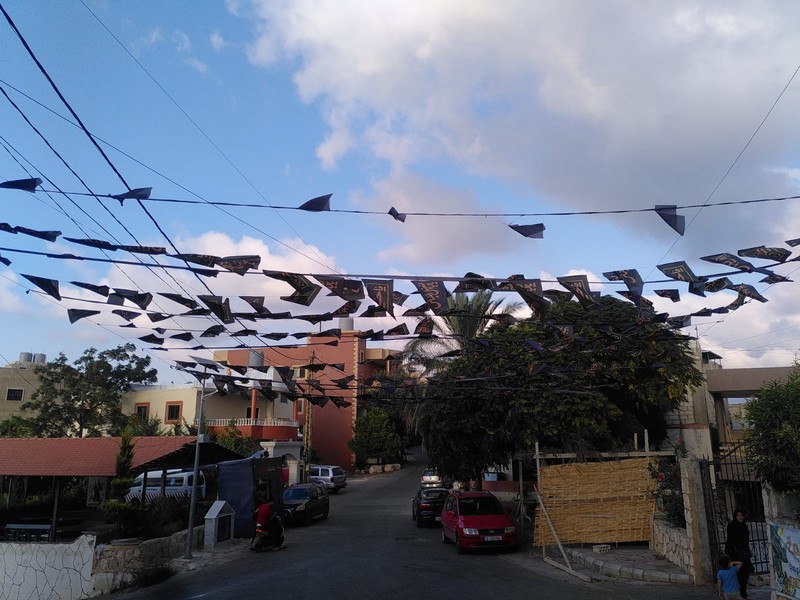 Hezbollah area with flags everywhere in memory of the anniversary of the death of the Prophet Muhammad
We go from left to right and then quickly back to the left because we are not allowed to continue walking. Walking here is not a relaxing activity.
We talk a lot about what we can and can't do in this neighborhood. The tension is now rising quite a bit here.
And before I know it, we are quietly drinking tea for an hour on a beautiful terrace with a family.
I lose the sense of time a bit; my stay in Lebanon becomes a bit blurry and the memories are criss-crossed. We have seen many beautiful places: churches, ruins, cities, the coast. The mountains.
The beautiful mountains, the wealth and poverty: the crazy Lebanon. Georges gave excellent explanations about the history of Lebanon, the culture, language, politics and the people.
But sometimes there was also grumbling. Another church? Another ruin?? And salt it up with that camera. Taboulé again? Shouldn't we have spent more time with Harris? Or another post?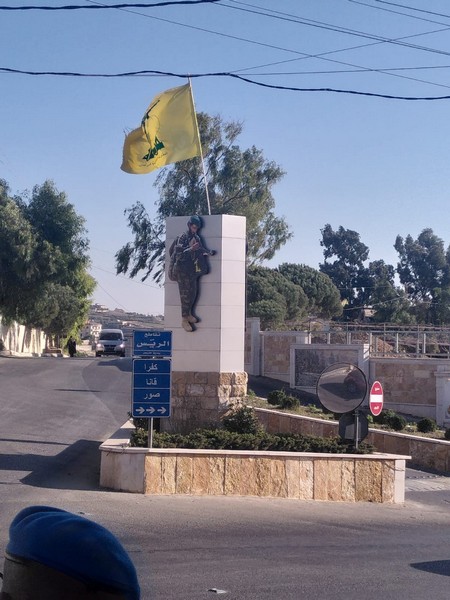 The last day in Beirut with a visit to the school for which Veterans for Lebanon has delivered a feat.
The entire complex is equipped with an excellent digital network for use by fixed computers and mobile devices such as laptops and telephones. A meeting with the Dutch ambassador, the military Attachee, the manager of the school Sister Raghida and her personal advisor in high heels Marie-Jo El Zaïck who enjoys the full interest of the male members of our group.
Several interviews take place for RTV-Oost (Marcus and Teun), we meet the local IT specialists Henry Younes and Hagop Keork.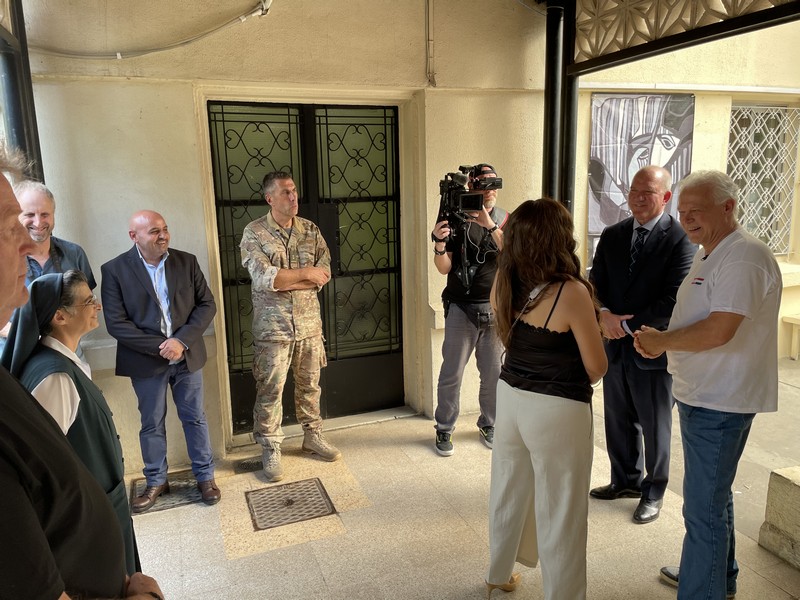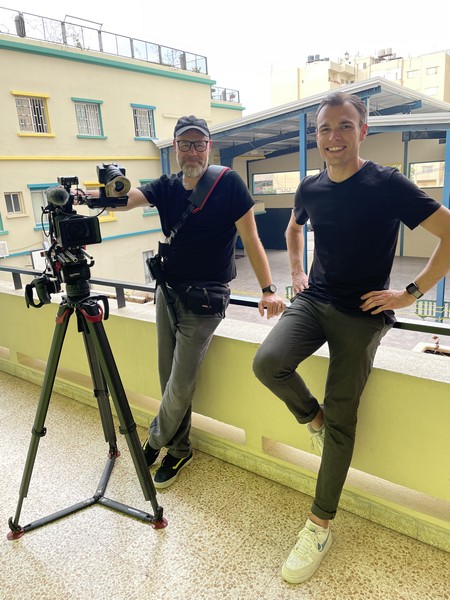 The short night out in Beirut was a lot of fun. Together with Maaike at the shisha; enjoying a nice drink together in the pub.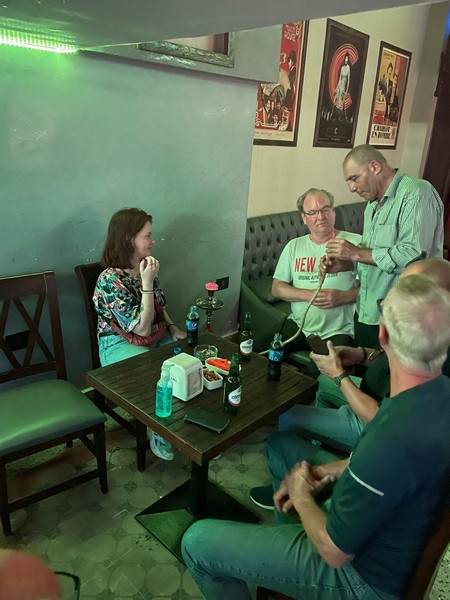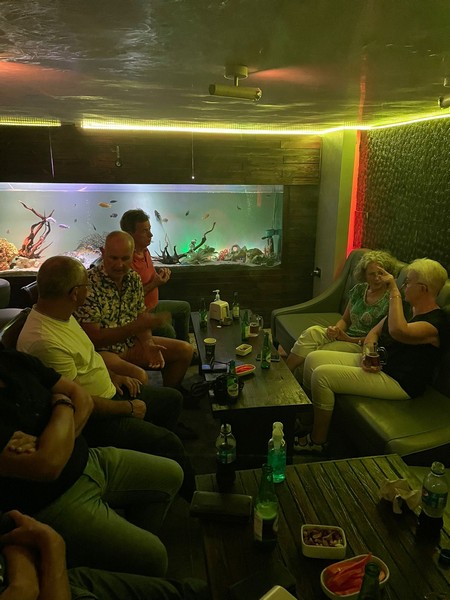 How do you close something like that? Why do you go to Lebanon at all?
Not really a common holiday country at the moment. Our reasons were different.
Veterans especially want to return to the old posts where they were stationed during the UNIFIL missions. Family went along to see what Dad/Husband went through during the broadcast.
The camera crew was present for the production of the documentary for RTV-Oost. The school where Veterans for Lebanon has a project running, the disastrous explosion in 2020 in Beirut and the general malaise of the country were for several of us - partly - the reason to go of course.
And everyone was happy that the dollars ended up with people who desperately need it.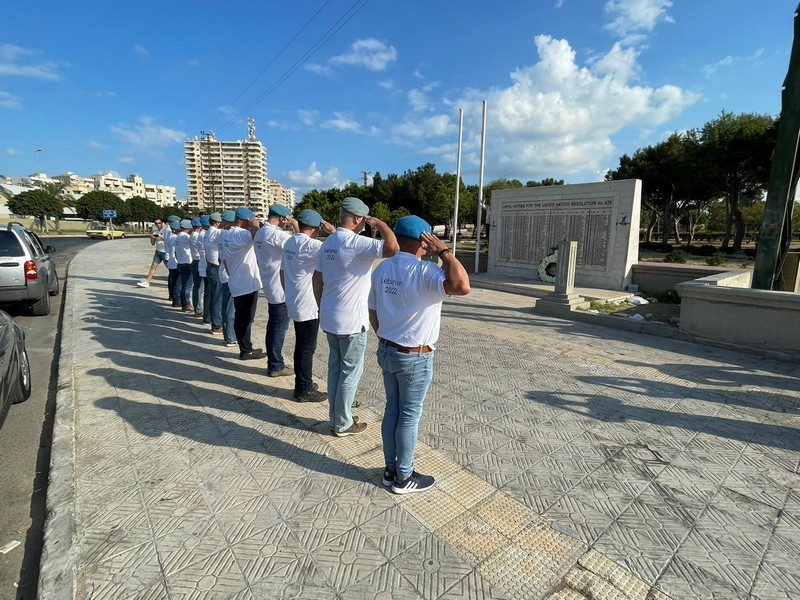 Salute to the monument to fallen UNIFIL soldiers
Has the trip been successful and have our expectations come true? For me personally, certainly. More than 100%. For others? I think so.
Although some would have liked to have spent more time in and around the old posts in southern Lebanon.
Bert Kleine Schaars wrote the book 'Lebanon 1980 Vakantieland? '.
At the time, the country was torn apart by armed conflict, so UNIFIL did not go on holiday to Lebanon.
Will it be a holiday destination in 2022? It is really a beautiful country, complete strangers speak to you sympathetically on the street with three words of English or good French, the landscape is beautiful to see, archaeology, castles, beautiful cities and beaches and so on.
Yes, it is a holiday country, especially in the cultural field more versatile than many countries in the tourist Top 5. A country as large as 3 Dutch provinces also offers both beach and ski resorts, where do you find that?
The quantity and quality of archaeologically valuable sites are unimaginable.
Follow the instructions of the Foreign Office because Lebanon is Lebanon of course; not France.
Let this photo serve as a farewell then. Goodby Lebanon! See you later.