Lebanon as a tourist destination.
by: Siem Kersten
Holiday destination Lebanon
Lebanon is on the rise as a tourist destination. The country has traditionally been a buffer between the East and West, and Lebanon still has the best of these two worlds.
The welcoming, friendly population have the rich history and culture from the East , but also the liberal, relaxed atmosphere of the West.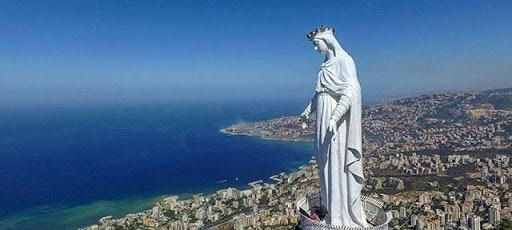 Travel advice Lebanon
We are often asked: Is Lebanon safe as a travel destination, given the troubled situation in the Middle East? Despite all the unrest in neighbouring countries, Lebanon is a safe country for tourists. It is a safe beacon among surrounding countries with unrest.
Currently, the same advice applies to most of Lebanon as, for example, to Bali, South Africa or Costa Rica: there are slight security risks.
The cities on the coast such as Sidon and Jounieh and the centre of Lebanon can safely be visited, as well as the capital Beirut.
Lebanon, land of extremes
If you're planning a vacation, Lebanon probably isn't the first country you'd think of.
Nevertheless, Lebanon is an amazing travel destination worth visiting at least once in your life. It's a land of extremes. Lebanon has 18 official beliefs, very diverse landscapes and different climates.
For example, you can sit on a terrace in the sun on the coast, while only half an hour's drive away there is plenty of skiing in the mountains. Lebanon also shows a mixture of excessive wealth and abject poverty. Especially along the coast of Lebanon you will find beautiful luxury neighbourhoods, large modern shopping centres and trendy boulevards with lounge cafes and discotheques. But if you get a little further towards the border area of Syria, you also see what real poverty is.
The most beautiful nature reserves in Lebanon
Many people travel to Lebanon mainly to visit the cultural highlights of the country. But there are also more than enough natural sights to explore in Lebanon.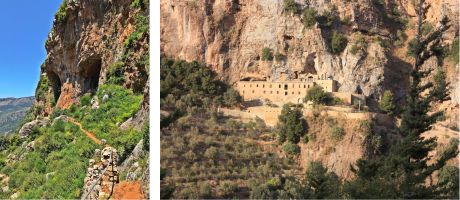 The Qadisha Valley or the Kadisha Valley in Lebanon is one of the most famous nature reserves in Lebanon. The 50-kilometre-long gorge is a UNESCO World Heritage Site. The best part of the gorge is the northern most 20 kilometres that lead to the Qadisha cave. Here you will come across ancient temples and churches, a lot of waterfalls and breathtaking viewpoints.
The Horsh Ehden Nature Reserve, near Tripoli, has a wealth of plant life, with 35 species of trees, including some very rare ones such as the native Ehden milk vetch and the Cilican pine. There are also wolves and golden jackals here.
A 30-minute drive from Beirut you will find the caves of Jeïta. They are located in the Lebanon Mountains, not far from the blue Mediterranean Sea. These beautiful stalactite caves are six kilometres deep. You can walk through this or take a boat trip on the river.
The Bekaa Valley extends east of the Lebanon Mountains. The valley, which is located at an altitude of 1,000 meters, is very fertile due to the large amounts of water. The Bekaa Valley is Lebanon's most important wine region.
The Anti-Lebanon mountain range spreads east of the Bekaa Valley, on the border with Syria. The temples of Baalbek can be found at the foot of this mountain range.


Movie: Marcus Ganzevles
The Anti-Lebanon is a dry, arid and sparsely populated area, although there are some waterfalls and rivers in the southern part at Mount Hermon.
The refined Lebanese cuisine
Lebanese cuisine is considered one of the best in the (Arab) world. This is because many other countries have (had) influence on the dishes. Think of the Persians, Kurds and Armenians, but also the French and Chinese. Ingredients that are widely used in the Lebanese kitchen are chickpeas, mint, minced lamb, parsley, sesame oil, olives and walnuts. Be sure to try the mezze: lots of small bites on a large scale. In addition, the Falafel is originally a Lebanese dish; delicious fried balls made from mashed chickpeas or broad beans.
Practical information for travelling to Lebanon
We have collected the most important information and some useful tips, for when you are going to travel to Lebanon soon.
One-way travel advice
The best time to travel for Lebanon is April to June and September/October. To avoid the summer heat, you preferably travel in spring or autumn. If you are in Lebanon between December and April you can go skiing in the mountains. A day's travel from Beirut is Mzaar Kfardebian, with 42 runs and 80 kilometres of slopes. It is the most popular and largest ski area in Lebanon. A visa for Lebanon does not have to be arranged in advance. The visa can be obtained free of charge at the airport on arrival. If you have a stamp of Israel in your passport, you may be denied entry to Lebanon. You can possibly apply for a new passport from your local council to get around this.
Travelling around Lebanon is quite easy. There are buses and mini-vans that depart from every city. Almost all hotels and hostels can arrange this for you. If you are with several people, sharing a taxi is also a good way to explore the country. A European plug will not fit Lebanese sockets. It is therefore advisable to bring a world plug with different adapter options.
In addition to a world plug, it is also useful to bring a power bank. Some places in Lebanon have "power drops" so you can sometimes spend hours without power.