From the start in 2020 to the end of 2021, the OVA Foundation has a total of € 26. 484.80 on behalf of the VVL Foundation to gifts, donations and payments received.
In the same period, a total of € 23,380.10 was paid on behalf of the VVL Foundation.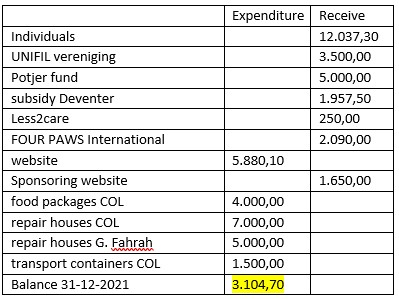 Donations in kind have also been received in which the donors have indicated that they wish to do so anonymously so as not to damage the good relationship with the contacts involved.
In addition to offering transport (means) and providing transport and storage free of charge, technical materials for setting up a computer network (cabling, computers, switch boxes, screens, etc.) are also offered. This has proved invaluable in setting up the network at the school in Beirut.
The board members of VVL and related and special volunteers have invested their time free of charge and have also paid their travels from their own resources and contributions to make all actions a success.