Financial overview 2022
Explanation
In 2022, a total of €7,379.50 was received by the OVA Foundation on behalf of the VVL Foundation in gifts, donations and payments.
During the same period, a total of €4,889.37 was paid on behalf of the VVL Foundation.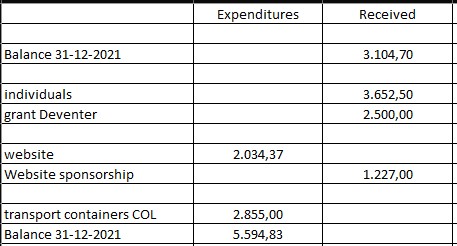 Donations in kind have also been received or collected from the generous donors.
This was often preceded by board members approaching the organizations concerned and explaining the objectives of the VVL foundation.
In addition to offering transportation (resources) and providing transportation and storage free of charge, in addition to technical materials for setting up a computer network (cabling, computers, switch boxes, screens, etc.), materials for setting up physical therapy practices and specific medical equipment were also offered.
VVL board members and related and special volunteers invested their time free of charge, in addition to paying for their travel and making contributions from their own funds to make all actions a success.Veterans' return trips organized by the foundation were paid for entirely by the veterans themselves.